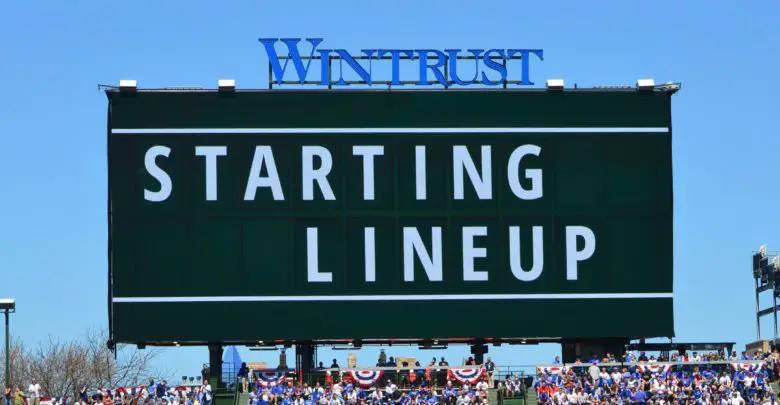 Chicago Cubs Lineup (9/5/19): Zobrist Leads Off, KB at 3B, Javy Scratched, Quintana on Bump
Update: Javy has been scratched due to left thumb soreness following his pregame routine. Contreras moves up to fifth in the order and Addison Russell will play short and bat seventh.
This might not seem so bad under normal circumstances, but Craig Kimbrel hitting the IL has cast a pall over the day.
---
Now THIS is a lineup. The Cubs have Ben Zobrist leading off at second base, followed by Nicholas Castellanos in right and Kris Bryant at third. Then it's Anthony Rizzo at first and Javy Báez at short, with Kyle Schwarber in left, Willson Contreras catching, and Jason Heyward in center.
The announcement of the starting eight was quite a bit delayed, conceivably so they could confirm the availability of Javy and KB. Both had missed time recently, so it's good to see them back in there.
The last time the Cubs faced Chase Anderson, they hung five earned runs on him behind five extra-base hits the first time through the order. Had Victor Caratini skipped that extra bite of oatmeal for breakfast, it would have been six. Castellanos homered twice against the Brewers righty in that game, which featured more offense than the Cubs would muster in the next two.
The 31-year-old Anderson has actually seen a jump in his fastball velocity this season, dialing it up to the mid-90's and sitting around 93-94 mph. But his cutter has been his real go-to and he's throwing it more than ever while opting for the sinker less frequently. He's is also using his changeup more and his curveball less.
The effectiveness of the changeup has resulted in serious reverse splits, with lefties hitting .185 with a .597 OPS and righties hitting .301 with a .945 OPS. Anderson has been much better at Miller Park, though, and has allowed the Cubs only three runs on five hits across eight innings pitched against them there this year.
José Quintana opposed Anderson in that last one and even accounted for one of the doubles, the first XBH of his career. Q was on one in that game and has been nails over the last month and change, so here's to hoping the Brewers see fit to just roll over for him again in this one.
First pitch is at 6:10pm CT in order to give all you Bears fans out there time to watch a good chunk of the game before the NFL season kicks off. I don't follow that stuff too closely, so I'm not sure who they're even playing in that one. Can't be anyone important or I'd have heard about it. Anyway, the Cubs will be on NBC Sports Chicago, MLB Network (out-of-market), and 670 The Score.
Javy Báez has been scratched from tonight's lineup due to left thumb soreness. pic.twitter.com/L0SCSqdgQV

— Chicago Cubs (@Cubs) September 5, 2019