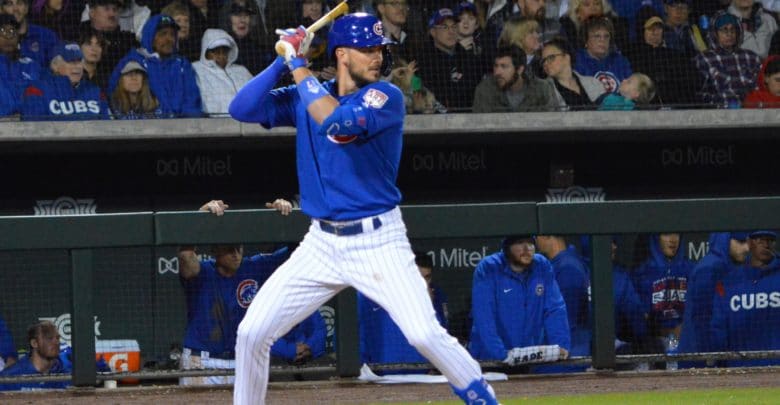 Cubs Offseason Questions Include Interest in Signing Gerrit Cole, Listening to Offers for Kris Bryant
Let's get this out of the way right here at the start: Jeff Passan's latest "20 Questions" piece is based largely on hypotheses and he makes very few definitive statements. However, the Cubs feature prominently, even if several of the storylines are not exactly new. We also have to consider the source, since one item in particular can be almost solely attributed to ESPN.
The first question asks who is the best free agent this winter, which Passan answers with Gerrit Cole. We heard from Buster Olney earlier in the week that the Cubs would likely be interested, though he downplayed their ability to spend and listed three teams (Yankees, Phillies, Angels) as more likely. Passan has no such tiers, naming the Cubs among nine organizations as "positioned and motivated to explore adding Cole."
Next up is the annual managerial merry-go-round, on which Joe Maddon figures to be riding. Past history of success be damned, it's hard to imagine Maddon returning unless the Cubs suddenly take off and put together a deep playoff run. The effects of this disappointing "season of reckoning" could reach even further, though, and Passan notes that the "feeling inside the Cubs organization is the need for a big shake-up."
He goes on to list Kris Bryant, along with Mookie Betts and Francisco Lindor, as someone MLB execs are expecting to hear about in trade talks. That's sort of like what we heard in Olney's overblown report last November, one that was subsequently defended by Jesse Rogers, about the Cubs being willing to trade Bryant.
While Theo Epstein has frequently talked about not having any untouchable players, he quickly shot down any notion that they were seriously considering taking offers on their superstar. But with another year of club control gone and all the various other factors surrounding both player and team, you know the topic is going to come up again unless the sides agree to an extension.
Rather than reach for the low-hanging click fruit, Passan remains very matter of fact and essentially tells everyone to move along because there's nothing to see…yet.
Now, this does not mean all three — or even any of the three — will be traded. But in preparing for this winter, rival executives believe the Boston Red Sox, Cleveland Indians and Chicago Cubs are willing to at very least listen on their stars.
There are going to be talks about big-name players this year, because smart teams consider their options. That doesn't mean any of them are going anywhere. But talks can lead to offers and when the offer stage of discussions arrives, that's when you know to take them more seriously.
As always, it's way too early to take any of this stuff very seriously and it's all for entertainment purposes only. Even once we do progress to the winter, I'll be absolutely shocked if there's more noise on a deal to move Bryant out of Chicago than on one to keep him there longer. And I do believe Cole is a legitimate possibility.
It may seem like a long way off, but the offseason will be here before we know it. Even sooner if the Cubs don't get their crap together in September.