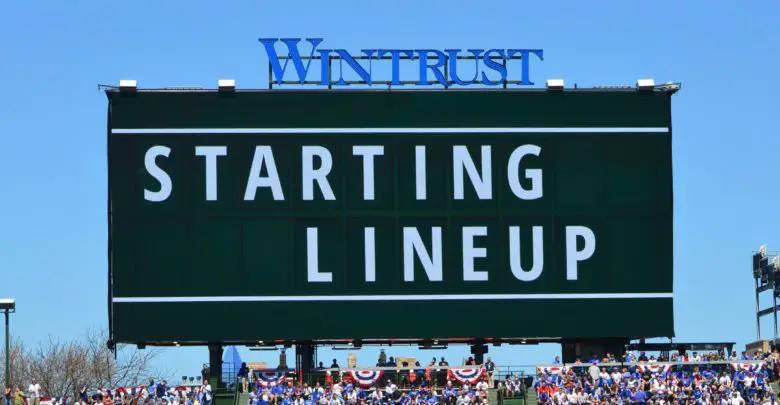 Chicago Cubs Lineup (8/27/19): Happ at 1B, Caratini Catching, Russell at 2B, Darvish Pitching
It's fitting that the Cubs are playing the next three games in Flushing after dropping their last three in the toilet, but things aren't going to get easier as they face another NL East opponent. They'll start things off with Jason Heyward in center, Nicholas Castellanos in right, and Kris Bryant in left.
Javy Báez is at short and cleaning up as Anthony Rizzo continues to rest his stiff back, then it's Kyle Schwarber in left, Ian Happ at first, Victor Caratini catching, and Addison Russell at second. You may have noticed that Joe Maddon is going with three righty batters in a row at 2-4, which could come back to bite the Cubs in this one.
For reasons that will be made obvious in a bit if they weren't already, it seems odd to stack three righties on top of three lefties (switch-hitters Happ and Caratini will bat from the left side). Moving Schwarber to the cleanup spot with Javy dropping back to fifth, where he's been spending most of his time recently, would better balance the lineup. We'll see, maybe this will work swimmingly.
On the mound for the Mets is Marcus Stroman, one of the biggest and most surprising acquisitions of the trade deadline. Once left for dead and expected to sell off at least one of their starting pitchers, the Mets managed to pry Stroman loose for less than expected while holding onto the core members of their rotation. Now the Cubs will bear the brunt of that coup, facing Noah Syndergaard and Jacob deGrom in the two subsequent games of this series.
But back to Stroman, who hasn't been as sharp following the trade as he was for a floundering Blue Jays squad. After posting a 2.96 ERA with a 2.83 K/BB rate over his first 21 starts, he's at a 4.58 ERA with just 1.80 K/BB in four post-trade appearances. He left his most recent outing after just four innings due to hamstring tightness, but in keeping with an honored their honored tradition of mistreating injuries, the Mets are running him right back out there.
Stroman isn't a big four-seam guy, instead favoring a 93 mph sinker that has gotten more use while seeing a slight velocity dip during his time with the Mets. Whether that's a strategic move by the coaching staff or the function of some physical issue(s) isn't clear, but there have been other notable changes to Stroman's repertoire in the time since the trade.
After making up less than 36% of his pitches with Toronto, the sinker is up to around 46% of late. He's throwing the cutter/slider combo (different tracking services vary here) a lot more as well, dialing it up to 60% or more over the last two starts while greatly reducing the number of curveballs he's thrown. Since it's only two starts, neither of which lasted six innings, it's entirely possible these are all just flukes of a small sample.
What's not a fluke is Stroman's ability to limit right-handed hitters to a .579 OPS with a .253 wOBA this season with his breaking pitches. Lefties are at .794 and .338, respectively, and boast far better numbers in terms of strikeouts and slugging. Oddly enough, however, righties actually walk at a higher rate.
Expect to see the hard stuff early, followed by heavy doses of cutters/sliders as plate appearances wear on. If Stroman gets ahead or gets to two strikes, he'll go at least 70% breaking stuff to lefties and up to 80% against righties. As such, Cubs hitters should look dead red early and then sit on spin as the count deepens. Because most of those sliders are going to fade out of the zone, a patient approach can rattle Stroman.
You listening, Javy? Tonight is going to offer a stern test for El Mago, who has generated more contact with worse results over the last couple weeks. The potential exists for him to look really bad, but it could also be the kind of game that spurs a turnaround.
When it comes to a pitcher going to breaking stuff once he gets two strikes, Yu Darvish is right at the top of the list. The Giants were all over his cutter and splitter, pounding out four homers when he took the mound at Wrigley last week. Darvish became the first pitcher in history to record five straight walk-free starts with at least eight strikeouts, but he has also given up nine homers in that stretch.
The big righty hasn't walked any of the last 126 batters he's faced dating back to July 23 in San Francisco, a streak that is certain to end soon. That may be a good thing, believe it or not. Darvish seems at times to be pitching just to avoid ball four, which could allow opposing hitters to jump on him. Not that anyone wants a return to his early-season wildness, just that a little more deception is probably a good idea.
First pitch is set for 6:10pm ET on NBC Sports Chicago and MLB Network (out-of-market), with 670 The Score on the radio call.
Here is tonight's #Cubs starting lineup.

Stream on @NBCSChicago: https://t.co/rGCuW1XI7C pic.twitter.com/DEeriibiu3

— Chicago Cubs (@Cubs) August 27, 2019