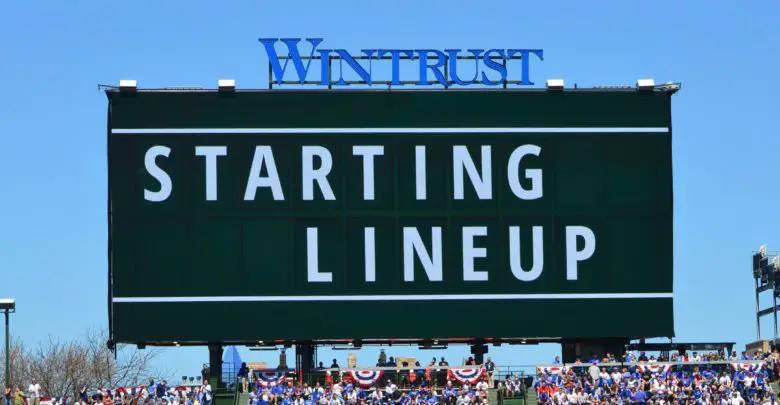 Chicago Cubs Lineup (8/22/19): Heyward Leads Off, Happ at 2B, Hendricks Facing Samardzija
Jason Heyward will lead off the series finale in center, followed by Nicholas Castellanos in right and Kris Bryant at third. It's a little weird that it's still Opening Day even though the Cubs are playing their third game in the series and their 127th of the year, but that's only if you believe their record and can prove it to Castellanos.
Anthony Rizzo cleans up at first and Javy Báez is at short, then it's Kyle Schwarber in left, Ian Happ at second, and Victor Caratini catching. Time to strap on those water skis and get ready to rock.
They'll be trying to jump the Shark, as Jeff Samardzija returns to the Wrigley Field mound for the first time in over two years. He hasn't faced the Cubs at all since his last homecoming on May 25, 2017, and they're hoping he's got an encore performance cued up. Samardzija struck out eight with just one walk in that last one, but he gave up three homers.
Now 34 years old, the big righty is enjoying his best season since being traded out of Chicago just as folks were buying into his emergence as an ace. That didn't end up playing out, as a loss of feel led to several mediocre seasons. Even so, Shark continued to pile up 200-inning seasons until injuries stopped that short last year.
No longer possessed of a big fastball, Samardzija is more of a finesse guy who offsets his 92 mph heater with a cutter, slider, sinker, splitter, and curve. It's not an entirely different repertoire than what he showcased with the Cubs, though he's dialed down the sinker and splitter and throws the cutter more frequently.
Samardzija isn't a big strikeout guy and doesn't get many grounders, plus he gives up about 41% hard contact, so it's a little odd that he's not surrendered more big flies. He's better at home, though, and 13 of his 21 homers allowed have been on the road. Eight of those have been hit by lefties, who have an aggregate .337 wOBA against him away from the Bay.
This won't be an easy matchup for the Cubs, who haven't really done well against pitchers of Samardzija's ilk. But riding the emotions of last night's win and having a chance to sweep, it feels like they've got a good chance to break Shark's streak of five starts with two or fewer earned runs.
They may not need many runs to make Kyle Hendricks' effort stand up, as long as he's sharper than in that disastrous start against the Reds. In eight of his other previous starts, however, he's given up two or fewer earned runs and has a 38:12 strikeout-to-walk ratio.
First pitch is at 1:20pm ET, the first of four straight day games, and can be seen on WGN and MLB Network (out-of-market), with 670 The Score on the radio call.
Here is today's #Cubs starting lineup. #EverybodyIn

Game preview: https://t.co/mWp0Ry4cfb pic.twitter.com/BY8ZAjaVkt

— Chicago Cubs (@Cubs) August 22, 2019