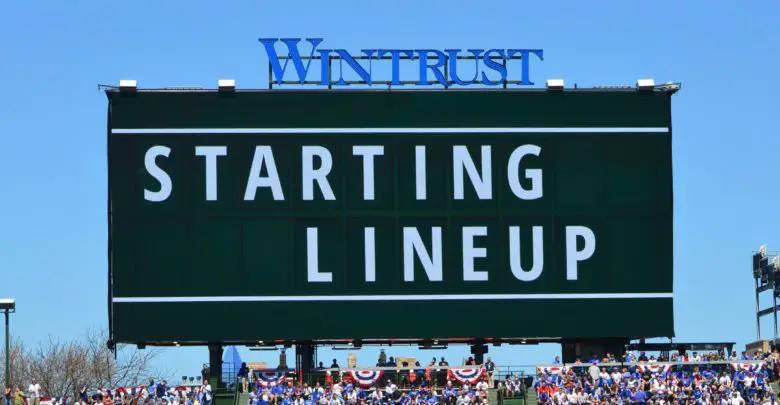 Chicago Cubs Lineup (7/26/19): Contreras Leads Off, Happ in LF, Bote at 2B, Hendricks Pitching
Oh boy, this is a fun one. Willson Contreras is leading off against a lefty, so the Cubs finally took my advice on that. Kris Bryant is back in the two spot after doing so well at three, Anthony Rizzo is third, and Javy Báez cleans up.
Then it's Jason Heyward in right, the newly recalled Ian Happ in left, Albert Almora Jr. in center, and David Bote at second. Happ has been playing primarily center and will likely continue to do so, but he can hit from the right side tonight to spell Schwarber. Although it's not like Almora has been crushing lefties.
Anyway, this is certainly a change of pace. Now if they start hitting Heyward atop the order against righties, we'll know the Cubs have been listening.
They will be facing old friend Gio González, who seems to have it in for the Cubs. And that's probably because he does, posting a 2.81 ERA and 1.08 WHIP — his career marks are 3.69 and 1.31 — over 11 starts. He's not the same pitcher he once was, but changes to his repertoire have allowed him to be effective even as his velocity continues to tail off.
Once capable of sitting in the mid-90's, the southpaw now averages upper 80's on both his four-seam and sinker for the first time in his career. He's throwing them less than ever as well, favoring the changeup as his primary offering.
The offspeed pitch is his best and he'll deploy it differently based on the handedness of the batter. The tumbling action induces a 63.3% groundball rate on less than 70% contact and batters carry just a .108 average against it this season. While some pitchers are afraid to use their change against like-handed batters, González is perfectly comfortable attacking lefties as well.
Righties will get it about a third of the time with relatively even frequency in all counts. The exception is when batters get ahead, in which case Gonzalez will through it around 43% of the time. He'll almost never throw it for a first pitch or in even counts when facing a lefty batter, but he'll use it when he gets ahead and to put them away.
González is exactly the kind of pitcher the Cubs seem to struggle with because he doesn't have a big fastball and his stuff looks hittable. But he doesn't pound the zone and doesn't make mistakes, baiting hitters into swing at pitches they can't do much with. That's why he's given up only two homers in 35 innings and has a career 0.77 HR/9 mark.
Always a pretty even-split pitcher, González has been killing lefties this year. They have just a .438 OPS and .185 wOBA compared to (boom like a) .808 and .342 for their right-handed counterparts. That's come over just seven starts, though, and this will be just his second start back from a two-month IL stint. Maybe González is stretched back out, but he went only four innings and struck out one last week.
Kyle Hendricks is on the mound as he tries to work back into form after a relatively brief IL stint in the second half of June. His results in four starts since are eerily similar, with four hits and two runs allowed in each, but he's gone deeper into each of those games. The bigger issue is that he's walked two and given up at least one homer in each of his last three.
To put that in perspective, Hendricks had only walked two batters in three of his previous 13 starts and never consecutively. With the Miller Park lighting crew aiding and abetting the home team, Hendricks can't afford walks or mistakes in this one. He may want to tighten up his release point, too.
First pitch from Milwaukee — originally pronounced "mill-e-wah-que," which is Algonquin for "the good land" — is set for 7:10pm CT on NBC Sports Chicago and 670 The Score.
Here is tonight's #Cubs starting lineup in Milwaukee. #EverybodyIn

Stream on @NBCSChicago: https://t.co/rGCuW1XI7C pic.twitter.com/YcbH32QcAp

— Chicago Cubs (@Cubs) July 26, 2019