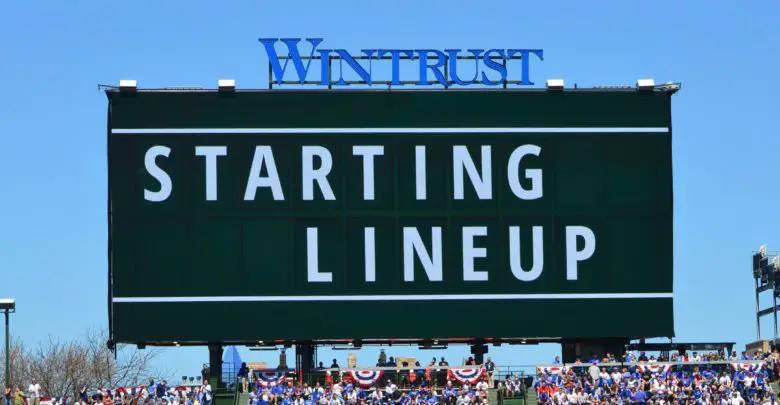 Chicago Cubs Lineup (7/14/19): Bryant in RF, Caratini Catching, Bote at 3B, Quintana Goes for Sweep
The Cubs have already secured their first series win in over a month and now go for a sweep of the Pirates this afternoon. Kyle Schwarber leads off in left coming off a game in which his approach looked much more balanced than what we've seen over the past month or so. Javy Báez bats second at short, Kris Bryant is in right, and Anthony Rizzo is at first.
Victor Caratini is catching for the second time in three games as Joe Maddon gets really intentional about giving Willson Contreras more rest. Jason Heyward is in center, Robel Garcia is at second, and David Bote rounds out the lineup at third. That's a really solid lower portion of the order, at least in terms of potential.
The Cubs are facing 27-year-old righty Trevor Williams, who somehow managed to record a win against them last week despite giving up five earned runs on nine hits and three walks. That's kind of par for the course for a guy who has generally pitched just well enough to not lose, and you may remember that last one as the game in which the Cubs allowed 18 runs to their opponents.
The three walks tied a season high for Williams, who has become quite the strike-thrower this season. With only 13 free passes in 71.1 innings (1.64 BB/9) and pumping in 67.1% first-pitch strikes, his whole game plan is to get out in front and make opposing hitters adjust to him.
"Throw the first punch," Williams told FanGraphs' David Laurila. "I'm not waiting to see how the other team is going to hit against me, I'm going to attack the way I know how to attack. I'm going to force them to hit a certain way off of me."
Williams usually starts hitters with a 92 mph fastball that has been his best pitch despite throwing it so frequently for strikes. The real issue has been avoiding contact once he's ahead, since neither his slider nor sinker have been particularly effective. The change has been quite good, though it hasn't prevented lefties from hitting .294 against him. Righties are displaying more power, popping six of the eight home runs Williams has allowed.
Since Williams isn't going to walk them, especially the righties, the Cubs are going to need to come out swinging and see about running into a fastball or three. They've been aggressively exploiting Pirates pitching so far in the series and this game has the earmarks of a fun one.
As long as José Quintana pitches like he did last week in Pittsburgh, his offense should give him enough support to earn another W. The lefty has give up three or fewer earned runs in six of his last seven, with that aberrant implosion against the Mets standing out as the lone stinker. Q has done a good job in big games and a sweep sure would be nice in this first series out of the break.
First pitch is at 1:20pm CT on ABC-7 and 670 The Score.
Here is today's #Cubs starting lineup. #EverybodyIn

Game preview: https://t.co/uiYE7lMiHU pic.twitter.com/caOEg2oq4H

— Chicago Cubs (@Cubs) July 14, 2019