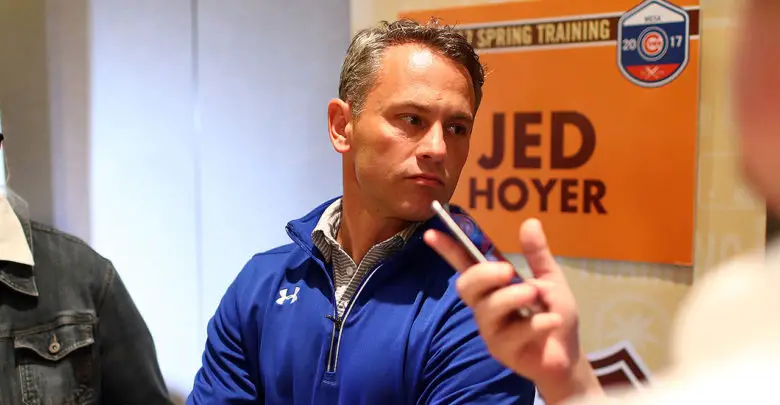 Hoyer on Cubs Trade Needs: 'We Haven't Played Well Enough to Rule Anything Out'
It was all too easy to look at the Cubs' place atop the NL Central standings and dismiss the team's obvious flaws. But as a 14-15 July gave way to an early shellacking in Pittsburgh punctuated by more of the sloppy, uninspired play that has become all too familiar, it is obvious that some changes need to be made.
Not franchise-altering deals or wild roster turnover, mind you, just an infusion of talent and fresh perspective. The latter might be as important as anything for a team that has clearly not lived up to Theo Epstein's promise to show more edge and less complacency. Especially when a player ostensibly brought in to further those goals has posted -0.6 fWAR while the man he replaced made the AL All-Star team.
Listen, this isn't about writing revisionist history. It is, however, about recognizing when it's time to cut bait and take a different tack, which the Cubs seem to realize is the case. It had been reported a while back that they were scouting a pair of the Giants' lefty relievers, then they had scouts at a recent Tigers/Rangers game to look at several potential targets.
GM Jed Hoyer admitted recently that the Cubs would be looking for outside help to bolster an offense that has grown stagnant and inconsistent (my words), then reiterated those needs Monday night in Pittsburgh. He added that left-handed relief help would indeed be a target as well. But how aggressive can they get given the relative paucity of impact talent in the minors?
"We have plenty of assets other teams have asked about," Hoyer told the media. "We haven't played well enough to rule anything out."
If they're talking about keeping almost all of their options open, those assets could be players like Nico Hoerner and Miguel Amaya. Or maybe Hoyer's quote was misinterpreted and he's actually talking about the ass sets of stat lines frequently occupying the bottom of the Cubs' batting order in any given game.
Either way, the Cubs do actually have some talented players in the minors that could be moved in the right deal. Thing is, that would further deplete a farm system that is just now getting ready to churn out some legitimate pitching prospects. If the brass believes a move or two can right the ship, however, they might see fit to part with some of those youngsters.
Or maybe it's a matter of moving players like Ian Happ, Addison Russell, and Mike Montgomery, all of whom could be change-of-scenery types with greater value than what current performance dictates. Whatever the case, it appears that the stone-turning has increased in urgency and may start to yield results here soon.