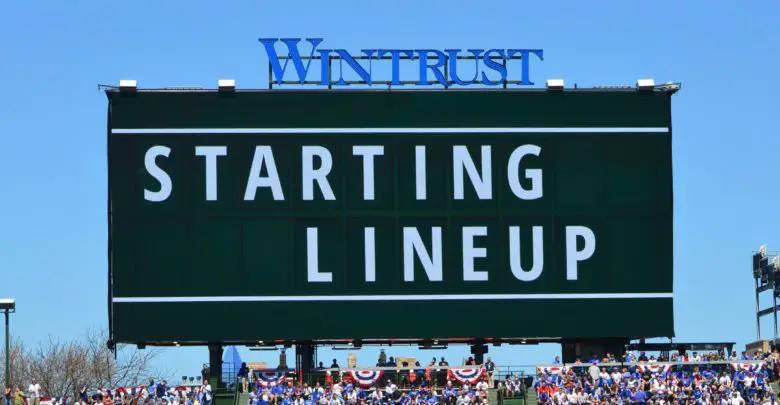 Chicago Cubs Lineup (6/14/19): Schwarber Leads Off, Hendricks on Hill Against Hill
Kyle Schwarber is leading off against a lefty again, which is nice to see. It'll be even nicer if he can sit on a fat curveball and ride it of the park. Kris Bryant bats second and plays third, Anthony Rizzo bats third and plays first, Javy Báez cleans up at short, and Willson Contreras is catching.
Albert Almora Jr. is in center, Jason Heyward is in right, and Addison Russell bats ninth at second. The Cubs are going to need more than just a pair of homers in this one and they'd do well to string a few hits together early to keep the Dodgers at bay.
They'll be going up against 39-year-old lefty Rich Hill, who revived his career four years ago after bouncing around as a AAAA pitcher for the better part of a decade. Dude's FanGraphs page takes up more than a full computer screen and it's pretty cool to look at what all he's done.
It's a marvel that he's pitching at all after how rough a go he had there for so long, but to see him pitching as well as he ever has is truly incredible. Hill isn't going to throw 200 innings or go deep into many games, but he's still snapping off his curveball and dotting the fastball to great effect.
He's far from dominant, though, and the curve isn't so much a sledge as a ball peen hammer that he uses to keep hitters off balance. Lefties might feel otherwise, since they're only hitting .063/.063/.125 with a .077 wOBA against him this year at Chavez Ravine, though we're only talking 17 batters.
Believe it or not, the Cubs have only faced Hill twice before in the regular season, with a combined 22 at-bats spread across the whole roster. That doesn't necessarily spell good things for them, but maybe they can catch a few hangers. If so, they may be able to elicit a very NSFW reaction like the one below…
Rich Hill is not a fan of the shift. pic.twitter.com/0SKcXdMkTX

— Jomboy (@Jomboy_) May 23, 2019
That's basically the opposite of what you'll see from Kyle Hendricks, a Newport Beach native who's cooler than early May in SoCal. He's been riding a wave of success over his last several starts, but has had trouble in his previous Dodger Stadium starts. Will he hang 10 strikeouts or experience a gnarly wipeout?
Find out tonight at 9:10pm CT on WGN and 670 The Score.
Here is tonight's #Cubs starting lineup.

Game preview: https://t.co/MvUjwn84eS pic.twitter.com/AFqSPXBNYj

— Chicago Cubs (@Cubs) June 14, 2019