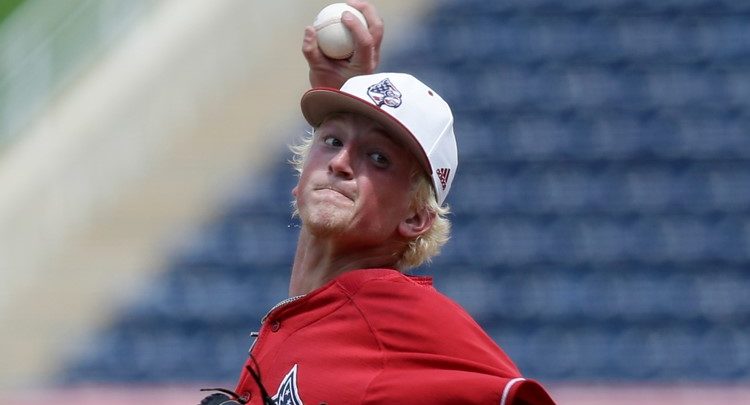 Chicago Cubs Day 2 Draft Summary: Run on Low-Mileage Power Arms Could Yield Surprises
Day 2 of the draft began with this tweet by our benevolent overlord:
According to source, Cubs initially wanted to go in different direction with #27 pick but opted for Ryan Jensen due to underslot bonus considerations. They were looking to pay pick 43-45 money there, which wasn't going to work for top choice.

— Evan Altman (@DEvanAltman) June 4, 2019
After reading that thread and talking to Evan, I had no doubt the Cubs would go overslot on one or two of the eight picks they had Tuesday. It was a matter of time. At least that's what I thought when the day began.
By all accounts, the strength to the 2019 draft was supposed to be hitting, especially in the college ranks. Pitching was down across the board for both prep and college arms. But the Cubs surprised everyone with their selections in rounds 3-10 as they went hard on for pitching, especially from college.
There were times when I felt like the Cubs had basically punted this draft. On the surface, it sure seemed like that. They missed opportunities to get high-upside bats in round one, but instead went with Ryan Jensen. And in an almost willful display of exactly how far they've gotten from their risk-averse past, most of the pitchers the Cubs selected Tuesday have already had Tommy John surgery.
Again, those were my initial perceptions, but they changed upon gathering more information. Despite that predilection towards pitching, the Cubs did come away with some intriguing choices.
Third round pick Michael McAvene out of Louisville stands out because he's got the kind of power arm and solid frame to be a starter in the pros. He's the closer for one of the best teams in the country, but at 6-foot-3 and 195 pounds, he's all set to make the move to the starting rotation if the Cubs should choose.
McAvene pitched only 54 innings total innings in three years, which included missing most of his freshman year due to TJS. Considering what the Cubs have been able to do with last year's closer from Louisville, Riley Thompson, this could work out really well. And McAvene has much better stuff than Thompson did in college, hitting triple digits at times this season.
He's also just a bit intense as you can see in this video:
The closer ?@LouisvilleBSB's Michael McAvene was hurling ??? to strike out the side with the game on the line! pic.twitter.com/60mK2tDwbD

— Louisville Athletics (@GoCards) June 1, 2019
When the sixth round started, I wondered if the Cubs were going to get a bat whether he'd come from a college anyone had actually heard of. And then the sun came out with one pick.
When the Cubs took prep catcher Ethan Hearn, I got excited…a little bit, anyway. Hearn was ranked at 67 by MLB Pipeline and, at this point, was my favorite pick in the draft. With a mixture of power and an electric arm behind the plate, he's premium talent at a premium position. The Cubs will probably go overslot for him to keep him away from college.
He's already familiar with Wrigley, as you can see in this clip from the Under Armour All-American Game.
The Cubs continued their run of pitchers in rounds seven, eight and nine. Included in that mix was the re-draft Brad Deppermann, who the Cubs first took in the 31st round in 2014. He spent most of his first two years at the University of North Florida injured, but everything came together for him this year as as he began touching the upper 90's, often sitting at 97.
Deppermann will be 23 later in June and profiles more as a reliever, but he fits the theme of the Cubs newest trend towards power arms. 
Four of the Cubs' eight picks on the day were college pitchers, with two high school pitchers, a high school catcher, and a junior college rounding things out. One of those prep arms is Tyler Schlaffer from Homewood-Flossmoor High School in Flossmoor, Illinois, just a little southwest of Chicago. He's committed to the University of Illinois, but perhaps the draw of playing for a hometown team will get him to sign.
The day ended with the selection of Wyatt Hendrie, a catcher from Antelope Valley Junior College. He is known for his arm as he threw out 42.9% of base stealers this year and earned all-conference honors. It's interesting to note that the only two position players the Cubs took on the day were catchers known for their arms.
For the most part, the strategy for the day appears to have been targeting pitchers who haven't put a lot of mileage on their arms and who are versatile in terms of starting or relieving.
Now that the day is complete, I'm a little bit stunned that the Cubs went so hard after pitchers. But this group profiles differently on the whole than what they have taken in the past and these guys can all bring it. Short-season affiliate Eugene ought to have fun with them in their bullpen this year.
There's a small clip above, but check out this press release for a little more background on some of the Cubs' Day 2 selections.