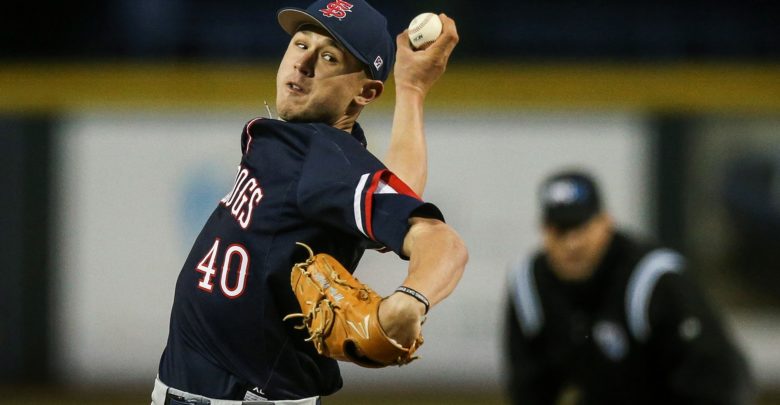 Surprise: Cubs Take Righty Power Pitcher Ryan Jensen with No. 27 Pick
The Cubs went in an unexpected direction with their first pick of the 2019 MLB Draft by selecting righty pitcher Ryan Jensen out of Fresno State. He was recently ranked at No. 99 on MLB Pipeline's Top 200, but was rising quickly and appeared at 55 on FanGraphs' draft rankings.
It seems like a bit of a reach, but Jensen's fastball ranks a 70 on the traditional 20-80 scale and the Cubs need more power arms. For an organization that has had little success developing safer picks over the last several years, Jensen could be part of a philosophical shift to a little more upside. And who knows, the Cubs may have saved some money on an underslot deal for a pick later in the draft.
Basic Info
Age – 21
Height – 6-0
Weight – 180
Throws – Right
School – Fresno State
Likely 2019 Affiliate – Eugene (in a limited role) 
Jensen is known for having a good fastball as well as not giving up the longball. In his junior year this spring, he struck out 107 batters over 100 innings (9.63 K/9) while walking just 27 (2.43 BB/9). And he allowed only three home runs.
Here's a little video of Jensen in action, in which you can see the life on that fastball. He's got some good run there.

Here is what MLB Pipeline has to say about the Cubs' newest prospect:
Jensen has arm strength to spare, with a fastball that sits from 94-98 mph. He's able to maintain his velocity deep into his starts, showing plenty of 97-98 mph heaters in the seventh and eighth inning of his starts. When he finds his arm slot, it can have plus life, but he often loses it, causing it to be flat and very hittable. His slider will show flashes of being an above-average pitch, but it's not consistent. He does have an upper-80s changeup with some fade that might be average, but he doesn't use it much. Jensen has a tendency to over stride at times, which makes it tougher for him to repeat his delivery and command the baseball.
3 Things to Like About the Pick
1. Jensen hits high 90's consistently, something the Cubs don't have much of in the system.
2. He's decent now, but he can be better with pro instruction. The Cubs are showing they can do that in the lower levels of the system this year with Riley Thompson and Cam Sanders, two lively young arms they took last year.
3. Because he only started 27 games over three college seasons, working out of the bullpen as freshman, Jensen doesn't have a ton on that right arm.
How He Fits In With the Cubs
Jason McLeod and Co. went with a surprise pick tonight and got a fresh power arm at a minimal cost. Considering he was ranked so low on MLB Pipeline, the Cubs probably could have gotten him at 64. With $2.5 million allotted for this slot, they may have saved money while getting a high ceiling.
This story is far from over and could have a second chapter if the Cubs go overslot on a big name later.