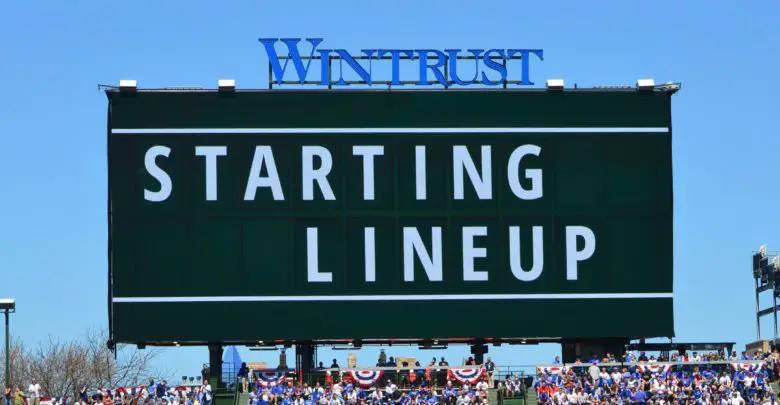 Chicago Cubs Lineup (6/2/19): Bryant in RF, Javy Back at SS, Hamels Tries to Play Stopper
The Cubs basically played a double-header last night, so they're going to need to summon up a little extra energy if they want to avoid falling to the Cardinals for the third (or fourth, if you count yesterday as two) straight game. It doesn't help that Javy Báez's heel has been bothering him, but this team just doesn't seem sharp lately.
That can turn around in a hurry, though, and it starts with Kyle Schwarber leading off in left. Kris Bryant is back in right for the first time since a collision with Jason Heyward last week, Anthony Rizzo is at first, and Javy is back at short after asking for Saturday off to rest his foot.
Willson Contreras is catching, Heyward is in center (which I'm sure pleases our Brendan Miller to no end), Addison Russell is at second, and David Bote is at third. I smell an offensive outburst from a team that has had far too few of them lately.
It helps that today's opposing pitcher, Adam Wainwright is showing his age these days. The 37-year-old righty is a placeholder in the rotation at this point and should not be a match for a Cubs lineup with so much potential. At the same time, the crafty righty could drum up a vintage performance. Wouldn't that just be so Waino?
The curve is Wainwright's go-to pitch and he throws it nearly 40% of the time now. He's also got a sinker, cutter, four-seam, and change, but the bender is the only pitch that's really worth much at this point. He doesn't get many swings and misses, though he did register 10 strikeouts with no walks in his most recent start.
In the two starts prior to that, however, Wainwright struck out only four while walking nine. Like his counterpart in this one, he's susceptible to momentum one way or the other and we should know right out of the gate what kind of stuff he's got. Even his best stuff is hittable at this point, though, so the Cubs should rake this afternoon. Should being the operative word.
Cole Hamels has a 2.20 ERA over eight starts at Busch Stadium, so let's hope he continues that trend rather than the more recent one he's established. Much like his entire team over the past week-plus, Hamels hasn't quite been himself on the mound lately. He's falling behind and not working efficiently, which is unlike what we've seen from him as a Cub.
I was hoping I wouldn't have to dip into my backup reservoir of karmic power, but I'm going to go ahead and offer the Cubs a little of my birthday mojo. That should be more than enough to salvage a win and I'll thank them kindly to return the juice should they not end up needing it.
First pitch is at 1:15pm CT on WGN, MLB Network (out-of-market), and 670 The Score.
Here is today's #Cubs starting lineup in St. Louis.

Game preview: https://t.co/wXE7TFQYpw pic.twitter.com/Twhcr0PewY

— Chicago Cubs (@Cubs) June 2, 2019