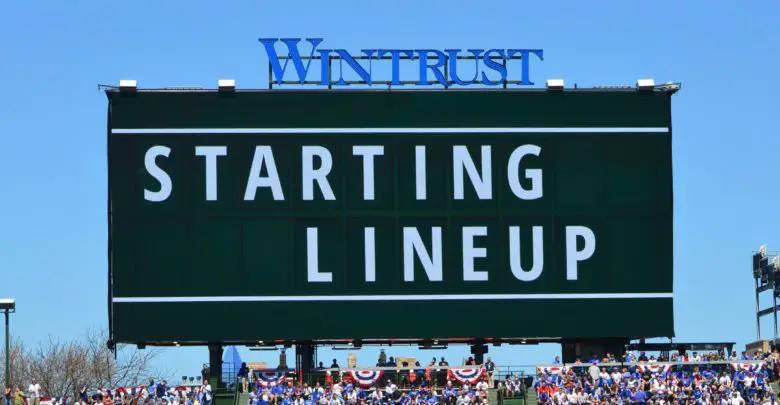 Chicago Cubs Lineup (5/18/19): Schwarber Leads Off, Bryant in RF, Lester Pitching
The Cubs hit six home runs last night in a rout of Max Scherzer and the Nationals, erasing the offensive shortcomings of the previous two contests in Cincinnati. But things don't get easier tonight with Stephen Strasburg on the hill. Kyle Schwarber has been putting together some really nice plate appearances and he's in the leadoff spot again, followed by the axe-wielding Kris Bryant in the other corner outfield spot.
Anthony Rizzo bats third, Javy Báez is at short, Willson Contreras catches, Jason Heyward handles center, Addison Russell is at second base, and David Bote is at the hot corner. Without cheating, anyone wanna guess which of these hitters has the best career OPS against Strasburg? Hint: It's the one who's faced him the most.
Bryant has a 1.056 mark in just seven plate appearances, but the big hitter is Heyward, whose 1.058 OPS in 37 at-bats includes 15 hits and three walks.
Strasburg has been just about as good as ever this year, but he's getting it done in distinctly different fashion from when he first came up. He set the baseball world ablaze with a triple-digit fastball that prompted the Nats to select him No. 1 overall out of San Diego State in 2009 and was up in the majors the following year with a heater that averaged 98 mph.
Tommy John surgery later in 2010 hardly slowed him down, as he continued to sit 96-97 for several years after. That mark is down closer to 93-94 these days (though he can still dial it up to 98 if he needs to), so Strasburg as really had to learn how to pitch rather than just throw hard. And, boy, has he, with a curve and change that make viewers almost as weak in the knees as batters…or SWV.
Strasburg has more or less abandoned the slider, which is too bad because it's been a terrible pitch for him and the Cubs could use a cement mixer or three, and has ramped up the sinker in a big way this season. He is also throwing the curve more than ever, almost as much as the fastball. And when he rolls it up there at only 81 mph, you can imagine how hitters are made to look silly.
Even his changeup is thrown hard, as in a couple ticks faster than a Kyle Hendricks four-seam. That relatively subtle difference from the fastball is enough to get hitters out in front, something we saw all too frequently in that infamous Game 4 of the 2017 NLDS. You know, the one that should have been played the day before, but was rescheduled due to rain because television interests wouldn't allow the start time to be moved up.
Strasburg, who'd initially been scratched due to a respiratory reaction to mold in his hotel room — still one of the weirdest PR moves I can recall — was absolutely in control of the Cubs on a miserable evening. His change was filthy and hitters were powerless against it all night, but it's the curve that has really been dangerous over the last two seasons.
It's the best bender in the game according to total value (8.8 runs, according to FanGraphs), and he throws it 30% of the time. Other than going heavy with the fastball early or when batters are ahead, Strasburg employs the curve and change with pretty even frequency across the board. I guess the change does get more use as an out pitch, so the Cubs need to look for that late.
Sit on heat and try to adjust to the change. But be wary of that curve. Simple, right? Well, not so much. The change is going to zip away to the arm-side, like a two-seam's wicked step-sister. While most changeups are thrown significantly slower and tend to tumble or fade, Strasburg's is thrown harder and has sharper movement.
Stephen Strasburg, Legendary 91 mph Changeup. ?

When people ask what my favorite current pitch is, this is the answer. pic.twitter.com/bQuvZoYF5t

— Rob Friedman (@PitchingNinja) April 22, 2018
When his pitches aren't all working, though, Strasburg is very hittable. He's going to get his strikeouts in this one, maybe into the double digits, and he's only walked more than two batters once so far this season. But if he's leaving pitches over the plate, there's room for the Cubs to punish him. And coming off of last night's power display, their confidence is running high.
When it comes to confidence, no one can top Jon Lester. The lefty's ERA sits at a sterling 1.16 and he's not even 5 innings away from re-qualifying for the lead in that category (as many IP as team games played). You wanna talk about the evolution of a pitcher really learning to pitch and not just throw? Lester has reshaped his game over the course of his career and has become a clubhouse leader to boot during his time with the Cubs.
First pitch from Nationals Park is at 6:15pm CT on FOX and 670 The Score. Expect the requisite lame takes from the national broadcast team, but don't expect the field mics to be turned up high enough to hear Joe Maddon comment on how Mike Montgomery or any other reliever is "so f—ed up."
Here is tonight's #Cubs starting lineup.

Game preview: https://t.co/J5xWvlyYdX pic.twitter.com/7d0D8QX2pV

— Chicago Cubs (@Cubs) May 18, 2019