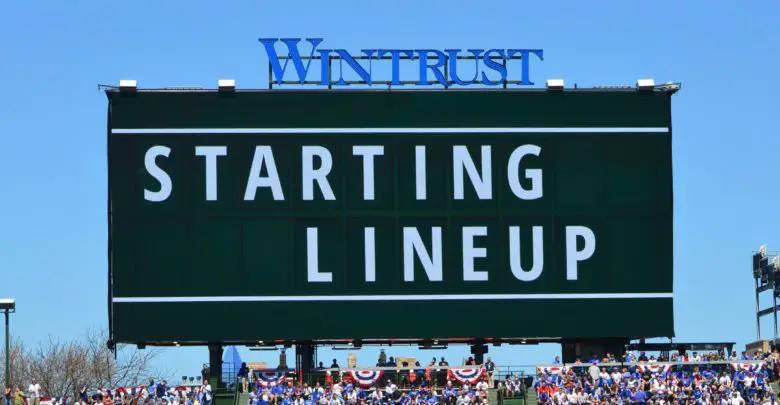 Chicago Cubs Lineup (5/14/19): Heyward Leads Off, Bryant at 1B as Rizzo Sits Again, Hendricks Pitching
The Cubs have won eight series in a row for the first time in over a decade and they now head to Cincinnati for the first time in 2019 to face the last-place Reds. It's not going to be easy, though, as Cincy boasts the second-best staff in the majors according to ERA, FIP and fWAR. That's a tough nut to crack, but this Cubs team is capable of hanging crooked numbers with ease.
They'll be trying to do that without Anthony Rizzo, who's resting his tight back for another day after missing Sunday's win over the Brewers. Jason Heyward leads off in right and Kris Bryant again slides across the diamond to take Rizzo's place. Javy Báez is at short, Willson Contreras is catching, and Kyle Schwarber handles left field.
David Bote plays third, Daniel Descalso is at second, and Albert Almora Jr. rounds things out in center. It's at least a little interesting that Addison Russell is out of the starting lineup for the third straight game, a trend that doesn't bode well for that report that the Cubs want him to be the starting shortstop. Of course, he's also struck out four times in 10 at-bats against today's starter.
That would be Tanner Roark, most famous for being one half of baseball's first all-Tanner trade. The Reds sent Tanner Rainey to Washington in exchange for today's starter this past December, bringing the Wilmington, IL native and Illinois alum a little closer to home. Despite those roots, Roark goes with the Southern pronunciation of his surname, so it's Row-ark, not Rork.
As an aside, I can't help but think of the John Grisham book A Time to Kill — which was later made into a movie starring Matthew McConaughey, Sandra Bullock, and Samuel MF'ing Jackson — each time I heard that name. Bullock played Ellen Roark, and I recall there being a specific instance in which the multi-syllabic pronunciation was explained. Good luck getting that kind of tangential awesomeness in any other lineup post on a more reputable web log.
The Reds' Roark is putting up some really odd numbers this season, and I'm not really sure what to make of them. His .322 BABIP against is the highest he's ever allowed, his 34.5% grounder rate is lower than ever, his 38.3% hard contact allowed is higher than ever, and his 4.14 BB/9 is enormously inflated above his 2.60 career average. And yet he's got a 3.27 ERA with a 3.54 WHIP. What gives?
Well, the weather and some favorable situations seem to be playing to Roark's advantage so far. He's allowed only two home runs in 41.1 innings and his 4.8% HR/FB rate is less than half of his career mark. Something's gotta give there, and you can bet on serious correction coming as the temps rise in Cincy. The combination of Roark's platoon splits and GABP's friendliness to lefties spells danger.
There's also reason to believe righties are due to bust out. Though he's always been tougher on them, Roark is limiting right-handed hitters to a .480 OPS and .217 wOBA. That's coming largely from a sinker/slider combo that makes up nearly 70% of his offerings to righties. He'll pitch off of the slider frequently, often using it to open at-bats.
Lefties will get a heavier dose of the curve, which Roark is throwing less often and with worse results than in the last several years. He also throws the four-seam a lot to lefties, especially when he's ahead in the count. Fastballs make up 60% of his two-strike offerings to lefties and over 50% to righties, which is something of a departure from the breaking-ball strategy employed by most pitchers.
Don't be surprised to see Roark alter the plan against the Cubs, though, maybe going with the curve and slider a little more frequently deep in counts. Avoiding Rizzo and his two homers in 20 at-bats will make Roark's job easier, but Bryant has an 1.182 OPS in 11 at-bats and is riding a hot streak right now.
Jason Heyward has an .087 OPS in 20 at-bats and has cooled off of late, but there's no way his 0-for-20 against Roark can hold up for long. I smell a breakout. And though I alluded to it above, I'm going to go ahead and call for KB going full lumberjack with his Axe Bat in this one.
Hey, remember when Kyle Hendricks was struggling so badly that we were legitimately debating the possibility of pairing him with an opener to ease his pain in early innings? Yeah, well, he's pretty much back to good ol' Professor Hendo and has the 3.19 ERA to prove it. And that's with two separate starts of seven runs allowed, even if five of those were unearned in the first one.
Facing a Reds lineup that features very little punch should be a breeze for a man who's allowed just one run on nine hits and no walks over his last 17 innings, but the Reds can be pesky. All Hendricks needs to do is limit the mistakes over the heart of the plate, and the rest should take care of itself.
First pitch from Great American Ball Park is set for the odd time of 5:40pm CT, so make sure you tune in earlier than usual to either NBC Sports Chicago or 670 The Score. If you're feeling a little masochistic, pull up the Reds broadcast on either Fox Sports Ohio or WLW 700 for a taste of salt from Thom and Marty Brennaman. Actually, you should definitely do this if the Cubs get a big lead at any point in this series.
Here is tonight's #Cubs starting lineup. #EverybodyIn

Stream on @NBCSChicago: https://t.co/rGCuW1XI7C pic.twitter.com/sdEkZOaWd2

— Chicago Cubs (@Cubs) May 14, 2019