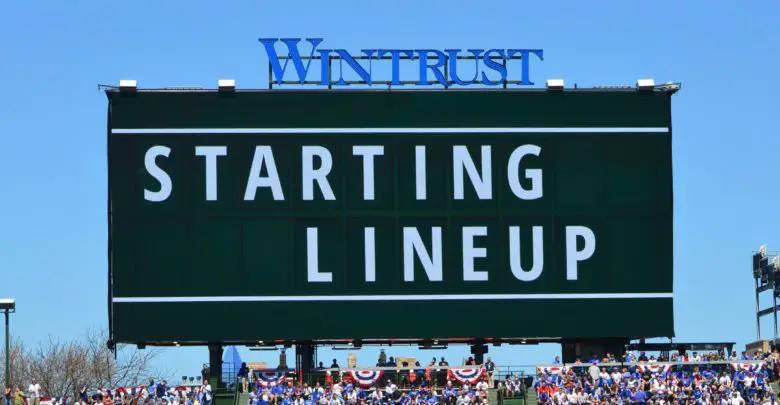 Chicago Cubs Lineup (4/27/19): Descalso Leads Off, Bryant in RF, Davis Catching, Darvish Pitching
Daniel Descalso leads off at second base, Kris Bryant is in right, Anthony Rizzo is at first, and Javy Báez is at short. KB homered last night and is starting to more closely resemble himself at the plate, so let's see if another tater is in the works against a soft-tossing curveball specialist.
David Bote is at third, Jason Heyward mans center, Taylor Davis is catching, and Kyle Schwarber is in left. Putting Davis behind the plate means giving Willson Contreras his first real break since Victor Caratini suffered a break. WillCo has started every game and caught all but a couple innings in that time, so this respite is overdue.
The Cubs will be trying to get over on former Cubs farmhand Zack Godley, who comes into the game with a 6.67 ERA in five starts. He's struck out 22 batters but has walked 14, proving that cleanliness is not next to Godley-ness after all. Armed with a sinker that just scrapes 90 mph, Godley isn't going to blow it by anyone tonight.
Instead, he'll rely on a curve that he throws more than anyone else in the game. Only 12 of 83 qualified pitchers throw the hook more than 25%, with only four at 35% or higher. Godley throws it 45% of the time and it's easily his biggest weapon, one he'll use with equal confidence against batters on either side.
While the curve makes up about a third of his pitches earlier in counts, Godley will bring the hammer down with increased frequency as an out pitch. Rather than exhibiting traditional 12-6 movement, the righty's hook is more like 2-8. More like a slider, he'll put it down and away out of the zone to righties and bury it on lefties' back feet.
The key, then, is for hitters to stay in front and pound early mistakes to avoid facing the curve late (Schwarber, I hope you're listening). Cubs lefties should be salivating in this one, as their predecessors this season have tallied a .907 OPS. Righties are at a mere .775, though they strike out far less often and walk more. Godley has controlled his former club pretty well, holding current Cubs to a .660 OPS with no homers in 48 at-bats, so perhaps regression will be afoot.
Going for the visitors is Yu Darvish, who's been up and down so far this season and has yet to throw 100 pitches in a start. Control has been the biggest issue for Darvish, who has displayed nasty stuff and is still capable of touching 99 on the radar gun. Since his best start of the season came in Miami, perhaps the warm weather will help a little.
The Cubs could really use a solid start from Darvish, and he'd surely do well to create a little momentum and confidence for himself. That could mean Joe Maddon leaving his starter in there when things get a little dicey later in the game. A pitcher has to be allowed to work through jams early in the season if he's ever going to be expected to later.
Or maybe the Cubs can just hang a big number on Godley and it'll all be a moot point.
First pitch from Chase Field is at 7:10pm CT and will be carried by ABC-7 and 670 The Score.
Here is tonight's #Cubs starting lineup. #EverybodyIn

Game preview: https://t.co/HuPXRycQbz pic.twitter.com/1X8Q4utofL

— Chicago Cubs (@Cubs) April 27, 2019