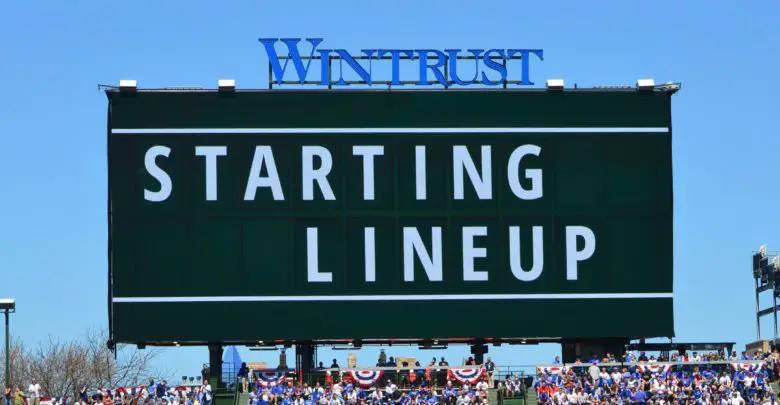 Chicago Cubs Lineup (4/25/19): ZoBryzzo at Top, Descalso Fifth, Lester Returns to Mound
Ben Zobrist leads off Thursday's series finale in right, followed by Kris Bryant at third and Anthony Rizzo at first. Javy Báez mans short — which should continue well beyond May 3 — with Daniel Descalso making up the other half of the double-play combo. The new addition is hitting .189 with a 60 wRC+ when the bases are empty, but .524 with a 253 wRC+ with runners on.
Willson Contreras is behind the plate yet again, which is good for now but could really start to catch up with him over time. Even though Contreras has been much more intentional about keeping up his strength and cardio to prevent another bonk, Joe Maddon is going to have to give Taylor Davis some run. Jason Heyward in center and Kyle Schwarber in left round out the lineup.
Opposing them will be 29-year-old Ross Stripling, owner of a 3.07 ERA in five starts so far this season. He seems to have been the recipient of some really good fortune, though, pitching to a .234 BABIP despite allowing more hard contact than ever.
He's also displaying the lowest fastball velocity of his career and is walking more batters than in either of the last two seasons while striking out fewer. That could change this afternoon, however, as he's notched 16 strikeouts with no walks against the Cubs.
Previously a very clear reverse-split pitcher, a change in approach has neutralized righties. Stripling is using the curve and change more than in the past, with the former getting really good results against hitters from both sides. The change has become a bigger weapon against righties, to the point that he's using it three or four times more often when he gets ahead.
Stripling will go with the slider as much as the fastball, and more to lefties, when he falls behind hitters. The change and curve, however, will be used as out pitches to batters on both sides. Being more comfortable throwing those secondaries late to righties and lefties has really evened out his splits and made him a little harder to predict.
The curve remains his most dangerous pitch, generating an anemic .071 batting average with a .036 ISO. And that production is all from lefties, since righties have yet to do anything against the hook. Perhaps the Cubs can change that this afternoon.
Jon Lester still has some time left as a pitcher, but he's already working on his post-baseball career as a custodian. That means caring for the 2-0 series lead the Cubs have already established and maybe even busting out a broom.
Lester will be on a restricted pitch count, with 75-80 as the upper limit depending on how the game goes. Tyler Chatwood waits in the wings as a de facto piggyback starter, a prospect with a much better outlook now than it would have had before Sunday.
The members of the current Dodgers roster have a combined .777 OPS with four homers against Lester, with 30 strikeouts and 18 walks. The combination of David Freese (8 K, 5 BB), Enrique Hernandez (2 HR, 5 K, 2 BB), and Russell Martin (4 K, 5 BB) have accounted for a majority of those results, so maybe Big Jon should be careful with them.
First pitch on this getaway day is set for 1:20pm CT and will be broadcast on NBC Sports Chicago and 670 The Score. Out-of-market viewers can also get the game on MLB Network.
Here is today's #Cubs lineup for the homestand finale. #EverybodyIn

Stream on @NBCSChicago: https://t.co/rGCuW1XI7C pic.twitter.com/UxybjMmoXr

— Chicago Cubs (@Cubs) April 25, 2019