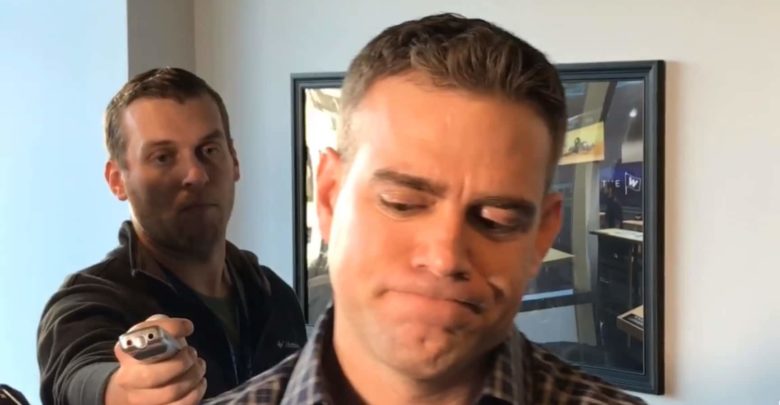 Chicago Cubs Series Review: When Cubs Weren't Busy Kicking Their Own Butts, Braves Obliged
The season is six games old, but we might owe the PECOTA people an apology.
I am trying to remind myself that the season is still very young, it's just that things feel so icky surrounding these Cubs. It is not just the losses, either, it's just a funky vibe all around.
My plan moving forward is to recap each series. However, I am not going to torture us all here by breaking down too much of this gross three-game sweep at the hand of the Braves. It was fugly, to put it bluntly. Even so, let's just see if we can glean a little of where we are at with this club.
With so much angst attached to the Cubs getting off to a fast start this season, things couldn't have gone much worse than they have. Yes, there are only two series in the books, it just feels like so much more and it didn't have to be this way. So many factors are contributing to the ickiness surrounding this Cubs team, in my opinion.
Theo Epstein had good intentions when he said October started in March and wanted a sense of urgency throughout the season. Yet, his team seems to be pressing, at least according to Jon Lester.
"This is a product of trying too hard right now," Lester said earlier in the week. "Guys want to do well and make the really good play or make that perfect pitch. Right now, we're kind of backing ourselves into the corner as opposed to getting the opposing team into the corner."
It also feels like a lot of undue pressure is being put on Joe Maddon, who doesn't do anxiety well. This whole urgency thing seems to be flying in the face of what he preaches. And while I got the sense last season there were too many times the Cubs were punting games when they could have been more aggressive, now you are seeing a team that is feeling it a little too much on the other end.
If the front office wanted to make a change, as it feels to many they do, they should have done it in the offseason. Maybe they were still not convinced that was the move at the time or maybe the next guy wasn't yet available. I would have been fine with a change, I just don't jive with a dead-man-walking vibe.
But before we go total doom and gloom, it should be noted that not everything was a complete disaster in Atlanta. Anthony Rizzo, Kris Bryant, Javy Baez, Kyle Schwarber, and Wilson Contreras are all showing signs that there is still a young core of talent to believe in.
The offense slowed down a little from their torrid pace in the Rangers series but still flashed the focus and production at the plate that has me encouraged. Especially Schwarber. I checked in with a couple of scouts who were in agreement that his return to his original stance and focus on using the entire field seem to be working for him to this point.
Both Schwarber and Contreras are the keys to this lineup rebounding, and so far they haven't disappointed. Maybe at least the Cubs hitters benefited from the pep their team president gave, or they are seeing better results with hitting coach Anthony Iapoce than they did with Chili Davis. I just hope they aren't going to be infected too much from the overall virus that the pitching and defense seem to be suffering from.
The starting pitching has been a disappointment, but I am not overly concerned yet. Yu Darvish looked better in his second start, but it is becoming increasingly aggravating to expect so little from such an important free agent addition. I will give Kyle Hendricks a pass from an atypical performance, especially with the team kicking the ball around behind him.
Lester repeated another fine start that put his team in position to win again. But the bullpen was the undoing that has cost this team at least two wins. For whatever reason the Cubs stuck with Maddon, they needed to at least give him a bullpen that could give him a chance in this season of reckoning.
Epstein is right when he says the average fan is overly anxious when it comes to the bullpen. Usually. In this case, everyone knew this 'pen had started to unravel at the end of last season. Everyone knew Brad Brach wasn't going to be enough of a reinforcement. ​
It has reached a fun-bad level when Maddon goes to his 'pen right now. For some, you almost have to laugh as you cry in your beer when you see the skipper have to call on Carl Edwards Jr. and Tyler Chatwood in key situations. They are simply not major league worthy right now.
Steve Cishek is on Maddon, though, he has to know that. Brandon Kitzler — whose activated a $5 million option after faltering down the stretch last season — is the guy right now. Let that sink in. But I've said before that bullpens can be fixed during the season. Having to enact fixes after just a week, however, is a little scary.
The urgency might be placed squarely on Epstein's shoulders very soon.
"It's going to sound weird, but I think we're in a good spot," Lester said. "I really feel good about our team. I feel good about our bullpen and starting rotation. And our guys have been swinging it, and having good at-bats.
We're kind of kicking ourselves in the butt right now. And that will be fixed."