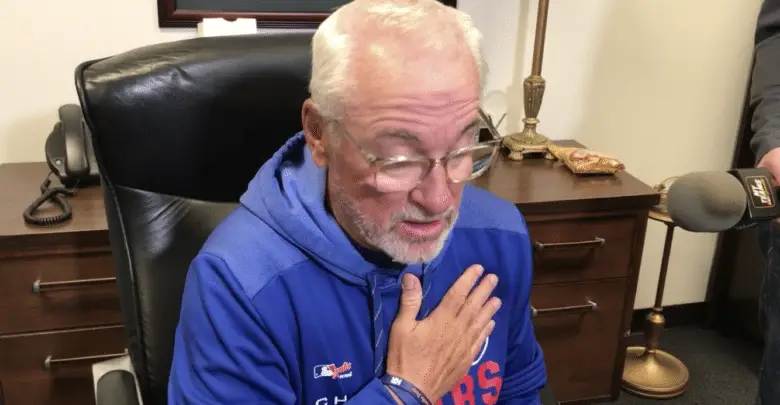 Joe Maddon Not Worried About Cubs Bullpen, 'Just One Guy Had a Tough Time'
Have you heard the one about the team that scored 28 runs in three games and somehow only managed one win? It's not a very good joke, but the Cubs' season-opening series in Texas played out like a dark comedy just the same. At the center of all the action was a bullpen that's had people on edge since at least the time we knew the Cubs weren't going to spend money to address it.
And just like a clunky script with actors straight out of central casting, everyone pretty much knew what was going to happen without having to watch. I'd say it was like fans were reading the relievers' lines, but no one should subject themselves to the masochism of scanning the Cubs' box scores from the last couple games.
Things started out smoothly enough, with Jon Lester pushing through six innings Thursday and turning it over to a bullpen that allowed just two runs in the 9th. But the whole tenor of the long weekend changed when Yu Darvish couldn't keep his spurs from jingling and jangling in his return to Arlington. After striking out the first two batters he faced, the righty assumed the lead role in "Darvish, Texas Ranger Walker" and things got rough.
Chuck Norris might have been able to save the Cubs over the weekend, except the Ricketts don't even want to pay scale at this point. So the decidedly less badass bullpen went out and allowed a total of 13 runs in 11.2 innings (10.03 ERA) over the three-game set. And if you take out Jose Quintana's emergency outing, it was 11 runs over 7.2 innings (12.92 ERA).
Walks, wild pitches, blown leads…this comedy of errors had a little bit of everything for those of you who can't shovel enough punishment down your gullets. But as Joe Maddon tells it, the situation really isn't that bad.
"It was just one guy that had a tough time," Maddon said after Sunday's game, referring to Mike Montgomery.
Whoa, that seems a little harsh. There's no denying Monty's 81.00 ERA through two appearances is hardly something to celebrate, but he's far from the only one who struggled. Of course, he's also one of the pitchers upon whom Maddon really must lean, especially with Brandon Morrow out and 'pen in need of a strong force to transition from the rotation.
"We gotta straighten that out, obviously," Maddon told reporters. "'Shek (Steve Cishek) had a good day. Overall, Chatwood I thought was not bad, either, I mean, for his first attempt. We gotta get Montgomery right, I mean that's his spot right there and Rosie had thrown too much yesterday even though he didn't pitch, so we couldn't utilize him.
"But that's what Monty's here for, for that particular moment. We gotta get him right."
In case you've already compartmentalized "that particular moment," Maddon is speaking of Montgomery's failure to record an out with the Cubs up 8-6 in the bottom of the 7th Sunday evening. The lefty was called upon with two on and two out, then proceeded to give up a triple and a homer before walking the third man he faced. Montgomery left with the Cubs down 10-8.
The triple was hit by Nomar Mazara, who had homered against Montgomery two games earlier. And the homer flew off the bat of Asdrubel Cabrera, who had lined to right Thursday for the only out the southpaw reliever has gotten thus far. If that's too small a sample to prove to you that Montgomery isn't missing bats, consider that he's yet to induce a swinging strike.
Rangers hitters swung at 10 of the 22 pitches Monty threw and achieved the following results: six fouls, two home runs, one triple, one line-out. That's, uh, not good. On the plus side, however, the lefty was hitting 94+ mph pretty regularly. He made a conscious effort this offseason to get his velocity back up, so that at least appears to be going according to plan.
I have been out of the country and could watch the games only sporadically, so any assessment I can make of Montgomery's performance is a matter of speculation and scouting the box score. That said, my initial suspicion was that his intentional increase in velo has resulted in a correlative jump in spin rate, which could explain the gaudy early results.
Montgomery's fastball has traditionally had a very low spin rate, less than 1,900 rpm compared to an MLB average of around 2,300 rpm. And while aggregate results tell us that lower spin rates yield worse results, Monty's made it work because he gets a little more sink on his heater. Max Scherzer, who generates around 2,600 rpm on his four-seam, achieves more "ride" and is able to dominate hitters as a result.
The real key isn't just how many revolutions a ball makes on it's path to the plate, it's how well a pitcher is able to understand what his stuff is going to do. So if Montgomery knows how and where he'll achieve sink with that low spin, he can still get whiffs and poor contact. If his stuff has changed, however, that might explain the inability to miss bats.
Sure enough, a look at Baseball Savant tells us that Montgomery has generated an average spin rate of 2,039 rpm on the 13 four-seamers — yes, I understand it's a small sample — Statcast has measured this season. That's 140 rpm higher than last season and 200 rpm higher than in 2017. Even his career-high 1,946 when he came over to the Cubs in 2016, when his fastball averaged 94.3 mph, falls well shy of this season's numbers. But does such a small difference really mean anything?
Maybe not. Or maybe in a sport in which success and failure are divided by fractions of inches, even a hair less drop on the four-seam could have meant the difference between a foul and a whiff; a can of corn and a two-run homer; a lights-out long reliever and a guy you trust less than Tyler Chatwood.
It wasn't just Montgomery, as we saw above, but Maddon and the Cubs are going to need to get things sorted out in the bullpen. Even when Darvish and Cole Hamels are pitching well, it'll be imperative for the 'pen to have an established pecking order or at least a cadre of high-leverage arms they can count on to put up the stop sign for an inning or three.
And that's before you even consider the potential that Carl Edwards Jr. will have to tweak his delivery yet again. The lanky righty had instituted a pause reminiscent of Kenley Jansen or Clayton Kershaw — or Robb Nen if you want to throw it back a few years — this offseason as a way to center himself and achieve better control. But the move is now under review after Rangers manager Chris Woodward complained about it.
Implosions are going to happen over the course of a season and these recent struggles are magnified by their timing, so things could very well even out over time. Thing is, the Cubs can't afford to let the bad vibes proliferate to the extent that they become a defining characteristic of the season instead of just one series.
"We do have to nip this in the bud," Maddon said. "I do anticipate our guys will. There are a lot of good names down there."
Gee, if only there was also a good name out there in free agency. No single addition would suddenly alleviate all the Cubs' issues, but the bullpen's early performance sure does make it feel like bringing in an elite closer would be a big step in the right direction. Alas, it appears as though the guys on the roster are just going to have to figure it out on their own.
There was an old commercial that claimed you spell "relief" R-O-L-A-I-D-S, and that's pretty fitting given how the Cubs have performed so far. I'm not saying this trend will continue, but you may want to go ahead and invest in some antacids just in case.