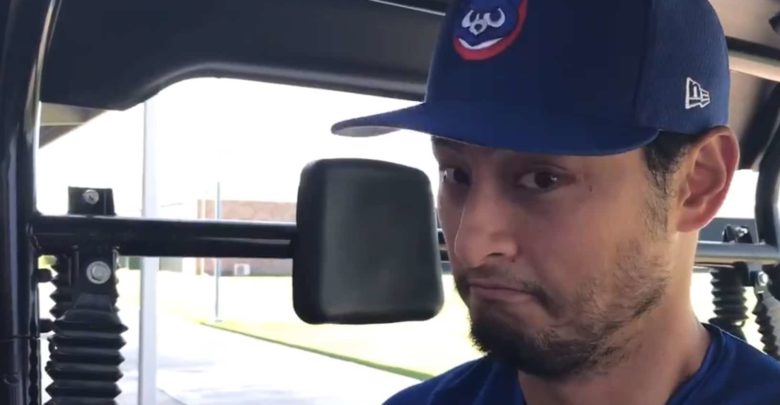 Yu Darvish Targeting Weekend Start Against Rangers
Yu Darvish pitched in a minor league game Sunday afternoon, wearing a bandage on his right ring finger the entire time at the behest of head trainer PJ Mainville. The big righty settled in after giving up a first-pitch homer, eventually going 4.2 innings and giving up two runs on four hits. He also struck out eight and walked none, though you have to take all of that with a grain of salt.
The important takeaway from the outing is that Darvish felt good and displayed solid velocity and control. And if you're worried about the homer, it was probably just a matter of a hitter sitting dead red while Darvish was trying to get used to the feel of the bandage. He'll discard it for his Thursday bullpen session and is on track to take either the Saturday or Sunday start against his old team.
"[It was] a little weird," Darvish said when asked about pitching with his finger wrapped. "When I get sweat[y], I feel…unstable. But slider was good today, and cutter too."
Coy Darvish on when he will start: pic.twitter.com/VwtkW5b1NE

— Mark Gonzales (@MDGonzales) March 24, 2019
He was very coy when pressed about exactly when he'd be starting, so we'll just have to wait and see how things go with that next side session and whether Joe Maddon is willing to set a rotation before that. The manager had previously said he might go with three lefties against a Rangers team with lots of left-handed thunder, so Cole Hamels figures to take one of the weekend starts.
If Darvish gets the all-clear from Mainville and the training staff, a Saturday start probably makes the most sense. That would allow Maddon to maintain a lefty-righty pitching split, with Kyle Hendricks going fourth and José Quintana rounding things out.
Timing and rotation order aside, it's impossible to ignore just how much more relaxed and confident Darvish has been this spring. It comes across clearly in the video above and in every other interaction he's had (like the "pee on it" clip), much of which is due to his choice to eschew an interpreter. Whether it's speaking for himself or just coming in healthy and more familiar with his situation, Darvish has really let his personality shine through.
In addition to his physical health, that improved mental well-being should contribute to a much better season from Darvish. And if you think he's fun now, just wait until he starts shoving at Wrigley on a regular basis. And on the road, too.