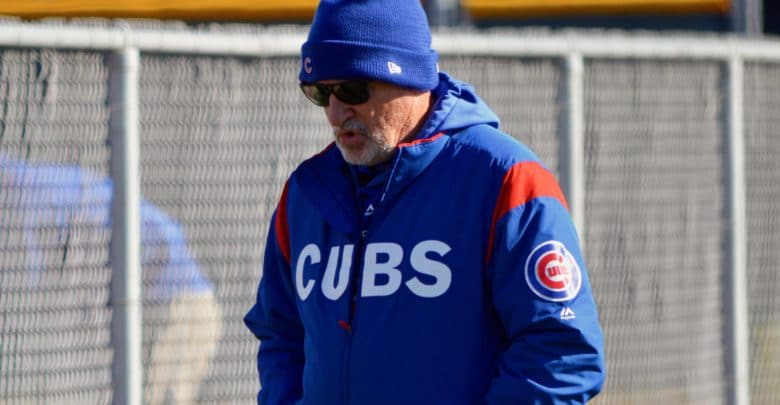 Joe Maddon Refuses to Name Closer Until Brandon Morrow Returns
Joe Maddon recently declared that Brandon Morrow will resume his role as the Cubs' closer when he returns to active duty, but that's at least a month away. He did throw 20 fastballs from a mound Monday, his first such effort since a November procedure to clean up his right elbow and alleviate a stress reaction, so his rehab is progressing according to schedule.
In the meantime, Maddon will opt for a college of closers in which high-leverage stoppers are selected based on matchups. Or, you know, whichever guy happens to be available for that given game.
"I won't declare anybody the closer," Maddon said Tuesday. "I didn't even declare Stropy the closer. Once Brandon's out, we've got to figure it out. Once Morrow comes back, he will be the closer. But until we get to that point, I like the idea of using guys in the higher-leverage moment that suits their abilities better. I don't want to run away from a moment, just because I classified somebody as the ninth-inning pitcher."
Assuming everything continues to go smoothly with the once and future closer, which isn't a given with Morrow, the Cubs are still going to need to cover about at least 20 or so games. The plan is for the oft-injured righty to throw "about six bullpens" before progressing to live batting practice. He'll then embark on a minor league rehab assignment to face live batters in a competitive setting.
Under normal circumstances, the closing duties would fall to Pedro Strop, who's familiar with the role and and has been the Cubs' most consistent late-inning pitcher since coming over in a trade in 2013. But he's also dealing with an injury and isn't a sure bet for the Opening Day roster.
"There's a chance he may be ready," Maddon said. "Like I told him, don't push it right now. We were talking about the first series of the year. I'd much prefer that we don't have to deal with some issues during the course of the year. He gets it. We'll see how it plays out."
Cool, cool, that's always a good strategy for a team that should be competing for a title in a division expected to be one of the most competitive in MLB. Even if Strop is healthy enough to give it a go when the season opens, Maddon may be reticent to let him really cut it loose early in the tightest of spots. That leaves Steve Cishek, Brad Brach, Carl Edwards Jr., and Brandon Kintzler as fallback options.
That would be an absolute murderer's row if we were piecing together each pitcher's best season from the past three or four years. But since it's 2019 and all of them have serious questions about their own health and/or performance, even having a bevvy of former closers at their disposal doesn't engender a great deal of faith in the Cubs' bullpen.
Meanwhile, Craig Kimbrel has little to occupy his time beyond the careful maintenance of his glorious field of facial fleece. And while he's in no danger of running out of money to pay for the requisite balms and conditioners, the elite closer may end up having to take a significant haircut if he wants to find employment this season.
The Cubs have said ad nauseam that they don't have additional money in the baseball budget and Theo Epstein reiterated recently that he didn't "foresee anything significant at all at this time." Their appetite could change if Kimbrel holds out until after the draft and is willing to sign for just the remainder of the season, thereby decreasing the salary commitment and eliminating the draft-pick compensation tied to his declination of the Red Sox' qualifying offer.
But if he's indeed willing to come so far off of his initial desire for a $100 million deal that he'll settle for one year, the Cubs would be far from the only team involved. Ken Rosenthal and Robert Murray of The Athletic jointly reported Tuesday evening that the Brewers had engaged in talks with Kimbrel, though there were no details of any real progress.
Tom Haudricourt of the Milwaukee Journal Sentinel subsequently reported that there was "no indication that contact between the sides was anything more than exploratory" and "no agreement was close." Even so, the very notion that the Brewers — who already possess a formidable bullpen — would entertain the idea of adding Kimbrel should be enough to at least stoke the dying embers of the Cubs' hot stove.
Or maybe that's all this report was intended to do, whether with the Cubs or other teams. The Brewers' current payroll of around $125 million already has them "stretched thin," and you have to assume a one-year deal for Kimbrel would carry a higher AAV than would a longer term. The Brewers lured catcher Yasmani Grandal and second baseman (?!) Mike Moustakas with one-year deals, though, so there is at least a little precedent.
Concerns about Kimbrel's tightrope-walking performance and high price tag aside, seeing him end up in Milwaukee while the Cubs patch holes in their frame with Bondo would go down about as well as a RumChata cocktail left to sit in the July sun for four innings. For it is money the Cubs (say they don't) have and bullpen pieces they lack.
And again, this is all assuming Morrow regains and maintains the form that made him relatively dominant for the first half of 2018. Same for Strop. Brach's mono diagnosis spurred the Cubs to restructure his deal and may have contributed to low velocity numbers in the early going. Edwards hasn't proven that control issues are behind him. Kintzler is a groundball pitcher who isn't generating as many grounders. Brian Duensing is…yeah.
I guess, as Maddon said, we'll just have to see how it plays out.
---
Update: In an article published Wednesday evening, Robert Murray of The Athletic writes that the Brewers and Kimbrel remain in contact ($) about a potential deal. The extent of the talks is not known, but the Brewers may be more motivated than before to get something going.
In addition to the "shoulder weakness" that will force setup man Jeremy Jefress to open the season on the IL, closer Corey Knebel has recently stopped throwing. Neither Knebel nor Craig Counsell has offered an explanation for the cessation, though Murray said a team source called it a tired arm.
Even if the issues with Knebel and Jefress are minor in nature, you can see how adding an elite reliever could help a little bit. Ugh.