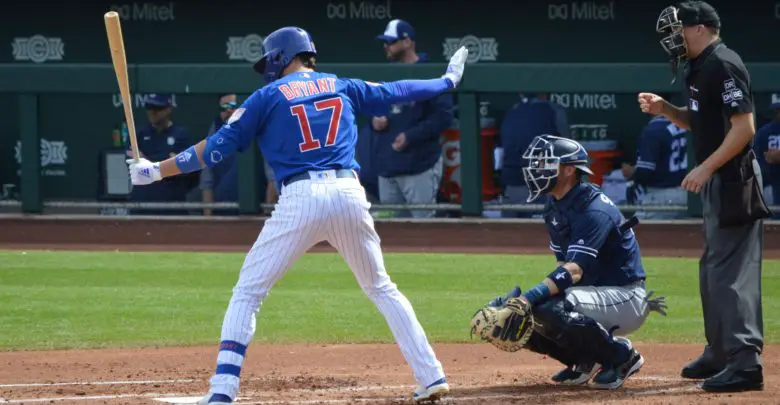 Kris Bryant Named Cubs' 'Most Indispensable Player'
The premise alone openly begs for debate, since putting together a list of "most indispensable" players is going to incite raised hands and rolled eyes. That didn't stop MLB.com's Anthony Castrovince from doing it anyway, though he readily admits the inherent futility and frivolity of the effort.
But just because an individual baseball player may not be as immediately impactful as a basketball player to his team's success doesn't mean everyone on the 25-man roster is interchangeable. Hence the concept of WAR, which makes sense even if you don't necessarily buy into it as a direct measure of performance.
Where would the Brewers have been last year without Christian Yelich playing like the obvious NL MVP down the stretch? And just think about how irrelevant the Royals would have been without Whit Merrifield. Okay, bad example.
Some of Castrovince's choices are less than obvious, which makes a perusal of the list pretty interesting. Yelich isn't named despite his importance to that division title, and the Blue Jays' entry is a guy whose service-time clock hasn't even started ticking yet. The Astros' most indispensable player is a pitcher.
The choice for the Cubs would have been more clear prior to last season, but it's impossible to deny how important Kris Bryant will be to their fortunes in 2019.
As Theo Epstein has said, the Cubs' offense broke in the second half last season, and the power sag we saw from a sore-shouldered Bryant was perhaps the biggest issue of all. Bryant has been vocal about his desire to quiet his critics this year, and the projection systems insist he can again put up an MVP-caliber year for a Cubs club that didn't make any major external improvements over the winter.
One could argue in favor of Javy Báez, Anthony Rizzo, or maybe even Willson Contreras for various reasons, so it's not as though Bryant is the only player who's indispensable. He's just a little more so than anyone else, at least in the opinion of one writer. Well, two, but I wasn't responsible for putting the list together.
Since the fun of these things is breaking them down and yelling about some of the more controversial entries, let's get down on that in the comments. Do you agree with Bryant's selection? How about the other players in the NL Central or MLB in general? Have at it.