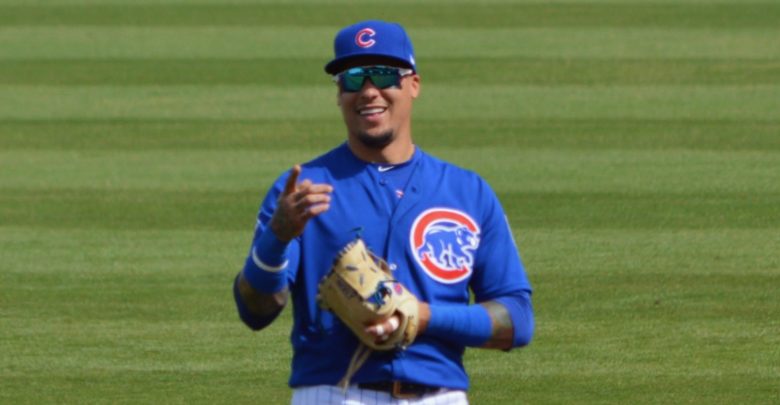 The Rundown: Descalso's Leadership Role, Russell Raking, Status Quo Joe Breezing Through Spring
Daniel Descalso replaced Tommy La Stella for one reason only: veteran leadership. The infielder is entering his 10th year in the big leagues and his resume lists 48 postseason games played and one World Series title. But Descalso knows he's walking into a clubhouse that has had very few changes over the course of four years and 387 wins. So he'll choose his spots carefully.
Descalso's immediate focus is to build trust and rapport.
"I'm not gonna come in here and be a rah-rah guy. I'm gonna sit back and learn my teammates, get to know them individually, and go from there."
If the Cubs had a chance to play the Rockies again in a win-or-go-home tilt would the outcome be any different than it was last October? Both teams face difficult paths toward a division championship and could feasibly meet again at the end of this season under similar circumstances. If yesterday was any indication, the Cubs are still a few runs short of being able to defeat Colorado. I know, spring baseball is meaningless.
Did anybody notice if Nolan Arenado and Javy Baez rekindled their affection for one another?
Bros don't just tag, bros gotta hug pic.twitter.com/vxywkJTOyq

— The Muse (@crypticmusings) October 3, 2018
This is some cool trivia so I'm just going to cut/paste it from the NBC Sports website:
Joe Maddon was named Cubs manager on November 3, 2014.
11 years to the day after the White Sox named Ozzie Guillen manager.
25 years to the day after Phil Jackson made his debut as Bulls Head Coach.
All three won a championship in year two.
And when the Cubs won the 2016 World Series, the game ended after midnight (EST) on…November 3.
The first job Anthony Rizzo ever held was as a valet at Bonefish Grill in Florida. He also prefers Chicago hot dogs to the city's signature dish…pizza. Just don't ask him if a hot dog is a sandwich. It's not.
Addison Russell has been treated relatively well by Cubs fans in Arizona. His teammates have provided strong support as well. Russell is hitting .462 (6-for-15) after going 1-for-2 yesterday, though his manager continues to avoid the shortstop's off-field issues.
"I talk to him every day pretty much," Maddon said. "I don't talk to him about (his off-the-field situation). I just talk to him in a baseball sense."
I can't totally dismiss Maddon because there is precedent that an opportunity to amend for past mistakes is a more effective course of treatment, though that seems more than somewhat counterintuitive.
"One thing that every person, from fans to athletes on the team, can do is to treat him like a normal human being that they enjoy spending time with," said Cindy Southworth, executive vice president of the National Network to End Domestic Violence. "But don't minimize what he's done or the steps he's taken. 'Oh man, that was a crock of shit' is not an appropriate response. He's being held accountable for behavior he chose to enact."
That seems to be the approach that the Cubs manager is taking with Russell. If that's the recommended course of action, then fine. But it just feels so much like Status Quo Joe, coolly laying up and breezing by anything that might push him beyond the navigational buoys of the carefully plotted aesthetics and techniques that define his managerial ethos.
One has to wonder if the lack of roster churn in four years has caused Maddon to lose touch with the team. As the core gets older, they may need something different. The veteran manager has played the dorm adviser role to perfection, but that shtick has possibly staled. It will be interesting to see how Papa Joe's walk year plays out this season.
Cubs News & Notes
Nico Hoerner RBI single!! #Cubs pic.twitter.com/dBwYUlTyKG

— Cubs Insider (@realcubsinsider) March 7, 2019
Spring Training News & Notes
Hall of Fame pitcher Tom Seaver has been diagnosed with dementia, and the 74-year old Mets legend will now retire from public life. Seaver, a 6-foot-1 righty, was a 12-time All-Star, won three Cy Young Awards, and helped the Mets win their first World Series in 1969. He was inducted into the Hall of Fame on his first ballot in 1992, earning 425 of 430 votes for enshrinement.
Bryce Harper is embracing his Phillies teammates on social media.
MLB has contacted the Phillies regarding Harper's public statements that he would recruit Mike Trout to sign with Philadelphia when the consensus best player in baseball reaches free agency after the 2020 season.
Joel Sherman of the New York Post believes the Dodgers, who made a late move for Harper with a short-term deal offering high annual average salary, should do the same for Dallas Keuchel. He claims they should test the market with a potential one-year $25 million offer.
The Astros have made one- and two-year proposals to Keuchel and both were rejected.
A San Diego jury found former major-league outfielder Jacque Jones liable for distributing a nude photo of his ex-girlfriend, and he was ordered to pay nearly $67,000 in damages. Jones played for the Cubs in 2006 and 2007.
Extra Innings
Seaver earned his 300th career victory in Yankee Stadium on August 4, 1985 while pitching for the White Sox. On that very same day, Rod Carew got his 3,000th career hit at Anaheim Stadium in a game against the Twins. Seaver started his professional career in New York playing for the Mets as a rookie in 1967. Carew got his big league start that same year with the Twins. The career .328 batter was just 2-for-11 lifetime against Seaver. To put a nice big red bow on all of this, both players won Rookie of the Year awards in their respective leagues in '67.
Friday Walk Up Song
The Blood of Cú Chulainn by Jeff & Mychael Danna. If you've seen The Boondock Saints you're probably very familiar with this Celtic classic by the Danna brothers. Cú Chulainn is one of the most famous Irish heroes, particularly to the Nationalists, who see the mythical soldier as one who takes vengeance on all of his enemies. "We must always fear evil men. But there is another kind of evil that we must fear the most, and that is the indifference of good men."