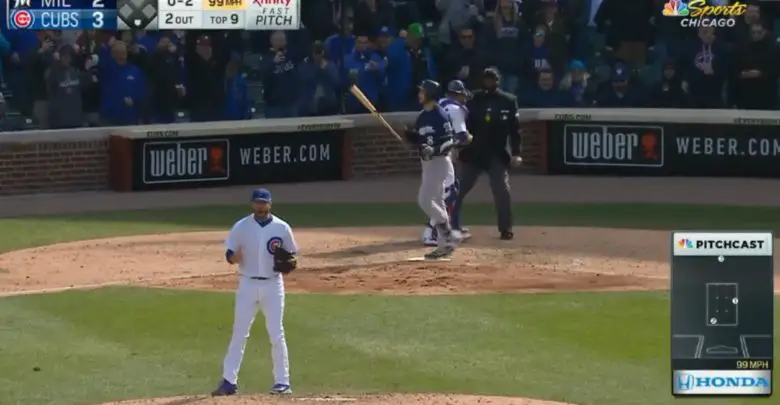 Cubs Rebuilding Arms with State-of-the-Art Pitch Lab
We can rebuild them. We have the technology. We can make them better than they were. Better…stronger…faster.
Okay, so Theo Epstein probably didn't channel Oscar Goldman from The Six Million Dollar Man when he first envisioned the team's Pitch Lab in Mesa. But you can kind of imagine Epstein and the rest of the folks in charge of the pitching infrastructure totally geeking out at the idea of getting all mad scientist-y with a roomful of tech aimed at explaining and unlocking performance.
As Sahadev Sharma wrote for The Athletic ($), one of the first rats tested in the new lab was lefty Kyle Ryan, picked up by the Cubs last year after washing out with the Tigers. By comparing video and utilizing Edgertronic cameras capable of capturing 2,000 frames per second, then syncing the data with Rapsodo machines that track velocity, spin, and axis (among other things), the Cubs were able to spot a drastic change in Ryan's release point.
Most of the effort in that case came from minor league pitching coordinator Brendan Sagara and minor league rehab pitching coordinator Ron Villone, but there are several other R&D folks in the mix. That goes all the way up to new pitching coach Tommy Hottovy, who cut his coaching teeth as the team's run prevention coordinator after retiring from pitching.
It's not just fringe guys who benefit from this stuff, either. Sharma wrote about Brandon Morrow discovering that his intended location to lefties in particular would lead to a different strike point for his foot, which in turn influenced whether the pitch had cut or sink. It's something the righty had theorized but couldn't quantify until running it through the advanced tech.
Much of the equipment is being put to use outside the lab as well, since a controlled environment isn't always the best place to test athletic performance. We discussed that earlier in the spring with Carl Edwards Jr. adding a Kenley Jansen-esque pause to his delivery and touched on it briefly when presenting a case for Mike Montgomery's improvement this season.
One really cool byproduct of all this new technology is Sagara's pitch-grip index, a photo album that catalogs pitchers' various grips over the course of time. The speed and accuracy of the Edgertronic cameras allows the Cubs to accurately view finger placement in real time, which they can then use to diagnose issues or promote repetition of good habits. Montgomery, for instance, needs to get more on the side of the ball rather than behind it when throwing his slider.
The real key to all this, what will determine the effectiveness of the Pitch Lab, is the Cubs' ability to translate what's being shown in the data to actual performance. And that's why it's so great to have younger guys like Hottovy and Brad Mills, along with other former players who possess an analytical bent, heading up these initiatives. It can't be just about scouting or stats, there has to be a marriage of the two.
When it's working right, they'll be able to clearly define with a great deal of exactitude what is happening when a pitcher feels right, whether it's a new pitch or his overall deliver. That makes it easier to measure, and in turn repeat, that feel. The same is true for hitters like Kris Bryant, who honed his swing using analytics by training to lock in the ideal swing path.
This is all really fascinating and I look forward to learning even more about the Pitch Lab over time.