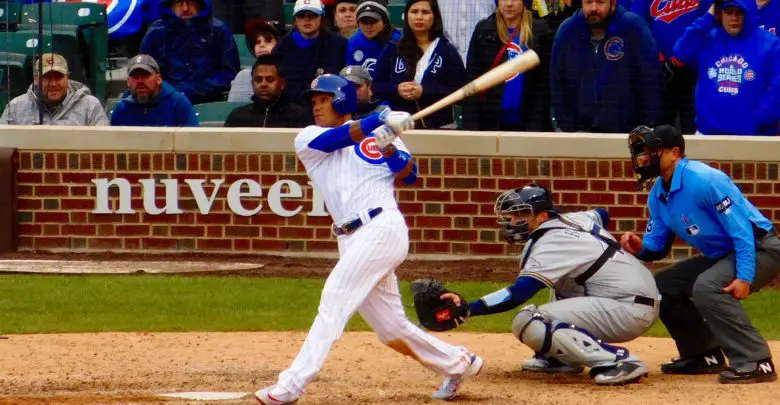 Revisiting Those 5 Options for Addison Russell's Future with Cubs
Back in December, we took a look at the various options the Cubs had for Addison Russell's future. On Friday, team and player agreed to a $3.4 million contract that features an additional $600,000 in potential roster bonuses. With that as a backdrop, I thought it would be worthwhile to address how this development affects his future.
Even though he received a nominal raise, Russell's 2019 salary is $1-2 million below the market rate for a shortstop with comparable service time and past on-field performance. As Ken Rosenthal reported ($), very few teams were interested in trading for Russell early in the offseason, and even those backed off after a barrage of additional sordid details of domestic violence emerged in December. Russell's new lower cost could make him more attractive to other teams and allow the Cubs to finally swing a trade, thus ridding themselves of Russell and getting something in return.
I remain pessimistic that a trade partner can be found, but this does not mean the Cubs are stuck with Russell. The Athletic is reporting that Russell's contract is non-guaranteed, which means the Cubs retain the ability to cut him during spring training for either 30 or 45 days of severance, depending on timing. If the Cubs are unimpressed with Russell's performance either on or off the field, he will likely be sent packing.
By signing Daniel Descalso, who is capable of backing up Javier Baez at shortstop, the Cubs have also put themselves in position to succeed without Russell. This should help ensure that Russell understands he's not indispensable, which could factor in him taking his treatment program seriously.
Meanwhile, public pressure is mounting for the Cubs to release Russell now. The Cubs claim that part of the reason for keeping Russell is that they feel a sense of obligation to fix the damage that occurred on their watch. If that's really true, they need to start addressing that damage now. The most obvious move would be to donate the $1 million in savings they just accrued from Russell's below-market deal to a local charity, perhaps of his ex-wife's choosing. They could then follow that up by requiring that Russell escrow his salary, thus allowing the team to ensure proper payment of his child support obligations (in view of his past behavior on that front).
So it would seem our original five options are largely still intact, with the non-guaranteed contract clarifying what had initially been assumed. I hope Russell's defined contract facilitates a trade, although I am not sure how making him someone else's problem serves the interest of justice. I suspect that if a trade does happen it will be mid-season after the suspension has ended and injuries start necessitating moves.