Cubs Prospect Profile: Chris Singleton's Strong August Offers Glimpse of Future
Chris Singleton the human being has gone through things most of us can only imagine. His mother was gunned down in a church in Charleston, South Carolina three years ago. Many people might have been unable to move on from such tragedy, but Singleton has turned something completely negative into an unbelievable positive. He now travels the country in the offseason, spreading his message that love is stronger than hate. Seems like the perfect message for tumultuous times.
As for Chris Singleton the baseball player, his first full season as a Cubs prospect saw him face several challenges. Based on his wRC+ of 72, you would think that he put up horrid numbers all year long, but his adjustments as a hitter were obvious as he improved his slash-line numbers 10-30 points per month. The issue is that he started so low in April with a slash line of .154/.203/.262.
That was up to .224/.321/.328 by July, which shows incredible leaps forward in spite of the numbers still being ugly on the whole. His August line of .305/.335/.415 showed undeniable growth. Breaking things down by half paints a clear picture: .190/.232/.255 prior to the break, .255/.310/.293 (with much of that damage coming in August) after.
Singleton emerged from his funk when he began to hit the ball with more authority. But even through late July, that good contact at the plate at times was accompanied by a great deal of strikeouts. Over the 10 games I saw over a stretch that month, he struck out eight times in 22 plate appearances (36 percent). When August came around, however, he reduced the Ks to only 14 times in 84 trips to the plate (17 percent).
The numbers offer a look at Singleton's potential, but below is a short list of some of the more intangible aspects of his game that support the idea that he can continue to improve in 2019 and beyond.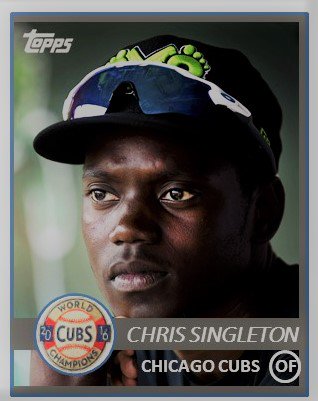 Athleticism
Watching him on TV, he looks pretty fluid running the bases or chasing down fly balls in the outfield. In person, he looks like he is just gliding. He may be one of the best pure athletes in the system, at least top 10. That athleticism will allow him a little leeway as he continues to make adjustments.
August
Putting up such a strong performance at the end of the 2018 season should give him some confidence heading into 2019.
Support
In the dugout last summer, I watched how his teammates interacted with him. They don't smother him, but they were always there to pick him up at every opportunity. He's a guy the rest of the team loves to rally behind.
Pop
He's not going to hit 40 home runs, but he has the potential to be a 15-20 home run guy with the ability to steal 25-30 bases.
Plugging Away
2019 will be quite the test for Singleton. Most prospects who had the kind of year he did would begin the next year at the same affiliate. But because of the depth projected to be at South Bend, I think the Cubs are going to start him at Myrtle Beach.
The Cubs were extremely patient with Singleton last year and that patience was rewarded with his breakthrough August. Keeping that development on an upward trajectory at Myrtle Beach will be a challenge, but he may well be up to the task. Avoiding another slow start won't hurt.
If you want to learn more about Singleton's foundation and his mission, you can visit his website here.