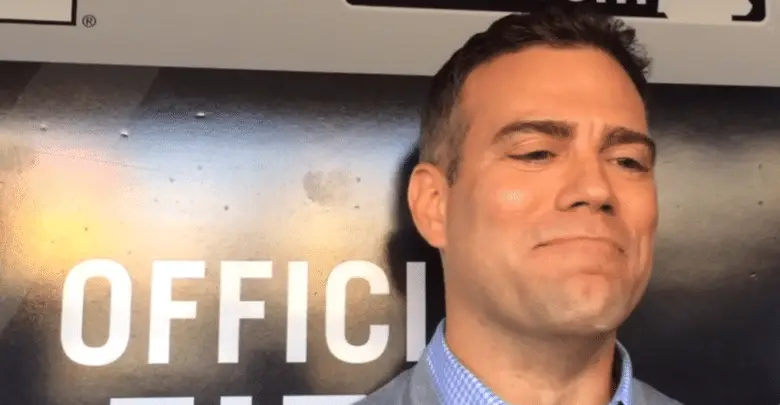 Here's a Quick Look at Some Players Connected to Cubs Recently
Hoo doggies, the Winter Meetings are fun. It's a manic brand of enjoyment that involves getting drunk on rumors and trying to make sense of everything, but that's kind of like most Las Vegas experiences. Well, except that teams are hoping what happens there doesn't all stay there.
The Cubs are expected to be very active, though to what extent they'll make a big splash remains to be seen. And no matter what they do or don't do at the top of the market, they'll need to pull off a series of smaller moves to supplement the roster and/or trim salary. With that in mind, let's run through some of the players to whom the Cubs have been tied to this point.
One report says (subscription) Theo Epstein "isn't just lying in the weeds waiting to pounce," while I've been told and have seen elsewhere that the Cubs are more "in" on Harper than previously indicated. It doesn't take a semantic gymnast to make both things true, but the reality of the situation is that the Cubs and Harper's camp are both quite familiar with one another.
In fact, Epstein is so in sync with Scott Boras that he knows the agent always goes to starboard in the bottom half of the hour during his submarine races. Okay, that was just a shameless movie trivia flex. There have been some indications that the total dollar figure isn't Harper's primary goal, and information gleaned from the clandestine meetings suggests this is going to be a family decision.
Even so, the Cubs' oft-stated desire to freeze salary obligations, and maybe even pare them, doesn't bode well there. At the same time, they've proven their ability to recruit free agents by focusing on things that matter most to them away from the field.
This is still a long-shot, but it feels like there's a chance if the Cubs can get really wild and shed another big salary or two.
We looked at this in greater depth earlier, so there's not much reason to rehash here. Besides, you're not baby birds and don't need me to pre-chew your food (and sharing all the same info again means missing on a potential click, thereby decreasing my ability to grow even wealthier). Britton has been a target for nearly two years and he'd be a nice lefty foil for Brandon Morrow, but he's reportedly looking for an opportunity to close.
"Uh, yeah, the Cubs have such an opportunity," you say. It's true that Morrow will miss at least the early part of the season and will not be pitching back-to-back-to-back games, if even consecutive games or three of four, so the chance to close will be there. It's just that Britton is also going to want to be paid like a closer. Not happening in Chicago unless they somehow move Brandon Kintzler, Brian Duensing, and/or Tyler Chatwood.
Take the same thing I wrote about Britton and change the name, then maybe temper the part about wanting to close exclusively. The Cubs have talked or will talk with Miller's camp, though his asking price is also likely to be too high unless other moves take place.
The Cubs have reportedly talked to the Rangers about Profar, which makes all kinds of sense when you look at all the things the Cubs are trying to get done. He's young, has two more years of control, should command less via arbitration than Addison Russell, and has the flexibility to play all over the infield. If the Rangers are truly asking for just two pitching prospects, the Cubs would be able to make it work.
Now, just what kind of prospects the Rangers would want could change things up. But the Cubs and Rangers know each other very well and the Rangers now employ former Cubs assistant GM Shiraz Rehman in the same capacity. Maybe his evaluation skills would come into play here.
A career campaign in Colorado has the 33-year-old righty primed to command roughly as much as the two lefties mentioned earlier. He's not been immune to injuries, so you factor that in. Then you look at a career 3.8 BB/9 rate that hit 6.6 and 4.2, respectively, the last two seasons.
And while it's unfair to apply the sins of the past when weighing future signings, the Cubs didn't exactly have great success with another former Rockies righty who missed both bats and the strike zone with high frequency. Man, that was a long sentence. Tom Loxas tweeted that the Cubs have met with Ottavino's camp, but this is another money-moving situation.
Other relievers
In the piece referenced above re: Harper, Sahadev Sharma lists Cody Allen, David Robertson, Joe Kelly, Brad Boxberger, and Blake Parker as possible free-agent targets in addition to those named above. Will Smith and José Leclerc are named as potential trade targets, though this is all just hypothetical.
Professional hitters
The Cubs said to be engaging in a diligent pursuit of professional hitters, which, duh. Michael Brantley has been mentioned as an option, as have Adam Jones and Andrew McCutchen. Then there's Ian Kinsler and Nick Markakis. Former Cub DJ LeMahieu has been talked about for quite some time, but his years of slapping the ball around in Denver to the tune of a .299 average have apparently pushed him out of the Cubs' price range.
There will certainly be more names to add to the list in the coming days; hell, there are probably several I've left out here. The main themes, though, are high-leverage bullpen help and middle infielders who can work a plate appearance. Sure, some outfielders are in the mix, they just don't seem to be a priority with so many young players already locked in there.
As always, stay tuned for more.