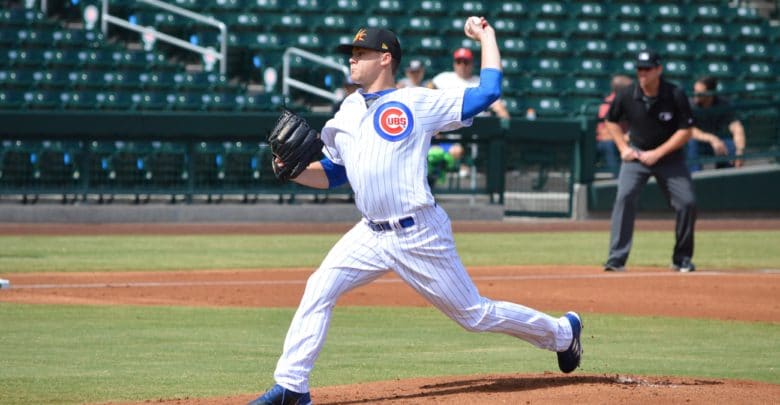 Cubs Add Justin Steele to 40-Man Roster, Announce Other Moves
Heading into Tuesday's deadline to set their 40-man roster, the Cubs had just one space left and several decisions to make. With the Rule 5 Draft coming up on December 13, they needed to determine which prospects to protect and which to leave open. The first move involved the Rangers claiming utility infield Jack Reinheimer off waivers to clear one more space, though that wasn't all the action on the day.
The Cubs later added lefty pitcher Ian Clarkin off waivers from the White Sox and then traded for righty reliever Rowan Wick from the Padres. Heading to San Diego in that deal is Jason Vosler. If you would've told me in 2015 that Vosler would hit 20+ home runs a year in the minors, you would've been laughed off the Internet. He has been one of the biggest surprises in the system the past two years; the issue for him was that he was blocked by both Kris Bryant and Anthony Rizzo.
After that trade, the Cubs wound up adding left-handed pitcher Justin Steele to their 40 man roster. Based on his performance coming off Tommy John surgery, Steele's selection was a no-brainer. After struggling in 2016 at South Bend, Steele took the mental skills program to heart. He began to use meditation to help prepare for game day and his career took off in 2017 as he practiced visualization along with meditation to defeat a team before he even stepped on the mound.
It was also in 2017 that Steele underwent Tommy John surgery, going under the knife in August after resurrecting his career. The surgery was just a blip on his career path as he came back to pitch as a starter for Myrtle Beach 10 months after his surgery. His fastball sat 95 and his plus curve had a sharper bite as he moved up to Double-A Tennessee and finished with the Arizona Fall League.
I thought for sure Trevor Clifton would be added this year after getting bypassed last year. After dominating the first half at Tennessee in 2018, Clifton was promoted in June to AAA Iowa and learned to make adjustments from start to start. The 6-foot-3 righty gets tremendous movement with his fastball in on right-handed hitters with his fastball, but his knee-buckling spike curveball is his best pitch. His change has really come on strong the past year. The Cubs will be lucky if he is not selected next month.
If you're looking for another unprotected Cubs prospect other teams might covet in the Rule 5 Draft this year, look no further than reliever Jordan Minch. Left-handed relievers are sought-after commodity and Minch had some success in the second half at Tennessee. Catchers Ian Rice and PJ Higgins could be selected as well.
Today's moves set the roster for the upcoming draft, but the Cubs are far from done assembling their squad for 2019.