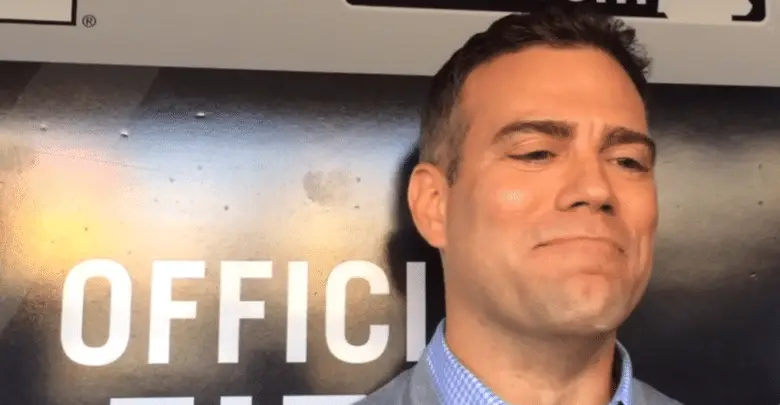 Theo Epstein Talks Limited Finances, Plans to Focus on Current Core…But 'Some Adjustments' Remain Under Wraps
There's already been a great deal of time devoted to parsing Theo Epstein's words about the Cubs' offseason plans, but to this point that has mainly involved inferences based on one's personal beliefs of what the Cubs will do. Those who have been given information or who believe that sourced info see Epstein setting lower expectations for the pursuit of a monster free agent. Others see a card shark holding his hand close to his vest.
Almost all of that potential duality went right out the window Tuesday afternoon, however, as the curse-breaker extraordinaire painted a very clear picture (really good stuff in there from Tony Andracki of NBC Sports Chicago) of the Cubs' finances and their plans to improve the team this offseason.
"We've had a top six payroll each of the last three seasons," Epstein said. "We certainly expect to have another top six payroll this season and going forward. That investment in the club by our ownership has been everything we could ask for. It's been enough to win more games than any other team the last four years.
"It's more than enough to win and on top of that, this is an ownership group that's poured in $750 million in private investment in fixing Wrigley Field. I appreciate and understand the desire for more every winter."
Okay, so while he's not laying out how much more the Cubs can or will spend, he's saying the current investment by ownership is enough to win another World Series. That part about how much has gone into the development is interesting, though, as I can't help but feel there's something on the back side of it. That's admittedly a product of my own thoughts about why the Cubs might cap spending, but still.
On one hand, pointing out how much money the Ricketts family has dumped into Wrigleyville building projects is a way to show how committed they are to the overall product for which they are responsible. On the other, we're talking about a massive figure that dwarfs payroll and that isn't going to be easy to recoup in short order. Could it be that the funds that could have been earmarked for player personnel are tied up in projects?
Maybe, but that's purely speculation and I don't believe Epstein was consciously saying as much. Nor was he saying the Cubs are unequivocally out on anyone, though he did preach perspective when it comes to their pursuits.
"[W]e should do everything we can to make this team better and there are some great names out there and we're not ruling anybody out, but I think it's important to have some perspective, too," Epstein cautioned. "Like every other team, we're gonna have our budgets, but as a result of looking at revenues and looking at expenses and doing everything we can to put a winning team on the field for the fans."
Adding to this is the idea that the Cubs may be giving this current group one more year to really figure it out. I know that's something a lot of people have trouble hearing, understandably so, but you look at Joe Maddon's contractual situation and the potential budgetary constraints and it makes sense. Well, I mean, it doesn't make sense that they'd constrain the budget, just that the puzzle pieces all fit.
What is emerging more and more is the idea that a few (potentially minor?) changes to what they're doing with the players they've already got will yield big results. This is a team that won 95 games despite obvious issues with health and performance. It's not a stretch to say that one or two tweaks could have meant triple-digit wins and a deep playoff run.
"We do feel like our answers are internal," Jed Hoyer said Tuesday from the GM Meetings. "We need to focus on getting our players to maximize their potential. With that said, I think we're open to business and listening and that will probably be our focus more than shopping at the top of the market."
But wait, what happened to the whole thing about it being about talent more than production moving forward? Well, as has been laid out on these pages since Epstein set that expectation in his postmortem presser, the Cubs aren't simply cutting bait on players who didn't take big steps forward last season.
"I think that for the group as a whole and for a lot of individual players, it's now time to turn that talent into production," Epstein said (subscription). "In a lot of ways, we're going to be as good as our core of talent produces. If you start to look at this competitive window as a whole, which we've all been operating under the assumption it's going to be at least seven years, it's time to produce or else there's the chance for significant change with the group."
And while the plan is to be active this winter with both free agency and trades, Epstein reiterated that the focus is on getting the most out of the roster regardless of how many names change. The themes he kept coming back to were better performance, awareness of the financial situation, and not closing doors on any opportunity. The thread running through all of that was the need for the organization as a whole to be complicit in promoting that improved performance.
As for how they plan to affect that improvement, well, that's where Epstein tightened his grip on his cards.
"We were assessing (the offense) every day as (the season) was going on," Epstein said (via Sahadev Sharma of The Athletic). "It's not like we just sat down and found out all the answers. But through some of the exit interviews, I definitely learned some things. It's some of the stuff I don't want to talk about publicly until we make some adjustments and then roll it out to the players [emphasis mine].
"If you look on paper, the strength probably right now is the starting rotation. It probably should be, and someday will be, this position player group, but we've got a lot of work to do. For a few different reasons, it fell apart down the stretch and we weren't able to make an adjustment and pull ourselves out of it."
So exactly what adjustments will they roll out to the players? We obviously won't know that for a while, though the general concept seems to back up the idea that perhaps the front office would be looking to exert a little more influence over the day-to-day operations in the clubhouse and on the field. Is it something as simple as eliminating American Legion days or maybe tweaking arrival times in general? The Cubs parted ways with Chili Davis based in large part on feedback from exit interviews, but Epstein indicated further changes to the way things have been done.
Just how different the Cubs will look next year is still very much undetermined, but Epstein has vowed time and again that the team is going to feel different. Which should totally make you feel great about not pursuing Bryce Harper or Manny Machado, right? Well, maybe it will if everything works out perfectly.
Whatever the specifics, we can easily assume any changes will be aimed at spurring the urgency that was so obviously lacking throughout the 2018 campaign. Perhaps there are more moves coming with a coaching staff that is still somewhat in flux, or maybe it's a matter of tweaking practice habits. All we know for sure is that nothing is off the table at this point.