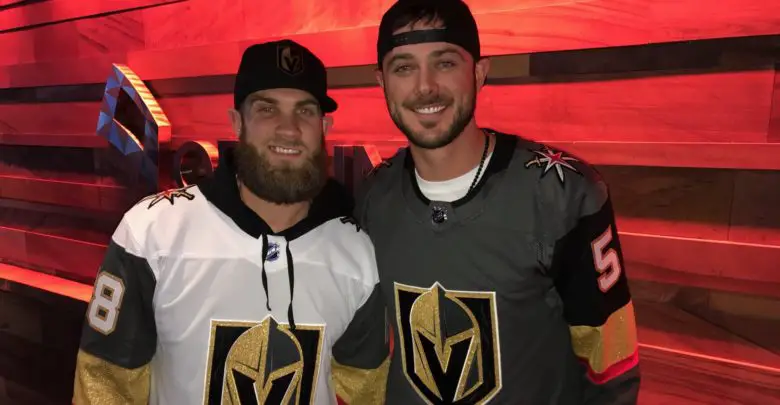 Report: Harper to Cubs 'Seems Inevitable,' Opening Bid Starts at 10 Years, $350 Million
Because you're surely familiar with all the Bryce-Harper-to-the-Cubs talk, I'll dispense with most of the preamble here. In addition to being one of the most sought-after free agents of all time, Harper has openly flirted with the Cubs and/or their fans for over a year. He and his wife, Kayla, are also good friends with Kris and Jess Bryant, which is perhaps why Bruce Levine wrote: "A future marriage between superstar outfielder Bryce Harper and the Cubs seems inevitable."
Later in that same column, Levine stated in no uncertain terms that bidding for Harper would start at 10 years and $350 million. The specificity here is notable, though whether it's based on any sourced information (he didn't say it was) or just a well-educated guess (those figures are pretty standard), we don't know. What we do know is that anything even close to that will shoot the Cubs even further past a luxury tax limit they're already going to exceed.
But they can afford to make such a splash given their strong overall revenue and they are among a group of perhaps six teams that can realistically pursue Harper and/or Manny Machado. And considering how much better those two superstars figure to be than any other available players in free agency either this year or next, they may see Harper as the best option to maximize the remaining years of their open championship window.
Don't expect this to marriage to be consummated when free agency officially opens November 1, unless Theo Epstein shows up on Harper's doorstep with a check for $450 million. That might actually see the slugging outfielder carrying his new boss across the threshold immediately. More than likely, though, the pursuit of the top two targets will take a while. In addition to the staggering salary figures involved, there'll surely be opt-outs and incentives that could inflate the real or perceived value of any offer.
The moral of the story is that signs continue to point to Harper making good on his running joke, which I suppose could carry all kinds of tampering claims. Oh well, we can save that for another time.