4 Not-So-Obvious Hitters in Cubs System to Watch Next Year
The minor league season is over for all intents and purposes, with just the remainder of the Arizona Fall League left. But it's never too early to start looking toward the 2019 season and a few of the position players I'll have my eye on.
The usual suspects include No. 1 prospect Miguel Amaya, first baseman Jared Young, shortstops Zack Short and Nico Hoerner, and outfielder Nelson Velasquez. There are other bats, though, who will be just as interesting, if not more so, come April.
1. Trent Giambrone
When you go 4-for-6 in your first game in the Arizona Fall League, a lot of heads to begin to turn. Add in that he did it while playing third base, something he's done only 15 games in two and a half years as a pro, and you have the makings of a possible bat to watch at AAA Iowa next year. I interviewed Giambrone after a scintillating June in 2017 in Myrtle Beach, but he really came on in 2018 at AA Tennessee with 17 home runs and a wRC+ of 117.
Taking his power to a new level, especially doing so in somewhat of a pitcher's league, was a real eye-opener. Considering some of the environs in the Pacific Coast League, we could see those power numbers creep up even higher. And if Giambrone is now playing third-base, that gives him the versatility of manning four infield positions.
2. Luke Reynolds
He hit .289 with a .383 OBP and a wRC+ of 127 at Eugene despite playing the last month of the season with an injured ankle. That points to an excellent bat and approach, with gap-to-gap power that led to lots of doubles along the way to a wacky league title for the Emeralds. Wherever he ends up to begin 2019, he is going to hit the ball hard. The question is whether the work he puts in over the winter will result in warning track shots or dingers.
3. Jonathan Sierra
It seems like he's been around forever, but the 2015 international free agent was only 19 this past season and has yet to compete in full-season ball. He's going to nearly double the number of at-bats (648) he has seen so far in his career, which should do wonders for his development. Physically, he has gone from a young Darryl Strawberry clone to a chiseled physical specimen. Sierra is as gifted a player as the Cubs have, but he still has a hole in his swing from his hands to his knees on the inside of the plate. If he could just swing a little earlier, the immense power potential could flow.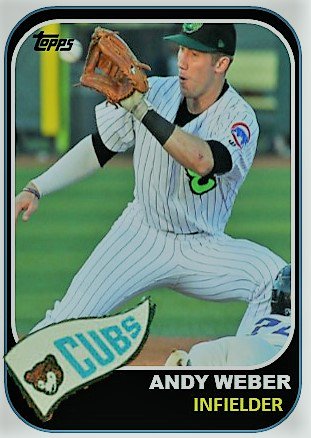 4. Andy Weber
A year ago, Jared Young made me look good after I pegged him as the bat to watch for 2018. This fall, I'm going with Weber, the 6-foot-2 second baseman out of the University of Virginia who was a fifth round pick of the Cubs this year (and the last draft pick to sign). He's pretty scrawny right now, but he could add some muscle over the winter to add more power. His greatest asset, however, will be his ability to track the ball and recognize what pitch is being thrown. He has a very calm demeanor and already looks like a veteran at the plate, spraying the ball from line to line.. Weber comes across as a hitter who is well aware of the situation he is in and doesn't seem to be phased by it at all. As the late, great MCA once rhymed, Weber is "as cool as a cucumber in a bowl of hot sauce."
There will be plenty of other hitters to watch next year, but these four stand out among those who aren't necessarily getting top billing.