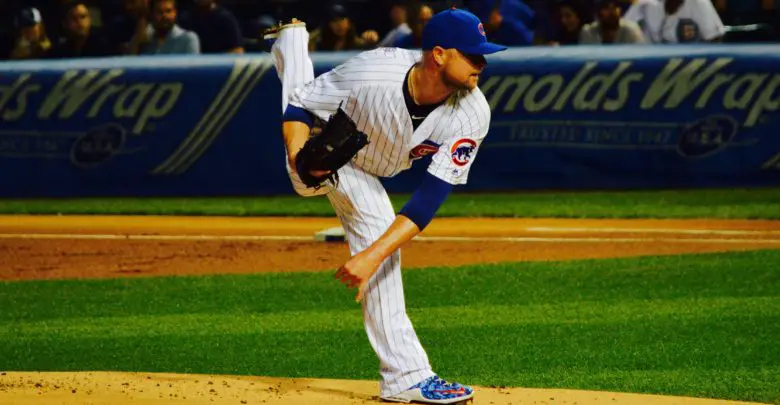 The Rundown: Brewers Are Central Champs, Cubs Face Rockies in Win-or-Die Game, Lester First to Start Two Wild Card Games
It's the Cubs vs. the Rockies in a win-or-go-home game tonight at Wrigley Field. That's all that matters. I actually had to disengage from social media and all of the mindless rhetoric that would have you believe the Cubs are the worst 95-win team in the history of baseball. Facts being facts, the Brewers got hot at the right time, riding an eight-game winning streak on their way to the Central Division title and the Cubs just couldn't keep pace.
Congratulations to the Brewers on winning the Central. What a great season for both teams, and what an epic September for the Brew Crew.
Final: Brewers 3, #Cubs 1. pic.twitter.com/kiOX74TLs0

— Chicago Cubs (@Cubs) October 1, 2018
Can we just admit that the better team won? Or rather, the better team right now. So while the majority of Cubs fans are catching up on the Chicago Bears and Mitchell Trubisky, or perusing their Netflix accounts to decide what to binge watch starting Wednesday (I highly recommend Ozark), I am going to focus on the task at hand: Hoping the Cubs beat the Rockies tonight and exact a healthy portion of revenge against Milwaukee in the NLDS.
"We have another opportunity," Joe Maddon said. "I've been involved with wildcard teams that have gone all the way. It happens."
Chicago enters the playoffs with the second-best record in the league and an opportunity to win their second World Championship in three seasons. Jon Lester will square off against Kyle Freeland for the right to face the Brewers in Milwaukee on Thursday night.
Cubs News & Notes
Though Jesse Chavez pitched yesterday, he should be available tonight since he needed just 16 pitches to record six outs. Honestly, he should just be anointed as the team's playoff closer if the Cubs win tonight.
With two scoreless innings today, the Cubs' Jesse Chavez has the lowest ERA (1.15) of any NL pitcher with at least 25 IP since the day Chavez made his Cubs debut (July 21).

Brewers' Jeremy Jeffress is 2nd (1.21).

— Andrew Simon (@AndrewSimonMLB) October 1, 2018
It's fair to wonder if Daniel Murphy makes a whole lot of sense as a leadoff hitter. The Cubs second baseman is the league's best hitter with runners in scoring position since the start of the 2016 season (.362) and timely hitting is the area the Cubs offense tends to struggle when slumping. And though he takes a lot of pitches, he doesn't really walk that much.
Anthony Rizzo's solo homer was Chicago's only extra-base hit yesterday, and only six Cubs batters reached base against Jhoulys Chacin and four relievers. That included Corey Knebel, who extended his scoreless streak to 16 1/3 innings, and Josh Hader, who figures to be the Milwaukee's go-to reliever all postseason.
Number Crunching
The Rockies and the Cubs split six games this year, each scoring 33 runs. They haven't faced each other since early May.
Jon Lester will become the first pitcher ever to start two Wild Card games. The veteran has been on a roll lately, going 6-1 with a 1.71 ERA in his last eight starts. Lester is 9-7 with a 2.55 ERA in 21 playoff starts. He has also made four postseason relief appearances.
Jon Lester will make his 3rd career winner-take-all game start, with his 3rd different team (Cubs, Red Sox, A's).

The only other pitcher to start winner-take-all games for 3 or more franchises is Roger Clemens: for the Yankees, Red Sox and Astros.

— Sarah Langs (@SlangsOnSports) October 1, 2018
Kyle Freeland will be starting for the Rockies on short rest. Freeland had flown under the radar for most of the season but he raised a lot of eyebrows with a strong August and September. The young hurler finished the season 17-7 with a 2.85 ERA (165 ERA+), 1.25 WHIP and 173 strikeouts in 202 1/3 innings. He pitched Friday, and will be on three day's rest tonight.
Of note: Freeland is 10-2 with a 2.40 ERA at home in Coors Field and 7-5 with a 3.23 ERA on the road.
The Cubs offense has been horribly streaky this season. In 103 of 163 games, the offense has scored either 0-2 runs or 7+ runs.  Meanwhile, prior to yesterday's game in Dodger Stadium, the Rockies had hit just .226/.295/.370 on the road compared to .287/.350/.503 at home.
How About That!
Christian Yelich fell one home run and one RBI shy of achieving the Triple Crown.
Angels OF Mike Trout is stumping for Red Sox OF Mookie Betts to win the AL MVP award.
With the conclusion of yesterday's games, the 2019 MLB draft order has been set. The Cubs will have the 25th selection next June.
Matt Snyder of CBS Sports makes a case for the Nationals to let Bryce Harper walk in free agency.
Due to ligament damage in his left hand, Dansby Swanson will likely be left off of the roster for the Braves' NLDS matchup with the Dodgers.
Shohei Ohtani underwent Tommy John surgery yesterday. The two-way player will not pitch again until the 2020 season.
The Reds appear to be parting ways with interim manager Jim Riggleman. "I thought Jim has handled this as professionally as anyone," said president of baseball operations Dick Williams. "He has been extremely cooperative and done a very nice job of stepping into this role knowing that there would be a search at the end."
Extra Innings
Though I believe the Rays' practice of using "openers" rather than traditional starting pitchers has some merit, I don't understand why front offices don't simply reverse the process and have starters work through the last two times of a team's batting order rather than the first two times. Imagine (if everybody were healthy) facing a Nationals team, for example, that started with Kelvin Herrera, Sean Doolittle and a third reliever before turning the ball over to Max Scherzer to get the final 18 outs.
Jim Hickey on #Rays success, using openers, Archer trade and return, Snell ascension and being the former #Rays and now #Cubs pitching coach https://t.co/BRT5hO1dAc

— Marc Topkin (@TBTimes_Rays) August 31, 2018
They Said It
"The resiliency of this group has been awesome all year. This group bounces back and I expect that tomorrow.'' – Bud Black
"No one gave this to us. We just took it." – Lorenzo Cain
"[The Brewers] won the division, bully for them. We have to move on and get ready for tomorrow." – Joe Maddon
"We're not looking at it as a disadvantage. There are a lot of teams that are home right now. They would love that one more opportunity to play a meaningful game. That's the way we have to look at it." – Cole Hamels
"It's Jonny Lester. He's pitched in a few big games before. He has a resume. We'll be leaning on him hard. We need to score some runs early so he can settle in. You're going to have two teams rebounding from a loss in a one-game-take-all. Lucky for us we don't have to travel." – Anthony Rizzo
Tuesday Walk Up Song
End of the Line by The Traveling Wilburys. Relax. Everything will be alright. Wild Cards do win World Series titles.