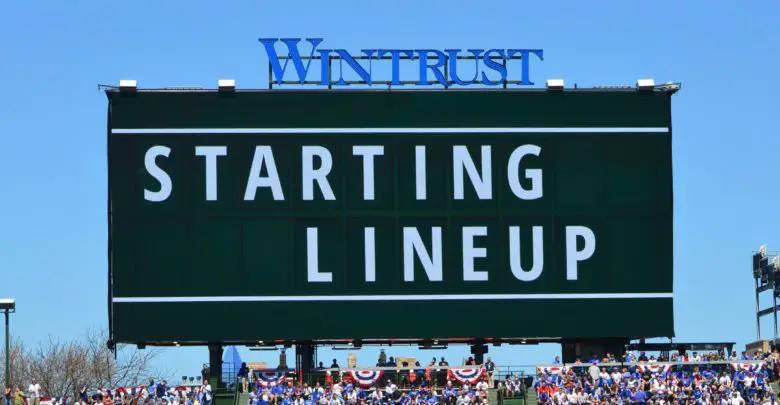 Chicago Cubs Lineup: Rizzo Leads Off, KB in LF, Hamels Tries to Continue Dominance of Reds
Put on your party hats, it's a rare Friday night game at Wrigley. The later start was granted because of the poorly-planned makeup game at Washington yesterday, so let's hope the Cubs got enough additional rest to wake up their tired bats.
Anthony Rizzo leads off, Kris Bryant bats second in left, and Daniel Murphy will be at second while trying to do something to prevent his spoonerized name from being poetic onomotapeia. Ben Zobrist cleans up in right, Javy Baez plays short, Victor Caratini catches, David Bote is at third, and Ian Happ is in center batting ninth.
Caratini getting a second straight start is a very good thing; he's crushing righties lately and Willson Contreras needs both physical and mental rest. The outfield D is meh, but not much choice with Jason Heyward still out.
Cole Hamels has been the Cubs' No. 1 since he came over and he's 11-1 with a 1.86 ERA in 16 starts (111.1 IP) against the Reds. Not this year, mind you. The lefty ace had some control issues against the Nationals in his last start, walking five men and giving up his first home run as a Cub. He's still without a loss since the trade that brought him to Chicago, but only one of his four wins have come at home.
That lone W — yes, I know it's gauche to cite pitcher wins but I can do whatever I want here — came in a complete-game gem against the Reds on August 23. The Cubs sure could use more of the same to alleviate some of the pressure on their weary bullpen.
Matt Harvey will be making his fourth start against the Cubs this season and eighth overall, which, am I the only one who thinks those both seem light? I don't doubt the veracity of the numbers, it's just that it feels as though Harvey has faced the Cubs many more times. Probably a mix of the 2015 NLCS and his surprisingly solid performance this season.
The Dark Knight rises to the occasion when he's facing the Cubs, allowing only five earned runs and striking out 16 while walking only three in three starts (17 IP). He has yet to allow a homer to a Cubs hitter, despite giving up 24 in 22 other starts this season. Methinks that needs to change.
Mainly a fastball/slider pitcher, Harvey also employs a curve and change that he'll mix in based on the handedness of the batter. His slidepiece has been his only consistent weapon this season, though he's perfectly comfortable shifting usage based on what's working. One trend to monitor will be his fastball velocity, which has jump up significantly since April and is still over 94 mph.
The whiff rate on that heater is way up in two September starts, as is the slider. That's obviously a really small sample, but it's interesting that both have spiked since last month. On the other hand, both launch angle and exit velocity have increased against Harvey lately. Perhaps the Cubs can barrel up a few pitches and get over on him in this one.
First pitch is at 7:05pm CT on WGN, MLB Network (out of market only), and 670 The Score.
Here is tonight's #Cubs starting lineup against the #Reds.

Game preview: https://t.co/3B3EZFhgPV #EverybodyIn pic.twitter.com/DwCIDC4JMb

— Chicago Cubs (@Cubs) September 14, 2018