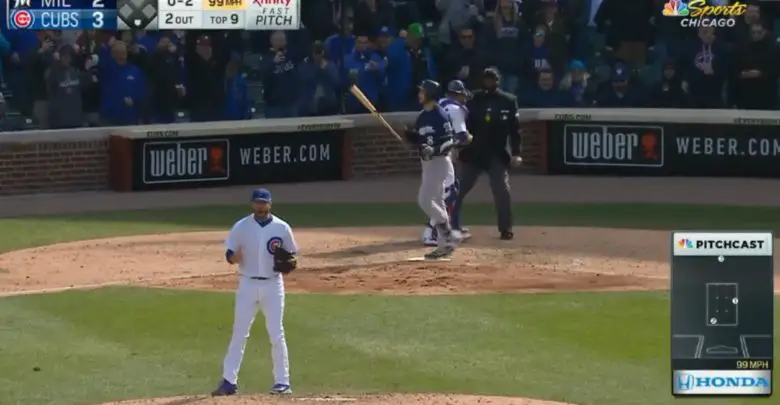 Brandon Morrow Progressing, Still Targeting Mid-September Return
As the Cubs head down the stretch, it is becoming more and more evident that they miss closer Brandon Morrow. His lock-down presence didn't just stifle opponents at the end of games, it solidified the parade of relievers in front of him. Pedro Strop had been performing admirably in Morrow's stead, but recent results and workload have shown that Joe Maddon isn't comfortable with the back end of the 'pen as it currently stands.
Just look at how Strop was pulled after only 11 pitches as Maddon used three pitchers to close out the Mets the other day. Or how Carl Edwards Jr. suddenly lost the ability to throw strikes, after which he lost his cool. The Cubs may be able to fend off the hard-charging Brewers even without Morrow, but the playoffs are a different animal.
So can they expect the lanky right-hander to meet that mid-September projection Jim Hickey offered up last week? The pitching coach addressed Morrow's rehab process during his weekly appointment with 670 The Score's Mully & Haugh Show, and it sounds as though things are progressing according to plan.
"He's working toward that bullpen," Hickey said. "Once he gets on that mound in the bullpen, it should only be a couple bullpen appearances before we can simulate a game and hopefully get him into a ball game."
We know from various reports that Morrow has been playing catch at distances in excess of 100 feet and that he's felt good afterwards. He had warned last month that he might have to pitch through pain upon his return, even calling his issue a "stress reaction," which we now know is what had plagued Yu Darvish all season and recently prompted the Cubs to shut him down.
And though that sounds alarming, it's unsure how much veracity there is to Morrow's reported diagnosis or how significant his issue might be relative to Darvish's. The Cubs clearly aren't worried about it, so take that for what it's worth. The only thing we can say for sure is that a closer's role is much different from that of a starter, something Hickey had addressed previously when discussing Morrow's rehab.
As such, Morrow should be able to return to action much more quickly than a member of the rotation who'd been out just as long. So when Hickey talks about needing to put in a couple bullpen sessions and a sim game, that could all happen within the space of a week to 10 days. Should Morrow throw from a mound within the next two or three days, that mid-September target is still doable.
Given this late juncture of the season, however, things are going to have to go really smoothly from here on out for that to happen. And even if he is able to suit up for the Cubs at the end of the season, it won't be as the closer right away. Nor will Morrow be able to go on back-to-back days, at least not during the regular season.
Cautious optimism, with a great deal of emphasis on "cautious," is the name of the game.