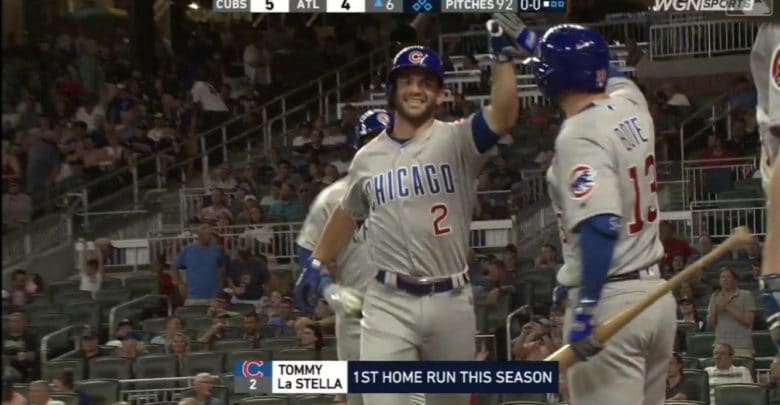 The Rundown: Cubs Knock Off Braves, La Stella Ties Club Record, Bryant to Join Team in Philly
Welcome back, Tommy La Stella! The diminutive would-be slugger hit a game-wining home run that was akin to Arnold Horshack stealing the girl from Vinnie Barbarino, am I right? Come, none of us saw that coming, which made it another moment (among many) that has defined this 2018 season. La Stella tied a team record with his 20th pinch hit of the season with his first career pinch-tater, the 10th overall dinger of his career.
That's like Tom Hanks beating up the Fonz.
Tommy La Stella puts us back in front! #EverybodyIn pic.twitter.com/E38E6pLYCr

— Chicago Cubs (@Cubs) August 31, 2018
Chicago won for the eighth time in nine games, maintaining its 4 1/2-game lead in the NL Central as the Braves fell a half-game behind the Cardinals for second-best record in the National League. Freddie Freeman had three RBI for the Braves, who lost for the fourth time in six games but still lead the East Division by three games. Last night's contest could be a preview of this year's NLCS.
After a short stay in Atlanta, the Cubs are off to Philadelphia to face another surprising team this weekend. LHP Jose Quintana (11-9, 4.33) will get the nod in Friday's opener against Phillies RHP Nick Pivetta (7-10, 4.76).
Cubs News & Notes
Summer comes to its meteorological end Saturday. I am not a fan of winter but the Cubs playing into late October would certainly remove some of its bite. Game 7 of this year's World Series between the Cubs and Red Sox will be played on Halloween night.
Drew Smyly was impressive in his organizational debut. The southpaw started the game for South Bend, striking out the side in the first inning on just 13 total pitches.
Addison Russell, remember him? The Cubs shortstop has been tracking pitches, but not swinging. He's taken some ground balls and threw from a little over 100 feet Wednesday morning after also tossing Tuesday afternoon, reporting that his shoulder is healing well.
Chris Gimenez was traded to the Twins for another catcher I had never heard of until today. Jim Hickey sure seems excited though. The move gives the Cubs a better defensive backup catcher for the stretch run.
Kris Bryant will rejoin the Cubs Friday in Philadelphia. Bryant hasn't played since a July 23 loss to the Arizona Diamondbacks because of a shoulder injury.
Jason Heyward left yesterday's game with an apparent hamstring injury.
How about that catch by Javy Baez last night? For my money, the MVP race is down to Baez and Christian Yelich. I know Freeman is having a phenomenal year too, but I think the other two are the clear leaders at this point.
Starts with an M
Ends with a P

Not a cleaning instrument or a geographic chart. pic.twitter.com/eYiKwmR8hr

— Chicago Cubs (@Cubs) August 31, 2018
How About That
Andrew McCutchen became a Yankee late Thursday night as New York completed a deal with the Giants, and more players might move on the final day for waiver trades. Among those who could be traded Friday, Washington closer Ryan Madson has reportedly been claimed by the Dodgers, while Toronto could try to shop Josh Donaldson, Curtis Granderson and/or Justin Smoak.
McCutchen will be a welcome sight but the Yankees have some bullpen issues too. With Aroldis Chapman on the DL, Delin Betances gave up three runs on three pitches last night as the the Tigers stunned New York.
Giancarlo Stanton became the 147th member of the 300-homer club with a two-run opposite-field home run against Francisco Liriano. Only Ralph Kiner (1,087), Ryan Howard (1,093), Juan Gonzalez (1,096), and Alex Rodriguez (1.117) reached 300 career home runs in fewer games than Stanton (1,119).
For the second straight day, the Brewers needed extra innings to beat the Reds, but a win is a win and the Crew really needed both. Lorenzo Cain hit the game-winning homer last night.
White Sox rookie Michael Kopech will face Boston tonight for the first time since the Red Sox traded the hard-throwing prospect to Chicago in the Chris Sale deal after the 2016 season. Kopech was selected by Boston in the first round of the 2014 draft.
The D-Backs beat the Dodgers to increase their lead to two games over Los Angeles in the most pivotal series of the weekend.
Angels RHP/DH Shohei Ohtani will take the mound Sunday. He has not pitched since June 6 due to an elbow injury. Ohtani has a 3.10 ERA with 61 strikeouts in 49 1/3 innings this year and is hitting .275/.352/.545 with 15 home runs in 78 games.
Thursday's Three Stars
Tommy LaStella – The little guy deserves the number one spot foe yesterday's record-tying heroics.
Lorenzo Cain – The Brewers OF hit a game-winning home run in the Brewers 2-1 victory over the Reds
Franmil Reyes – The Padres OF also had a game-winning blast, this one of the walk-off variety, as the Friars dropped the Rockies 3-2 in extra innings.
On Deck Circle
Have a safe and fun Labor Day weekend. I know I am going to hug my paycheck this weekend like its the last one I'll ever get. I am going out of town but still intend to publish a Rundown on Monday morning.
Extra Innings
Former Red Sox slugger David Ortiz denied any link to gambling after allegations were made in a recent book. The book alleges Ortiz was connected to a known gambler who was a frequent guest in the Boston clubhouse.
They Said It
"I don't get to play much. I definitely appreciate the opportunities when I get them." – Tommy LaStella
"Every year, it's kind of just let us be ourselves. I think that [Maddon] has full trust in us and I think that says a lot. We back him up, too. I think that's kind of how, it's a give and take. He gives us the rein and we always have his back at the end of the day." – Kyle Schwarber
"I'm ashamed to say I might be maturing a bit. That would be awful. But if that's true, I would really be disappointed in myself." – Joe Maddon
Friday Walk Up Song
Keep Me In Your Heart, a Warren Zevon classic done by Eddie Vedder. So long summer, I love you more and more every year.