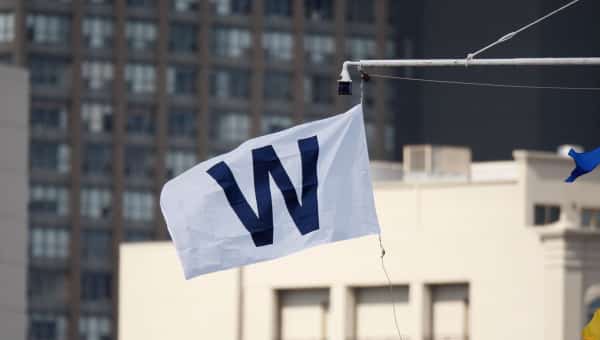 CI Recap (8/26/18) – Cubs 9, Reds 0: Hendo and Boat Lead Cubs to Sweep of Reds
The Cubs played some of their best baseball of the season this weekend and were in line for a payback four-game sweep of the Reds at Wrigley Field on Sunday. Behind an offensive explosion and one of the best starts of the year from Kyle Hendricks, they earned that sweep with ease.
After a quick top of the 1st from Hendricks, Chicago jumped all over Homer Bailey in the bottom of the inning. Daniel Murphy and Javy Baez each reached via infield singles and Murphy scored on a Willson Contreras groundout. Jason Heyward hit a screaming liner over Billy Hamilton's head and the speedy center fielder slipped, allowing J-Hey to reach third for a RBI triple. David Bote singled him home to make it a 3-0 lead after one.
Bote did more damage against Bailey in the 3rd inning. After a Heyward single, Bote McBoatface hit a long two-run homer onto Waveland to make it 5-0. That was more than enough for Hendricks on Sunday, as he only allowed two hits over seven shutout innings.
Heyward, who would eventually get four hits, singled home Anthony Rizzo to make it 6-0 in the 5th. A Robert Stevenson balk and a two-run blast from Kyle Schwarber made it 9-0 in the 7th inning. Randy Rosario pitched the final two innings to close out the easy Cub victory. (Box score)
Why the Cubs Won
The Cubs offense was on fire again as they took advantage of the extremely shaky Bailey. Even if the offense wasn't on, Hendricks was so good the Northsiders would only have needed one run.
Key Moment 
The three-run 1st inning set the tone for the rest of the game Sunday. A couple well-placed infield hits and a slip by Hamilton put the Reds in a hole they couldn't climb out of.
Stats That Matter
Hendricks has really been clicking in of late: 7 IP, 0 R, 2 H, 5 K, and 1 BB. This makes two really good starts in a row for the Professor, a much appreciated development for the Cubs.
Heyward had been a slump of late, so a four-hit game was huge. This is his fourth game of the season with four hits after he had only one his first two years as a Cub.
Bote just keeps mashing, tallying two more hits and three more RBI Sunday. He really has tremendous power in his bat and when he hits a dinger, it goes a long way.
Rizzo had two doubles and has been just as good in the three hole as he was leading off.
Bottom Line
The Cubs needed to take advantage of the last-place Reds and they did so with gusto. This sweep was huge for their playoff chances. Oh and by the way, Chicago could get Kris Bryant back in the lineup this week.
On Deck
The Cubs begin a three-game series with the New York Mets on Monday night at 7:05 pm CT. Jon Lester does battle with Noah Syndergaard in a game available NBC Sports Chicago.