Jon Lester Showed Pirates How Dominant He Can Be When Changeup Is Working
Jon Lester shut the Pirates down Thursday night in familiar fashion, missing bats and inducing the kind of contact his defense could eat up. Just like he did through the first half of the season, the Cubs left-handed legend threw a flurry of fastballs, curves, cutters, sinkers, and — most noteworthy — changeups.
Its been over two months since Lester showcased as many changeups as he did in this outing. Of his 92 pitches, 12 were changeups, the highest total and percentage since June 15 against the St Louis Cardinals. I highlight Lester's changeup because that pitch has been at the heart of his best efforts this season, notably back-to-back shutout efforts back in June.
"My changeup has been my most consistent offspeed pitch this year," Lester said earlier in the season about his new favorite offering. Not surprisingly, those comments came when his changeup usage was the highest in years.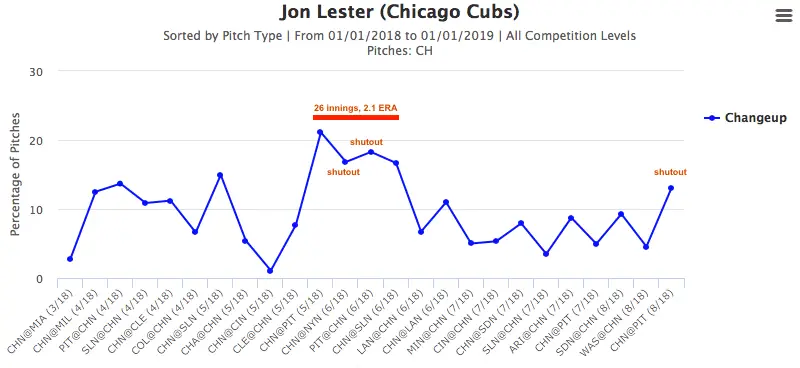 But then Lester started to turn away from the changeup during a bout of rough outings. Now, I am not saying the lefty's success is dependent upon changeup frequency. That's 100 percent not true. What I am saying is when Lester is on — and I mean really on — he's able to utilize his entire arsenal, including changeups. That's exactly what happened in his most recent start. 
Granted, no Pirates batter whiffed against Lester's changeup during Thursday's game, but they sure did against several other pitches. Number 34 frustrated batters all night en route to his season-high eight strikeouts. Not since mid-May has he retired as many hitters on strikes.
It makes sense that batters would struggle if they have to be aware of Lester's four main pitches plus a changeup. For example, consider how he struck out Gregory Polanco. He threw two changeups down in the zone just before pumping a 93 mph fastball in the exact same location past Polanco's bat. 
Folks, this sequence of pitches is simply unfair. And it's exactly why I love Lester when he's on his game. He just has so many pitches with which to fool batters. Imagine having to prep for a four-seam, sinker, cutter, curve, and changeup. It's almost impossible.