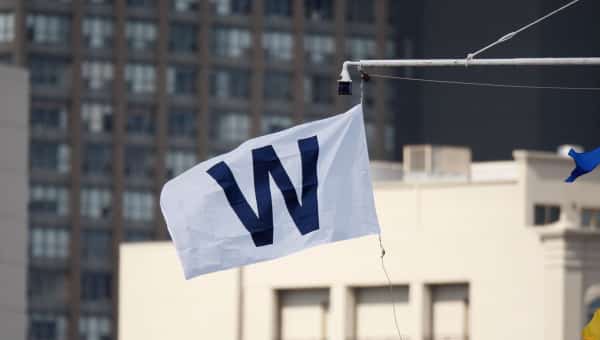 CI Recap (8/17/18) – Cubs 1, Pirates 0: Hamels Turns 7 Strong, Defense Turns 7 Double Plays
In what was essentially a repeat of Thursday's contest, pitching ruled the day. Cole Hamels pitched seven strong innings and Kyle Schwarber blasted a solo home run in the top of the 2nd for the only scoring either team would do.
The Cubs provided great defense while the Pirates did not. The visitors' offense was unable to take advantage of three Pirate errors, however, and squandered scoring chances that would have sealed the game. There was some drama in the 9th as Steve Cishek and Jesse Chavez allowed two men to reach with one out.
Luckily, Chavez was able to induce a double play — the Cubs' MLB-record seventh — to end the game (box score).
Why the Cubs Won
The Cubs pitching staff performed well, keeping the Pirates from putting much pressure on them throughout the game. The pitchers were able to keep the Pirates from rallying by inducing a ton of contact on the ground. This allowed the infield defense to turn a major league record-tying seven double plays, including the game-ender.
Key Moment
As if baseball would allow the game to end any other way, Jesse Chavez was able to get David Freese to ground into a 5-3 double play.
Stats that Matter
Anthony Rizzo (single and a double) and Kyle Schwarber (home run, intentional walk, walk) were the only Cubs to reach base at least twice.
Cubs batters walked three times while striking out only five times.
The Cubs went 0-for-5 with runners in scoring position.
Of the 23 outs the Cubs recorded in the field, 19 came on the ground.
Bottom Line
The Cubs were able to win another game while scoring only one run. They are 71-50 and lead the Brewers in the NL Central by 4.5 games. And although the Cardinals are just behind the Brewers, the lead just keeps growing. This should make the race for the wild card interesting.
On Deck
At 6:05pm CT on Saturday, the Cubs will take on Joe Musgrove and the Pirates. Tyler Chatwood will take the bump in place of Mike Montgomery, who went to the disabled list Friday. The game will be broadcast on WGN.