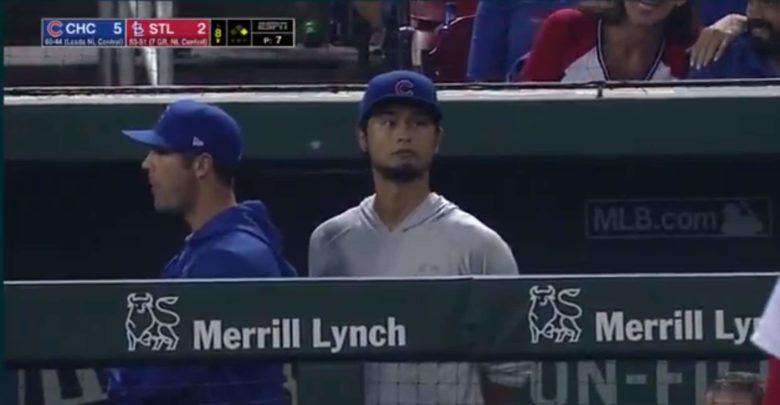 The Rundown: Yu Darvish's Agent Claps Back Hard at A-Rod, Lester Engages in Twitter Dialogue, Cubs and Ziegler
And here I thought I got after Alex Rodriguez for his comments about Yu Darvish and the Cubs clubhouse during Sunday night's broadcast of the Cubs/Cardinals game. I have nothing on Joel Wolfe. In an exclusive interview (subscription required/highly recommended) with The Athletic's Patrick Mooney, Darvish's agent clapped back at A-Rod in a big way.
Wolfe not only works with Darvish, he's one of the execs at the Wasserman agency, which reps several athletes and celebrities. One thing he is not, however, is a giver of f—s when it comes to what the high-profile booth man had to say about his client.
"If this story had come from a credible journalist, we might have shown some concern," said Joel Wolfe, Darvish's agent and the co-managing executive of the Wasserman agency's baseball division. "But it came from A-Rod, so we're paying it little attention."
"I think it was classless," Wolfe said, "and bordered on unprofessional to take a little nugget of somewhat exaggerated information from one person that maybe he had history with and turning that into a spokesman for the entire team.
"During A-Rod's absurd comments, the video shows that Darvish was right there on the top step in the dugout cheering on his teammates, which is what you want from somebody like that. He wasn't hiding out in Mesa at the spring-training complex or back home like A-Rod was when he was suspended."
Whoa, I hope Rodriguez has some burn cream handy. I haven't seen a Wolfe beat anyone down that badly since Todd Howard practiced the sweet science for Hamilton University. The agent softened his tone eventually, though he offered another snarky barb at the close of Mooney's piece (I'll let you find that for yourself).
Lester on bad tweets
Jon Lester took to Twitter Monday morning to address the rash of brutally awful racist and homophobic tweets being unearthed lately, and the fallout from it was both disappointing and uplifting. We'll save the awesome part for later, let's cover the bad first.
The Tribune's Paul Sullivan decided to pick fruit that was hanging so low it was already starting to rot on the bottom, writing simply that Lester was advising young athletes to scrub their Twitter accounts. The column was hastily slapped together and lacked anything of substance, consisting primarily of a regurgitation of what Lester had tweeted with some other quotes thrown in for good measure.
And trust me, I know a little something about that kind of content.
Taken purely at face value, it's easy to see how one might draw the wrong conclusion about what Lester said. But to get the real story of what was going on, you need to look at the replies generated by Lester's tweets.
If you're on Twitter, please spend the 5 minutes it takes to scrub your account of anything you wouldn't want plastered next to your face on the front page of a newspaper. Better yet, don't say stupid things in the first place. Too many young guys getting burned. #themoreyouknow

— Jon Lester (@JLester34) July 30, 2018
Listen I'm far from the sharpest tool in the shed and there's certainly no halo above my head (pardon the rhyme) but I know some of these guys are great dudes who just had lapses in judgement.

— Jon Lester (@JLester34) July 30, 2018
Many of those tweets were from fans who were concerned that Lester was tacitly excusing the actions of players like Josh Hader, Trea Turner, and Sean Newcomb, all of whom have seen their teenage idiocy come back to bite them. And what did Lester do? He engaged those fans, reading what they had to say and responding to establish an open conversation on the topic.
He took to heart the concerns being expressed and clarified his intent over the course of the day. It's rare enough for an athlete to engage so openly on Twitter, let alone when it's related to such a sensitive topic. By so doing, Lester proved why it is good for athletes to be on social media.
While it would have been even better had the events leading up to this conversation never taken place, it was great to see how Lester handled it. No hiding, no backtracking, just honest dialogue that left pretty much everyone feeling better about the whole thing.
Sullivan, on the other hand, does not appear to be taking the same tack. It's possible that he's saving a correction or apology for another column, which would make sense because that's what he does. As of post time, his Twitter account — which isn't very active in general — has only two tweets in the 22 hours since he promoted that Lester piece.
Nor has the writer engaged in any conversation with commenters to said tweet, though that doesn't appear to be his style regardless of the topic. And that's not a knock on him at all, simply a statement that his feed appears to be just a one-way street.
Cubs notes
The following tweets from John Morosi came in a 21-minute span and more or less encapsulate the whole trade-deadline vibe:
Source: #Cubs moving closer to trade for #Marlins RHP Brad Ziegler. @MLB @MLBNetwork

— Jon Morosi (@jonmorosi) July 31, 2018
#Cubs trade for Brad Ziegler is not done, source says, but it is close. #Marlins @MLB @MLBNetwork

— Jon Morosi (@jonmorosi) July 31, 2018
Brad Ziegler trade to #Cubs is not close, according to a separate source. Sides have talked, but current status remains unclear. @MLB @MLBNetwork

— Jon Morosi (@jonmorosi) July 31, 2018
Further clarification on Brad Ziegler: #Cubs remain engaged with #Marlins, source says, but other teams are involved in the Ziegler talks. @MLBNetwork @MLB

— Jon Morosi (@jonmorosi) July 31, 2018
We've talked about Ziegler more than once here and it feels like something that could get done today. I had forgotten all about it until linking to that other piece, but this isn't the first time the Cubs have been connected to the side-arming reliever. They were actually revealed as the "mystery team" pursuing him in December of 2016, when he eventually decided to sign with the Marlins.
More notes
• Cardinals righty Carlos Martinez left Monday's game with a shoulder injury and had an MRI later in the day. Results are pending as of post time, but this is the third issue Martinez has had with the shoulder or surrounding muscle/tissue and is likely headed to the DL for the third time
• The Pirates acquired righty reliever Keone Kela from the Rangers in exchange for lefty Taylor Hearn and a player to be named later. This is a good get for a team that suddenly finds itself in contention despite selling off this past winter. Kela was the closer in Texas but will presumably set up for Felipe Vazquez.
• The Red Sox acquired Ian Kinsler, who is apparently still playing baseball, for a pair of minor leaguers.
• The Braves traded three players to the Reds for Adam Duvall. It's a pretty blah move, which is why I'm not even including the names of the other players involved.
• The Nationals are letting teams know that Bryce Harper is available, though doing so at such a late stage in the game means they're probably not going to make anything happen. Not beyond ensuring that he doesn't re-sign with them, anyway.