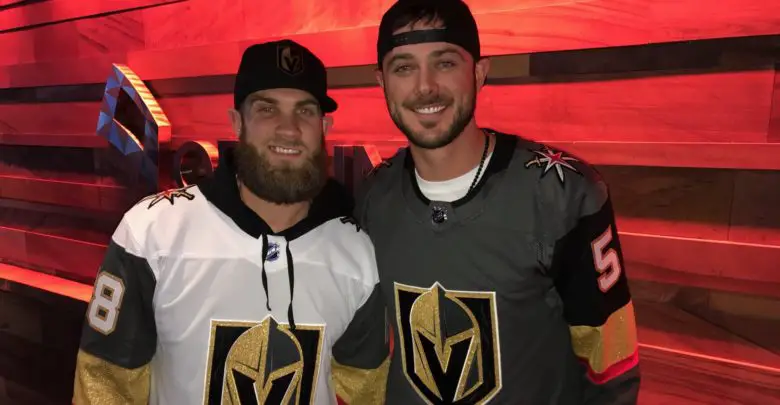 Report: Bryce Harper Being Made Available for Trade
***Update***
And just like that, the rumors died…
Mike Rizzo just reached out with this message:

"Bryce is not going anywhere. I believe in this team."

— Chelsea Janes (@chelsea_janes) July 31, 2018
---
Red alert, this is not a drill. According to MLB.com's Mark Feinsand, the Nationals are making other teams aware that Bryce Harper is available for trade. Holy schnikes. This means that a) the Nationals don't believe they can re-sign their superstar this offseason, and b) they don't believe they can make the playoffs.
According to a source, the Nationals are making it known to other teams that Bryce Harper is indeed available.

— Mark Feinsand (@Feinsand) July 31, 2018
The Indians have reportedly been in contact with the Nats about Harper, so that's one possibility out there. But what about the A's? It's weird and wild, but it also kind of smells like when they traded for Matt Holliday nearly a decade ago. Or like when they traded for Jeff Samardzija, Jason Hammel, and Jon Lester four years ago.
Don't count the Cubs in on this, since they don't have the prospect capital to expend what it would take to get him. Besides, why blow through prospects, players, and money when they can just sign Harper as a free agent this winter?
I'm only kind of joking there, since I truly believe Chicago is a legitimate destination for Harper. For the time being, though, this could turn the deadline into an absolute melee. Buckle up.
Sources confirm: #Nationals sending "feelers" out on Bryce Harper. "I'd be shocked if they do it," one rival exec says. "They're seeing if someone wants to go crazy." First with the news that Harper was available: @chelsea_janes and @Feinsand.

— Ken Rosenthal (@Ken_Rosenthal) July 31, 2018