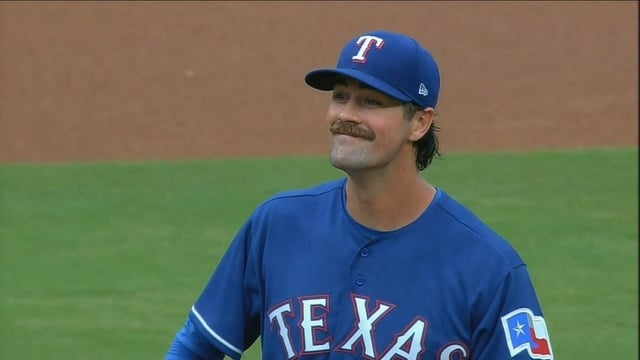 Report: Cubs to Acquire Cole Hamels From Rangers
When there's smoke, there's fire. We heard earlier that the Cubs were working on making a deal to acquire Rangers' starter Cole Hamels, and as Evan Grant of the Dallas Morning News first reported, the deal is now done. It's no secret that the Cubs have not gotten the production they need out of their starting rotation, so it's certainly not surprising to see them make a deal to add some depth.
Source: Deals is in place to send Cole Hamels to the Chicago Cubs.

— Evan Grant (@Evan_P_Grant) July 27, 2018
Sources: The Chicago Cubs have a deal to acquire Cole Hamels from the Texas Rangers, who will receive minor leaguers in return. Texas sending a significant amount of cash to cover Hamels' salary. Hamels gives the Cubs rotation depth and an October-tested veteran arm.

— Jeff Passan (@JeffPassan) July 27, 2018
Hamels' numbers this season have been alternately en- and discouraging. His ERA and FIP are 4.72 and 5.20, respectively, in 20 starts, which isn't great. On the other hand, he boasts an impressive 8.97 K/9 and 3.31 BB/9 at the time of the trade.
You'd think such a strong strikeout/walk ratio would translate to better run prevention, but Hamels' bugaboo has been the longball. He has surrendered 1.81 homers per nine innings, which is third worst in MLB, and Statcast believes nearly all of his homers against would've been gone in most ballparks.
Nevertheless, there are many reasons to be excited about Hamels. First, he is still chucking fastballs around a 92 mph average, which is more or less within his career range. Second, he still showcases a beautiful curveball and one of the best changeups in MLB. Third, and perhaps most encouraging, is that his whiff rate of 26 percent is better than 73 percent of qualified MLB starters this season.
He instantly becomes the best swing-and-miss starter for the Cubs, who so far own a mediocre 20 percent whiff rate.
***Update***
Source confirms my kids are finally asleep. … Two sources say #Rangers are getting two pitchers and a ptbnl. Rollie Lacy is one. The other is "not a prospect," one source says. Not clear if that means a Cubs player or a low-upside minor-leaguer.

— Jeff Wilson (@JeffWilson_FWST) July 27, 2018