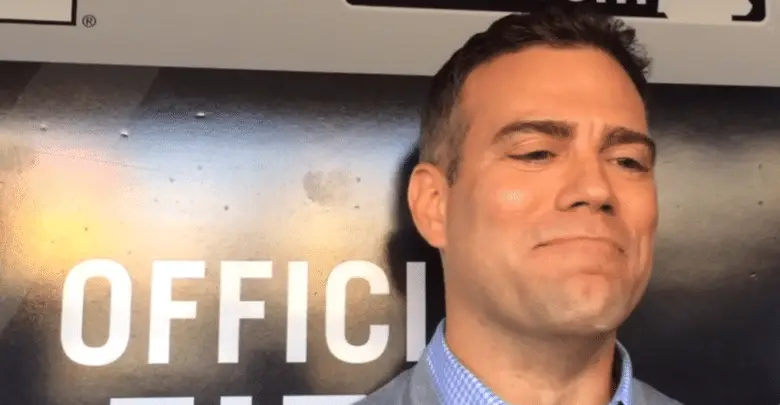 The Rundown: New York Mess, Cubs Targeting Bullpen Help, Epstein's Post-Deadline Strategy
The New York Mets are what would happen if they'd actually hired George Costanza to run the team, only they're very real and they're very unspectacular. That's been evident for some time now, but the revelations that have come to light over the last few days offer even more tragic punchlines for this dark comedy.
Yoenis Cespedes homered in his first game back from a 67-day stint on the 10-day DL (which, wow, that numerical designation leaves us wanting in this case), but it was what he said following Friday's contest that made headlines. The slugging outfielder informed reporters that the cause of his frequent leg injuries is painful calcification in his heels that changes his gait leads to additional ailments.
The human body is a compensation machine, so it'll try to do whatever it can to alleviate discomfort or difficulty in one part by altering its mechanics to shift effort to another link in the kinetic chain. The only way to fix that in some cases is through surgery, which in Cespedes's case would leave him sidelined for 8-10 months. He's not sure whether he'll be able to finish the season and said he might need to play more first base to make it work.
Assuming he's being honest and accurate about the surgery, that would mean sitting at least most of the first half next year. Not ideal for a guy who'll turn 33 in October. Then again, all that rest and a marked improvement in his heels and overall comfort could actually have him back better than before.
It's fitting that Cespedes would be dealing with heel issues, given how many times the Mets have put their collective foot in their collective mouth. So often have they fouled up all manner of baseball operations that they have actually transferred their farcical flubs from the metaphorical to the actual. Which is why what's happening with Noah Syndergaard is almost not even surprising.
"He contracted — let me get this right — hand, foot, and mouth disease," Mets assistant GM John Ricco said near the end of his address to the media Sunday.
Whether he got it from working with kids at a camp during the break or from not using enough — Boom! — tough-actin' Tinactin in the locker room, the man they call Thor has been placed on the 10-day DL. More like Norse god of blunder, amirite?
Okay, so here's where I bring this back around to the Cubs and how these things might tie in with their future plans. While they've not been linked to Syndergaard since well before Starlin Castro was traded to make room for Ben Zobrist, there has been plenty of speculation about his fellow ace-level pitcher, Jacob deGrom. Given just how screwed up the Mets are right now, though, a move seems unlikely.
Taking a brief respite from his strident defense of Josh Hader, FanCred's Jon Heyman told Mully and Hanley Monday morning that there was a "less than 1 percent chance" deGrom and Syndergaard would be traded. Now, we could parse that and say that he's talking about the odds that both are traded, which means the chances of it being one or the other are higher, but let's cut that off with Occam's razor and assume he's being more simplistic.
When discussing huge trades, you also need to consider the Mets' present power structure, which is operating with three assistant/interim GMs after Sandy Alderson was fired/resigned. Rather than brass, they've got separate elements of copper and zinc trying to run the show. A blockbuster doesn't seem like the kind of thing that would really work out at this point. Come winter, though, we could see some movement.
Cubs targeting relief help
You know how we've talked here and elsewhere about Joe Maddon's propensity to shorten his bullpen and really ride a couple guys once the games get bigger? Yeah, that's not like some outside observation that the folks on the inside are oblivious to. Maddon himself is well aware of it.
"You have young guys in the bullpen you think are going to be really good, but when it gets to that high-leverage moment in the latter part of the game, it's tough to just call their name before you've had the chance to break them into that moment," the skipper said Sunday.
"Sometimes you're forced to do it. But I think as the year gets deeper, longer, and the games become maybe more critical in a sense mentally to some people, it's more difficult to elicit that kind of performance out of a guy that does not have that kind of experience."
That's why the Cubs will be on the lookout for bullpen help ahead of the deadline. Well, that and the inability to totally trust Brandon Morrow to stay healthy or to take the ball in consecutive games on a regular basis. We've already seen them add veteran Jesse Chavez, a move has already paid dividends.
Epstein said Sunday that those are the kinds of trades the Cubs are looking to make prior to the July 31 non-waiver deadline, though he admitted that bigger moves are not impossible. One such deal could involve Zach Britton, the Orioles' closer for whom the Cubs "remain deeply involved" in talks. Several other contending teams are also in the mix.
MASN's Roch Kubatko tweeted that the Dodgers were involved as well, but that the Cubs, Astros, and Red Sox were "more active." And take this for what it's worth, but The Athletic's Jim Bowden — who I don't afford much credibility and am really surprised got a gig there — tweeted that the Astros were "all in" on Britton. That's at least a little strange given the way the O's pulled the rug out from under them last year.
Whether the Cubs do end up getting a deal done with all the furor around Britton, the fact that they're in on such a coveted reliever tells you they're pretty serious about improving the bullpen. More specifically, though, this seems a situation in which they've got their top target and then would be fine dropping back into that more "opportunistic" mode Epstein spoke of.
Britton represents the top option that Brad Hand and Jeurys Familia — for whom the Cubs did not make an offer — have been moved, but Ken Rosenthal tweeted a list of other righty relievers that make this a buyer's market.
Partial list of available RH relievers reflects buyer's market:

Potential FAs
Brach
Clippard
Rodney
Romo
Soria
Ziegler

Under control, add'l years

J. Alvarez, 2
J. Anderson, 5
Barraclough, 3
Bedrosian, 3
J. Hughes, 2
D. Hernandez, 1
Iglesias, 3
Kela, 3
Oh, 1
Parker, 2
Yates, 2

— Ken Rosenthal (@Ken_Rosenthal) July 23, 2018
Post-deadline deals
Though I won't be running through a list of specifics names, it's almost a guarantee that the Cubs will add a player or two through the waiver process in August. We've seen them target speed guys in the past, players who can come in as a pinch runner or defensive replacement almost as like a LOOGY reliever.
"[W]e will probably look in August for someone who can play defense or steal a bag," Epstein said Sunday.
"You're always cognizant of the fact that it's harder to address injuries after July 31, too, so the more you have, the better."
I was going to write more after this and talk about Jose Quintana's workhorse performance, but I'm already running long. Look for more on that later. Maybe.