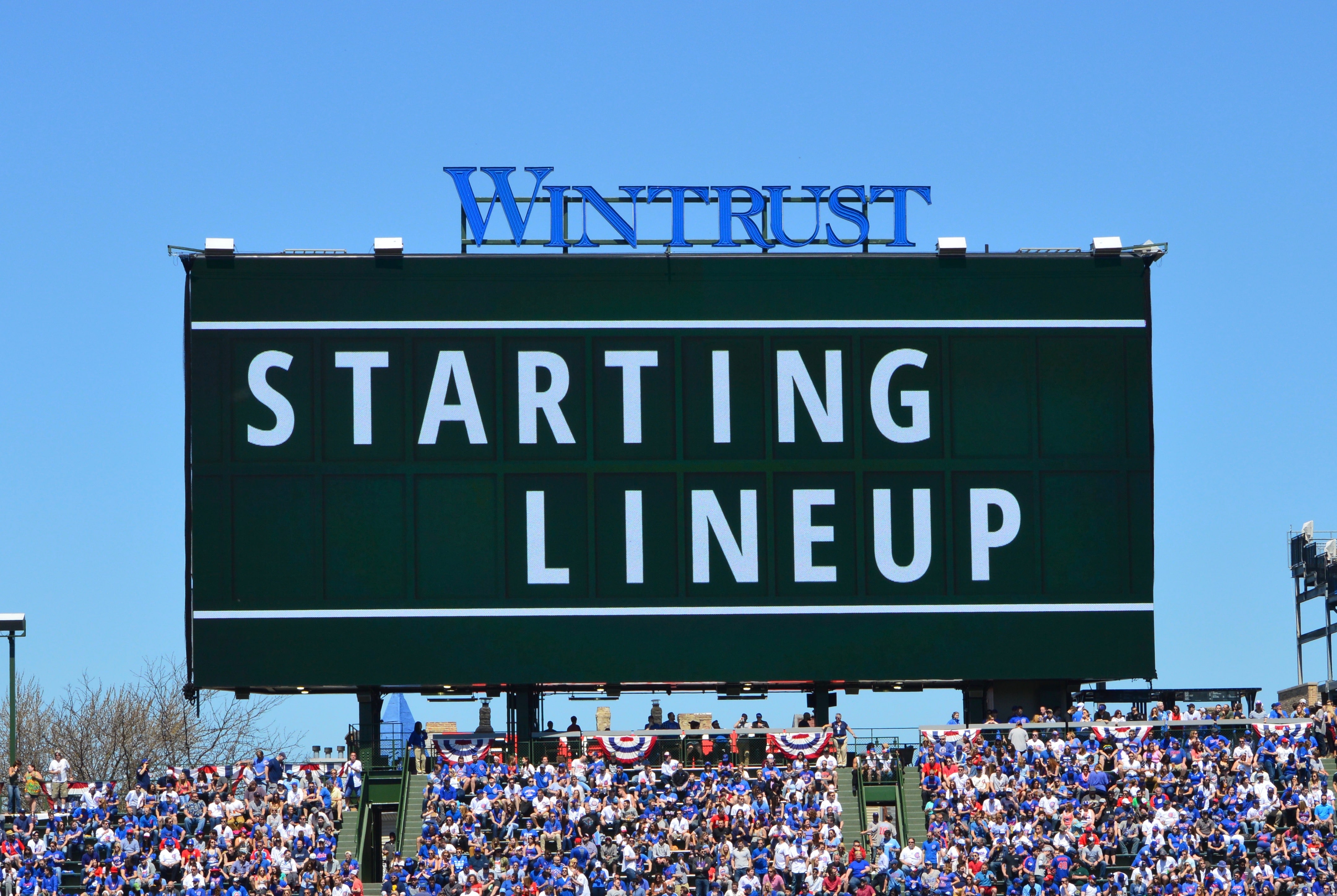 Chicago Cubs Lineup: Rizzo Remains GLHOAT, Zo and Happ at Corners, Farrell Tries to Tame Diamondbacks
Anthony Rizzo continues to build his reputation as the [insert hyperbolic superlative of choice] leadoff hitter, and he'll be followed once again by Kris Bryant. Albert Almora Jr. is batting third with a lefty on the mound, Javy Baez will hit cleanup, and Willson Contreras bats fifth.
Addison Russell moves up to the six spot, Ben Zobrist is down at seven and playing right, and Ian Happ will bat eighth. That gives the Cubs seven right-handed batters in a row after Rizzo, which is a little concerning to me. Yes, they're facing a lefty, but one with very distinct reverse splits. Oh well, maybe the Cubs know something I don't.
Coming off of five games in four days and facing seven more games over the next seven days, the Cubs are going to have to stretch the rotation out just a bit. As such, Luke Farrell will be taking Monday's start after the Cubs extended the lead Sunday afternoon and allowed Joe Maddon to keep the swing-reliever on the bench.
This is Farrell's second start this season, the first of which also came in the aftermath of a doubleheader. He only lasted 2.2 innings in Cincinnati back on June 23 and he has only gone more than two full innings twice this season, so the bullpen is still likely to get a workout in this one.
Farrell has flashed pretty good stuff, as evidenced by an 11.89 K/9 mark that comes from using his slider as an effective out pitch. The big righty can get a little loose with the fastball, though, leaving it up in the zone to generate a high percentage of fly balls. If the wind keeps up — it was blowing from the north at 12 mph (that's in from left field) — as of post time, it will help to knock some of those down.
On the mound for the Snakes will be 29-year-old Patrick Corbin, a southpaw who's in the midst of what is shaping up to be easily the best season of his career. He's only 6-4 over 20 starts, but he's putting up just shy of 11 strikeouts per nine inning and is only walking 2.57 batters in that same relative period. As if 3.24 ERA wasn't strong enough on its own, his 2.82 FIP and 2.80 xFIP say he should be even better.
Corbin does run a little hot-and-cold, alternating big offensive outbursts with really stingy outings, something that has really been on display since the end of May. But even when he's allowing several earned runs in a game, he's limiting the big flies. With only three home runs allowed over his last 53 innings (0.51 HR/9), Corbin will force opponents to beat him with base hits.
If you put together the increased strikeouts with the dearth of homers, you might conclude that Corbin leans heavily on his sinker and slider. And you'd be right. He's throwing his four-seam less than ever, opting for the two-seam and slidepiece at a higher percentage that in any previous season.
The breaking ball makes up nearly half his offerings to left-handed hitters, which is interesting when you consider that lefties actually hit him better than righties. Lefties don't see the sinker very often, so it's basically an even split of four-seams and sliders, with the former opening at-bats and the latter ending them.
Righties will see the four-seam about a quarter of the time and will get a much heavier dosage of sinkers, with the slider coming in more at the end. That has been working really well for Corbin when he pitches away from the desert, as he's held righties to a .181/.253/.272 line on the road this season. Lefties, however, have crushed him.
His overall reverse split is more muted (and wOBA favors RHH), but it's even more so when he pitches on the road. Lefties carry a .333/.442/.528 line with a .419 wOBA against Corbin when he's a visitor (only a 43-batter sample, but still), so of course Rizzo is the only left-handed hitter in the lineup while Jason Heyward and Kyle Schwarber sit on the bench. Makes complete sense.
We'll see whether the Cubs can defy those numbers and make me look like an idiot when they face off with the D-backs at 7:05pm CT on NBC Sports Chicago and ESPN (out of market only).
Here is tonight's #Cubs starting lineup against the D-backs. #EverybodyIn

Stream on @YouTubeTV: https://t.co/t4XvcdoeJc pic.twitter.com/kaNeYcKnOZ

— Chicago Cubs (@Cubs) July 23, 2018