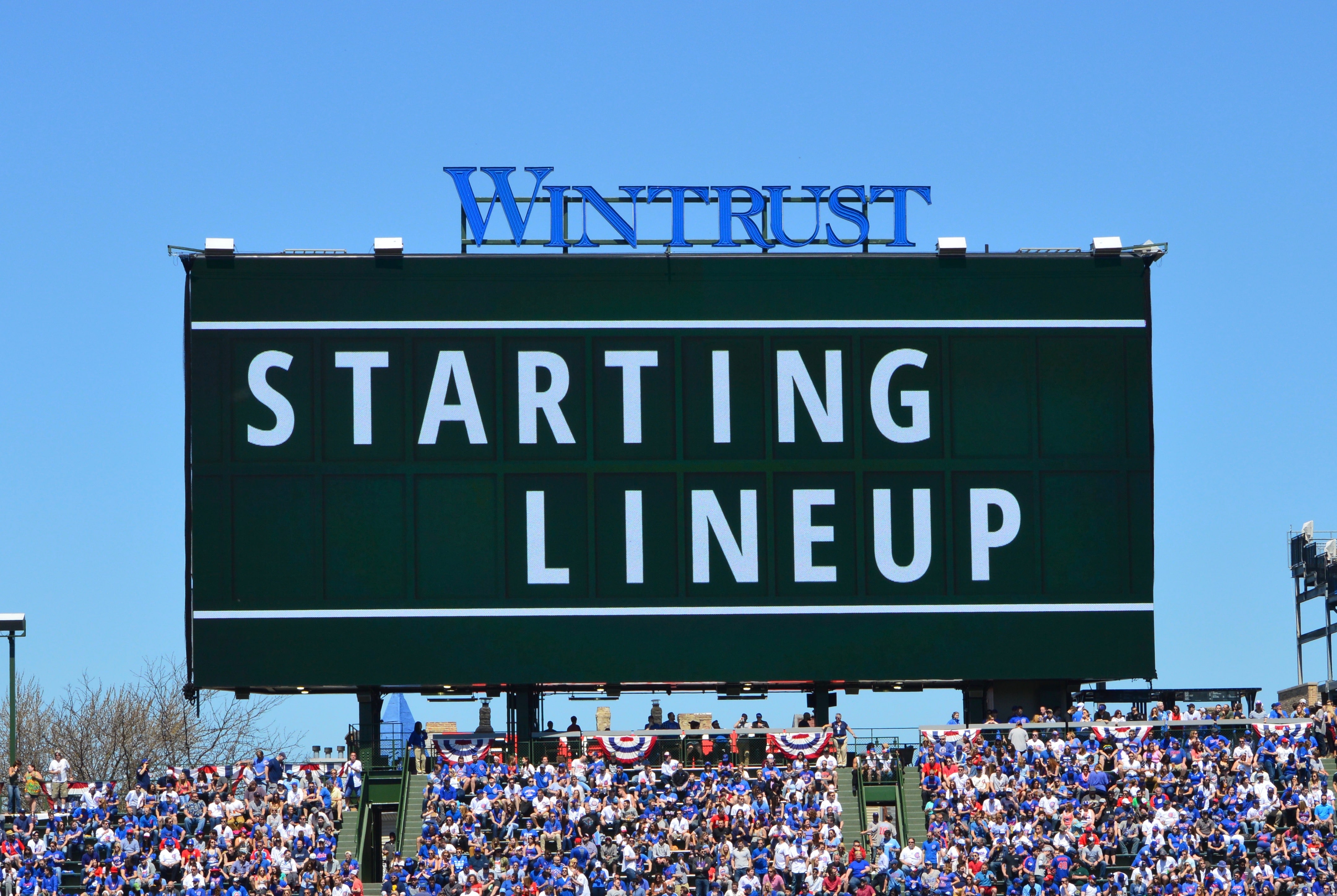 Chicago Cubs Lineup: Almora Leads Off, Bote at 3B, Happ at 1B, Hendricks Pitching
Far be it for me to paint Joe Maddon into a corner, but I can bet there'll be some interesting comments regarding his choices on the infield in this one. Albert Almora Jr. is an obvious choice to lead off and play center with a strike-throwing lefty on the mound and he'll be followed by Jason Heyward in right.
Last night's hero, Javy Baez, is at second base and Willson Contreras cleans up with Ben Zobrist batting fifth in left field. Then you've got Addison Russell playing short and batting sixth. Pretty standard so far, right?
David Bote, who was called up from AAA yesterday, will bat seventh and play third with Kris Bryant on the shelf. He's followed by Ian Happ, who's spelling Anthony Rizzo at first base. Well, that is a thing. But what kind of a thing is it?
It's a thing that gives the Cubs seven right-handed-batting position players against a pitcher who has killed lefties in LA. And not in a John Lackey way, just that he's limited their offensive output. So maybe he's just maimed them. More on that in a bit.
Kyle Hendricks is on the mound for the Cubs as they try to build up a modest winning streak. His last start wasn't one for the highlight reel, though it was the only outing of the last six in which he didn't allow a home run. Of course, he walked three men in the 6th inning and then gave way to Randy Rosario, who watched a grand slam sail into the Cincinnati sky.
Hendricks ended up walking four in the game, the second straight start in which he'd handed out that many free passes. His 2.72 BB/9 rate is the highest of his career and has helped to ensure that the career-high 1.41 home runs he's allowing every nine innings end up doing more damage.
The Professor just hasn't looked like himself out there as much this season and doesn't seem quite as unflappable as in the past. Another good start or two, though, and he'll be right back to his old self. Or at least that's what I'm telling myself.
Two days after playing behind Underwood, the Cubs are trying to get over Wood. Alex Wood, that is. The 27-year-old lefty has seen a bit of course correction after his stellar 2017 campaign, but his 3.32 FIP is significantly better than his 4.13 ERA indicates.
One thing that remains true about Wood is that he walks very few batters. He's got a career 2.52 BB/9 rate and he's all the way down at 1.79 this season, though things have changed a bit for him over the past several starts. He's allowed eight homers and has walked 16 men in 15 starts (80.2 IP), but six of the homers and half of the walks have come in his last six starts (29.2 IP).
The breaking ball has continued to serve Wood well, but the sinker and change have not been sharp in the half-dozen starts in question. Struggling with the fastball is going to hurt any pitcher, particularly one like Wood who only has three pitches. He's giving up more hard contact and fly balls, along with less soft contact and fewer grounders than he has since the 2015 trade that brought him to LA from Atlanta.
A reverse-split pitcher on the road this season, Wood has been absolutely dominant against lefty hitters when he's at home. That .405 OPS and .179 wOBA is nothing to mess with and the Cubs aren't going to try to buck the trend tonight. Righties have an .813 OPS and .339 wOBA against him in LA, so perhaps they can keep last night's performance going.
Given his recent regression and the stats he's putting up at home so far, the Cubs should be able to take advantage of Wood in this one. They'll need to be smart about how they do it, though, because Wood has an interesting pitching strategy. While only four qualified pitchers throw more first-pitch strikes (68.8 percent), only one of the top 19 first-strike throwers works in the zone less than Wood (39.2 percent).
I may have phrased that oddly, but the moral of the story is that Wood throws a lot of first-pitch strikes and then tries to play keep-away. Even though he generally works away with the sinker, it's in the zone early and often. Then he pounds the breaking ball (it's classified as either a slider or curve depending on the service you use) down and to the glove side and lets the change tumble down and away to the arm side.
And since those secondaries make up almost 60 percent of his pitches (55.8, to be exact), you can see how he's only in the zone 40 percent of the time. He does keep those secondary offerings close enough to entice hitters and umpires alike, hence the low walk numbers, so the Cubs would be wise to sit on that fastball and avoid getting behind in the count.
Feels like a good matchup for Almora and Baez, both of whom have been known to ambush a pitch or two. Having that breaking ball coming in on him rather than darting away might also prove beneficial for Javy as he seeks to set a Cubs record for pre-ASG RBI. Getting another win sure would make these late nights feel a little more worthwhile.
First pitch from LA is once again at 9:10pm CT and can be seen on NBC Sports Chicago+ and ESPN (out-of-market only). Pat Hughes and Ron Coomer will bring you the action over at 670 The Score as well.
Here is tonight's #Cubs starting lineup. #EverybodyIn

Stream on @YouTubeTV: https://t.co/t4XvcdoeJc pic.twitter.com/lv3DphCShf

— Chicago Cubs (@Cubs) June 27, 2018