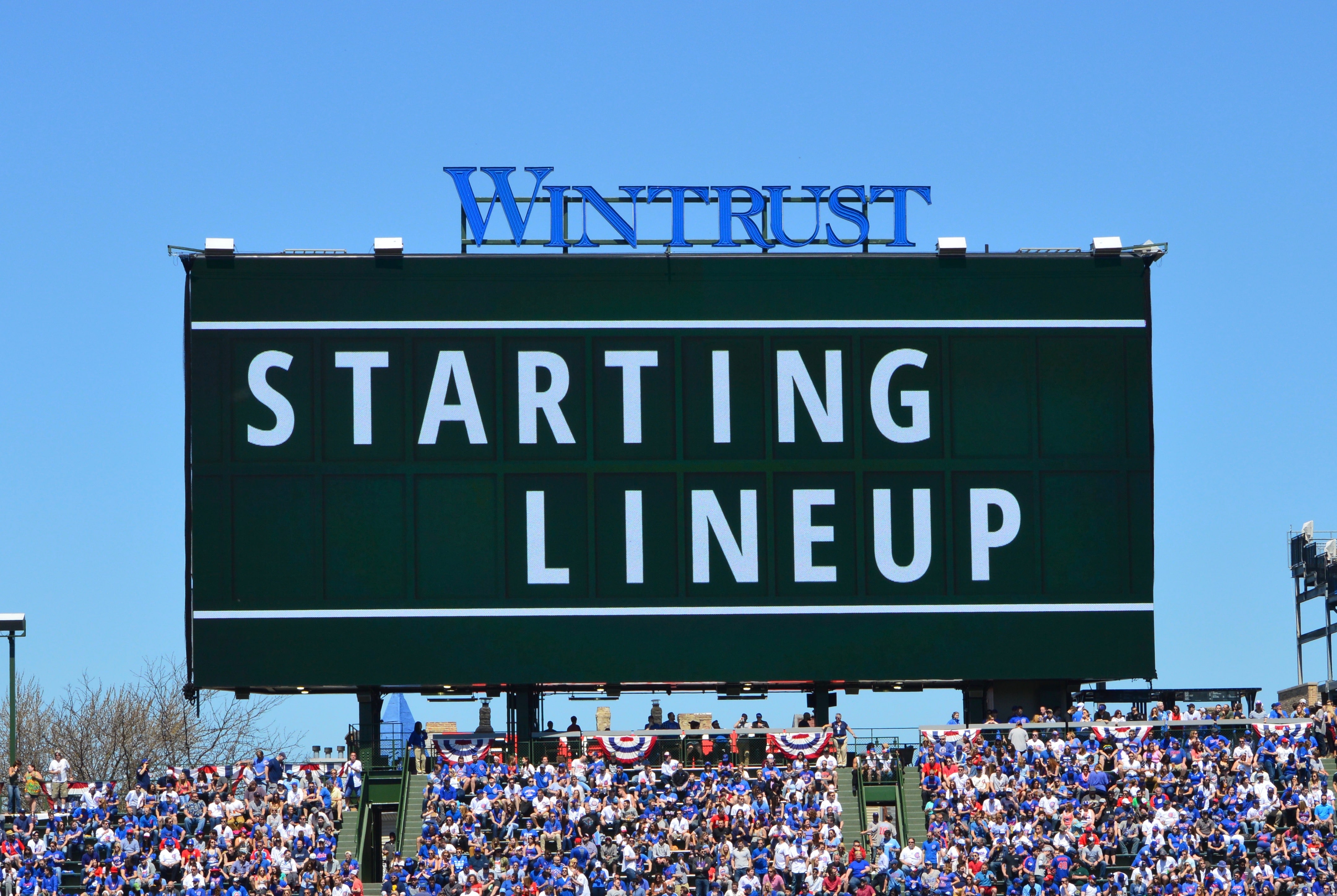 Chicago Cubs Lineup: Zobrist Leads Off, Javy at 3B, Lester Tries to Play Stopper
Kris Bryant is out yet again, something Joe Maddon had said yesterday was a likelihood as the slugger continues to work through shoulder soreness from too many swings. The Cubs will try to do it without him behind a top three of Ben Zobrist, Jason Heyward, and Javy Baez. The former and latter of that trio are at second and third bases, respectively.
Ed. note: Bryant has been place on the 10-day DL with a sore shoulder that he says he initially injured on a slide last month. It's been achy since then, but has acted up lately and needed rest to clear up. Bryant hopes to be ready for next week. Info per the Tribune's Mark Gonzales.
Anthony Rizzo cleans up, Willson Contreras is catching, and Kyle Schwarber is in left. Ian Happ is batting seventh in center, which will no doubt draw the ire of the "Start Albert Almora Jr. Every Day" crowd. I'm a big fan of Almora as well, but this is not a favorable matchup for him at all.
Addison Russell is back at short in this one to finish out the lineup.
As much as you love to see Jon Lester on the mound, you'd rather not see it coming at a point when the Cubs need to snap a five-game skid. Not because Lester's in any way incapable, but because it means the Cubs have lost five games in a row.
What's really wild about Lester's performance, and this has been the case all year, is that he's striking out fewer batters than ever while also walking more than he has since 2011. Then add that he's giving up fewer grounders than in every season but his debut with Boston and he's giving up more hard and less soft contact than at any point.
Put it all together and it's amazing that Lester has a 9-2 record with a 2.10 ERA. But it's all about confidence and being comfortable pitching to contact. Lester is a different pitcher this season and that's been a good thing for the Cubs.
The thing about playing a team in back-to-back weeks is that you see the same pitchers in quick succession. Last night's starter, Kenta Maeda, made consecutive starts against the Cubs, which is exactly what Ross Stripling will be doing in this one.
The 28-year-old righty has worked as both a starter and a reliever and had has only given up more than two earned runs in two of his 21 appearances. One of those came last week, when the Cubs hung a trio of tallies on him to take the game and the series.
Stripling is a big fastball/slider guy, but he'll use the curve and change pretty frequently as well. He'll locate his low-90's heater well enough to keep hitters from really squaring it up, which sets up the other pitches to keep opponents off-balance. He's a strike-thrower, so the Cubs really can't waste time waiting to walk.
In fact, the Dodgers starter has gone walk-less in seven of his last eight starts and has walked a total of five batters in 10 starts. He has done a good job of keeping the ball in the yard as well, though five of the seven dingers he's given up have come in his last five starts. Schwarber was responsible for one of those and he may need to do that again if the Cubs are to prevail in this one.
Taking that a step further, lefty hitters in general may need to get it done. Stripling has been murder on righties when pitching in LA, holding them to a .516 OPS and .230 wOBA this season. Lefties, on the other hand (get it?) are at .656 and .280; not great, but much more promising.
First pitch is once again scheduled for 9:10pm CT and can be seen on WGN and ESPN (out-of-network only).
Here is tonight's #Cubs lineup.

Game preview: https://t.co/c2DKjFS4RB #EverybodyIn pic.twitter.com/uSW99gyrZ1

— Chicago Cubs (@Cubs) June 26, 2018