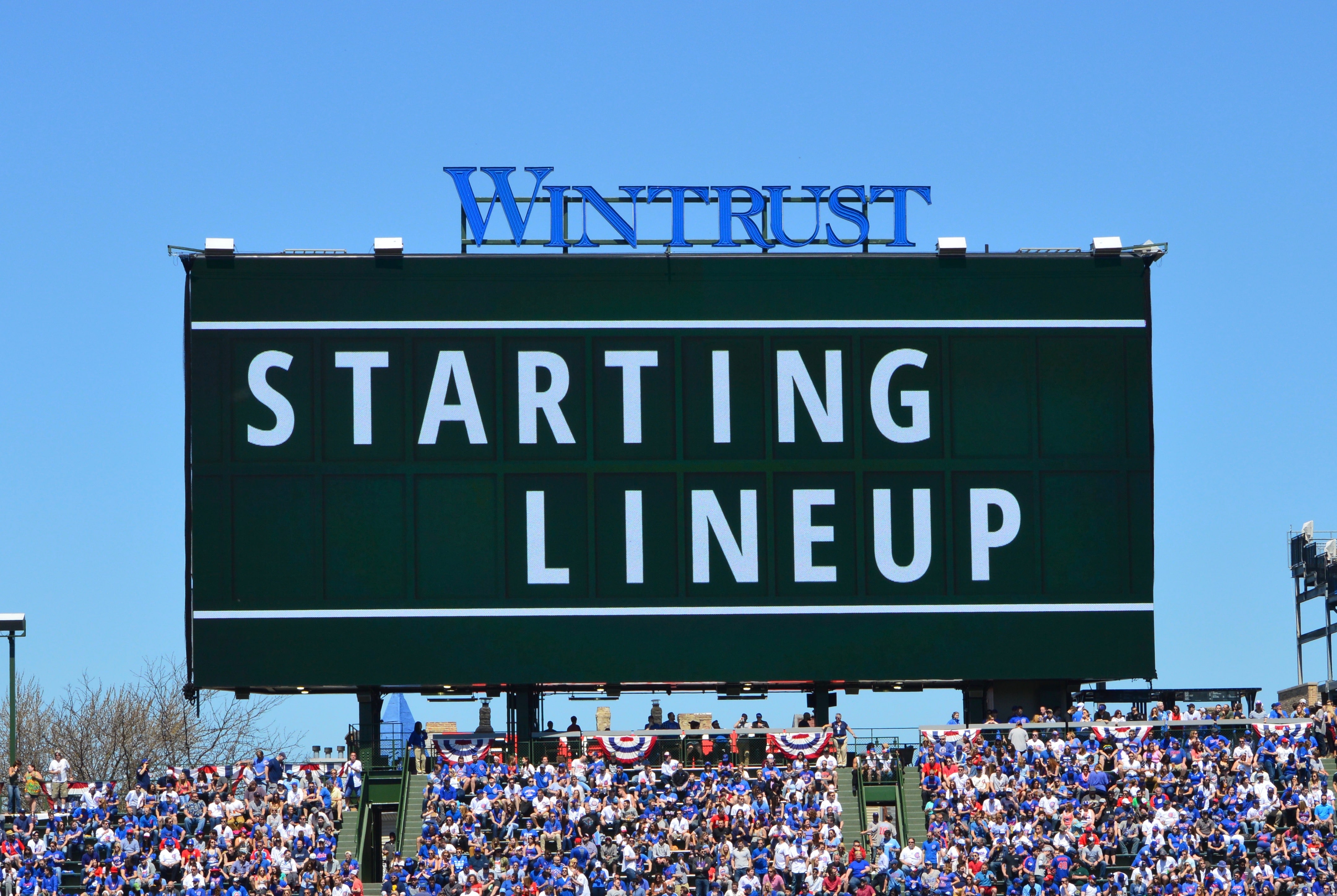 Chicago Cubs Lineup (Game 2): KB, Javy, Almora Top Lineup, Monty on Hill
Kris Bryant leads off and Javy Baez makes his return to the lineup after a brief absence following a fastball to the elbow. Albert Almora Jr. is hitting third while Anthony Rizzo cleans up.
Willson Contreras is behind the plate, Addison Russell isn't at short, Kyle Schwarber is in left, and Ian Happ mans the opposite corner. If it seems odd that Jason Heyward is out, consider that the Dodgers have a finesse lefty on the mound. He has really been hitting fastballs well and doesn't do so hot against southpaws.
In the words of LL Cool J, Mike Montgomery has been something like a phenomenon during his stint in the rotation. He's given up a total of three runs in four starts, with one run allowed in each of the last three. And two of those runs came via solo homers, so he's done an incredible job of limiting opposing offenses and keeping runners off base.
That comes from issuing only three walks and generating a 60.9 percent groundball rate. Believe it or not, that latter number is actually lower than his season average of 62 percent, a mark that ranks sixth in baseball among pitchers with at least 20 innings.
The .164 BABIP is a little scary and makes you wonder whether things could take a turn for Monty here soon, but he's been remarkably consistent in terms of his control and consistency. He's just so calm out there, even when he wears a loss in a game in which he allowed a single run.
Former Cub Rich Hill makes up the other half of tonight's battle between curveballing lefties as he takes the bump for the Dodgers. This will be the 38-year-old's first start in a month after heading to the DL when a blister on his middle finger ripped open two pitches into his May 19 start.
Hill had been having a terrible season to that point, posting a 6.20 ERA with a 6.34 FIP that came from problems with his signature pitch. The curve was not breaking the way he wanted it to and it was just getting tagged as a result. Nearly half of the contact Hill gave up was hard and less than a third of it was on the ground, hence the 2.55 HR/9 rate.
But he struck out 10 over 4.2 innings in a rehab start last Thursday and credits a mechanical change with getting his curveball back where he needs it to be. That could be bad news for the Cubs, who've struggled against breaking stuff in the past and who've had a hard time with Hill as well.
"I would say my curveball was probably the best it's been in three years," Hill told Bill Plunkett of the Orange County Register. "My fastball was as good as it was in 2016 and last year. We made a few mechanical changes, small changes that made a huge difference. The ball was really coming out of my hand the way that I want it to."
Those mechanical changes he mentioned came after pitching coach Rick Honeycutt noticed that Hill was out of alignment on the mound. So instead of toeing the rubber, he is shifting his weight back onto his left heel. Just as important is a very different kind of healing that Hill may not be quite as confident about.
He's always had blister issues, which isn't a big surprise for a guy who throws as many curves as he does. Basically just a fastball/curve guy, Hill will spin it about 40 percent of the time. Getting A-ball players to swing and miss at that is one thing, but having it working about MLB hitters is a different story. And on what figures to be a wet night in Chicago, grip issues could arise.
Weather permitting, first pitch is set for 7:05pm CT and can be seen on ABC 7 or heard on 670 The Score.
Here is tonight's #Cubs lineup for game two of the doubleheader.

Game preview: https://t.co/edMa1TtYEn #EverybodyIn pic.twitter.com/SQQ4ZGd3Ok

— Chicago Cubs (@Cubs) June 19, 2018