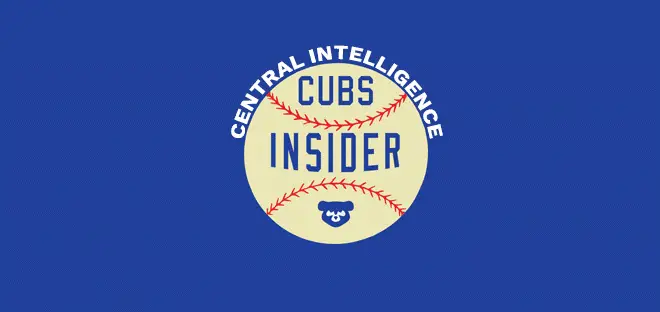 NL Central Intelligence: A Look Around the Division for the Week of June 10
We took last week off, as I had some personal obligations to take care of. But Central Intelligence is back this week and better than ever.
Okay, not really better, but that's how the saying goes and it's best to stick with idioms.
Milwaukee Brewers
The Crew, at 42-28, are still clinging to a half-game lead in the division. However, author discretion says half-games don't exist, so the Brewers and Cubs are tied for first. We don't make the rules here at Cubs Insider, we just follow them. Apologies.
Eric Thames returned for injury and was thrown into the leadoff spot. However, he is just 1-for-10 with six strikeouts since returning. Timing is off, perhaps?
Erik Kratz is a 38-year-old journeyman catcher who has never really been able to stick anywhere, but he has posted a .345/.406/.690 slash line so far for Milwaukee. What a find by the Brewers.
Josh Hader's scoreless streak ended against the Cubs. Hader actually gave up a hit to a lefty, no less! Jason Heyward was able to get to him and hit a game-tying single Monday night. Have no fear, Hader's numbers are still through the roof. Or in the basement.
Chicago Cubs
The Cubs are playing much better in recent weeks and their 40-27 record has them in a virtual tie for first place.
Heyward has been hitting his tail off the past two weeks. Over his past 15 games, he is slashing .354/.382/.538, with two home runs, including a walk-off grand slam against the Phillies.
Mike Montgomery said he wanted to start in the offseasonand he has gotten his chance with Yu Darvish on the DL.  In 23.2 innings over four starts, Montgomery has given up just three earned runs, good for a 1.16 ERA.
Speaking of Darvish, he has started throwing again. He made 31 and 35 pitches in bullpen sessions earlier this week in Milwaukee and St. Louis. When Darvish comes back, the Cubs will have a decision to make between three guys for two rotation spots.
St. Louis Cardinals
The Cards are 36-32 and things aren't exactly looking up right now.
Carlos Martinez came back from the DL and it has not been pretty. In his three starts back, he has given up 10 earned runs in just 12.2 innings while walking 18 and striking out 15.
Congratulations to St. Louis first baseman Jose Martinez, who had to miss the Cubs series this weekend to witness the birth of his child.
Marcell Ozuna is getting hot and he is capable of carrying his team. Three home runs in three straight games puts him up to double digits on the year. The Cards may finally be getting the thump they traded for.
Pittsburgh Pirates
Remember the Pirates' robust start? That's ancient history now. They're 35-35 and having a hard time getting back above .500.
Elias Díaz putting up an .850 OPS with five home runs in just 92 at bats is a pleasant surprise for the Pirates and certainly something they did not see coming. The highest OPS he has ever posted in a full minor league season was .781.
Felipe Vazquez has some issues he needs to work out. Over his last seven outings, he has an 8.53 ERA with six walks in six innings. Over his last 15 appearances, Vazquez has a 5.93 ERA with nine walks in 13.2 innings. He needs to throw more strikes. When he does, he is almost unhittable.
The Pirates got into another beanball war with the Diamondbacks, and this time it got them. With a 5-0 lead in the 7th inning, Joe Musgrove plunked Chris Owings to lead off the inning. Two Bucs had been hit earlier in the night, but that HBP led to a nine-run rally over the final two innings for Arizona and the Pirates lost 9-5.
Cincinnati Reds
At 25-45, there is probably no getting out of the cellar for the Reds.
Tyler Mahle is proving himself a solid big league starter. He pitched 6.1 scoreless innings against the Reds and now has an ERA of under 4, at 3.96.
Brandon Dixon cracked his first big league dinger on Saturday, a cool moment for him that he will always remember.
Adam Duvall and Billy Hamilton still have averages under .200. Being everyday players in the major leagues, that has got to get better.
For those interested, the College World Series started on Saturday. North Carolina defeated Oregon State 8-6 in a game that took over four hours. Mississippi State defeated Washington in a 1-0 game that took less than three hours to play.