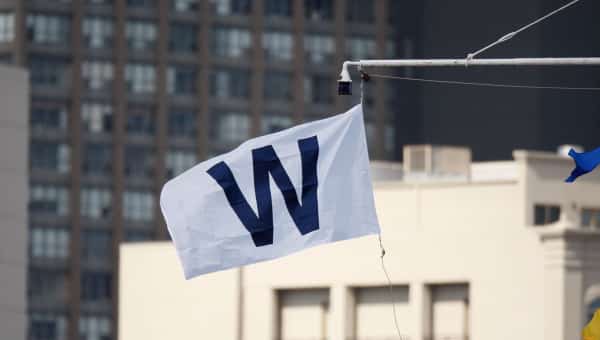 CI Recap (6/7/18) – Cubs 4, Phillies 3: Overturned Call at Home Plate Leads to Cubs Win
The Cubs looked for a series win against a young Phillies squad Thursday at Wrigley Field. Despite another wild outing from Tyler Chatwood, Chicago did just enough to pull out a tight victory. The bullpen once again was the key factor in a game that came down to a controversial play at the plate.
Despite some iffy Philadelphia defense and Chatwood's trademark wildness, neither team scratched the score sheet the first three innings. The Cubs took the lead when Anthony Rizzo took Phillies starter Nick Pivetta deep for his 10th homer in the bottom of the 4th inning. The lead was short-lived as a leadoff walk by Odubel Herrera in the 5th led to an RBI single by Carlos Santana to tie the score at 1-1. Chatwood proceeded to walk the bases loaded, but Brian Duensing relieved him and coaxed a pop up to end the threat.
Chicago rallied back in the bottom of the inning, a Chris Gimenez infield hit, a walk to Duensing, and an Almora single loaded the bases with one out. Singles from Tommy LaStella and Kris Bryant gave the Cubs a 3-1 lead. Rizzo then hit a fly ball to left, and Almora tagged and was thrown out at home by Dylan Cozens. Upon review, however, it was determined catcher Andrew Knapp illegally blocked the plate and Almora was safe. That fourth run would loom large, as a Kris Bryant error led to a two-run Nick Kingery double in the 6th.
The score remained 4-3 for the final three innings of the game. Justin Wilson, Pedro Strop, and Brandon Morrow each tossed a clean inning allowing no hits and only 2 walks to secure the one-run win. (Box score)
Why the Cubs Won
The relief corps picked up after another painfully short Tyler Chatwood outing, keeping the Phillies at bay the final three innings. Even the runs allowed by Duensing might not have happened if not for an error by Bryant on a possible double-play ball.
Key Moment
It looked like the right call was made upon review on the play at the plate. Knapp was blocking Almora's path before the ball reached his glove. Albert was lucky he wasn't injured with his hand colliding with the catcher's foot. More often than not, umpires try not to call a plate violation, but this case was pretty clear.
Stats That Matter
It was another bizarre line for Chatwood Thursday: 4.2 IP, 1 R, 4 H, 6 K, 7 BB, and 1 HBP. The fact he has 3.86 ERA while walking 8.66 batters per nine innings is amazing. His 56 walks this season are 17, not a typo, 17 more than any other pitcher in baseball. Not sure how much longer these incredibly wild and short outings can last.
Anthony Rizzo was hitting under .200 for a long stretch to open the season. Now he's up to .253 with 10 homers and a .802 OPS, pretty sure the big first baseman is going to be just fine.
Tommy La Stella had a single and reached twice on catcher's interference, not sure if that has ever happened before.
Bottom Line
The Cubs played sloppily at times in this series, which was frankly full of pretty weird baseball all around. It easily could have been a Phillies series win, so winning 2 of 3 feels like getting away with something. The Northsiders now sit only half a game behind the first-place Brewers, with one fewer loss than Milwaukee.
On Deck
The Cubs begin a three-game series with the Pirates Friday afternoon at the Friendly Confines. Mike Montgomery battles Chad Kuhl at 1:20 pm CT in a contest that airs on MLB Network (out of market) and NBC Sports Chicago.