Cubs Second Round Picks Are High-Risk, High-Reward Types
The Cubs basically had three second round picks after taking Stanford SS Nico Hoerner in the first round, and the three players that the Cubs drafted end up being high-risk, high-reward types.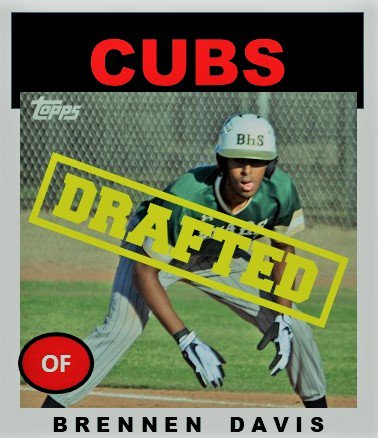 First, the Cubs drafted outfielder Brennen Davis at pick #62. Davis, a lanky 6'4″ 175 lb. high school outfielder from Arizona, was ranked #145 by MLB Pipeline and #136 by Baseball America with a ton of upside. Despite the high ceiling, Davis' skill-set is extremely raw and in need of serious polishing. MLB Pipeline had some exciting comps for the youngster, though:
Davis will be a project for any team that tries to sign him away from his Miami commitment. But teams that love raw tools may look off into the future and see an Adam Jones or Lewis Brinson type if it all comes together.
After the draft, several sources, including Fangraphs Eric Logenhagen, leaked that Davis was asking for 1.5 million to forgo his University of Miami commitment. Many teams probably thought they wouldn't be able to sign the prospect, and that might explain why Davis fell all the way down to #62.
Davis should begin his career in Mesa in the Arizona Rookie League. It'll be exciting to see how he develops because his athleticism is off the charts and some scouts think he has plenty of room to add muscle mass.
Next, the Cubs drafted Cole Roederer, whose name sent me scrambling to the Google machine, with their 77th pick. Some scouts immediately compared the new Cubs draftee to Andrew Benintendi of the Red Sox. Roederer is a 6'0″ and 175 lb. outfielder with clear speed and some serious burgeoning pop. Of the Cubs' four picks tonight, Roederer might be the one I am most excited about.
Roederer is also going to be an expensive sign, but he does have that high upside and might even have more promise than Brennan Davis. Ranked at #161 by Baseball America, Roederer's recent shoulder injury knocked him off MLB Pipeline's top 200. But when his shoulder heals up, the Cubs' draftee should debut in Mesa in the Arizona Rookie League. He's possibly on his way to being a five-tool guy if he can improve his throwing. Check out the sound of the wood bat as he squares it up. See why I like this pick so much?
Right after the Cubs selected Roederer with their 77th pick, they took Paul Richan with their 78th selection. Richan fits the mold of what I call a "utility pitcher". What I mean by that is he can start, he can relieve, and he can do something in between. Think of a Mike Montgomery type.
Richan, a 6'3″ 200 lb. right-hander from the University of San Diego, has both relieved and started over the last three seasons in college. He was strictly a reliever as freshman, and pitched seven games in relief as a sophomore while starting 11. Kris Bryant's alma mater made Richan a full-time starter this past season. He got off to a good start before fading down the stretch but managed to strike out 10.14/9 innings in 13 starts.
To be honest, I'm not sure why the Cubs took Richan with their 78th pick, but perhaps it's because of his versatility. He has a fastball that sits anywhere from 91-94 when strong and 88-91 later as he wears down.  He will likely pitch some at Eugene in either 2-3 inning starts or in relief, and we won't get a better idea of his pitchability until 2019. Expect to see lots of fastballs and sliders, which is his out pitch.
I'm looking forward to hearing Jason McLeod's draft strategy since he's one of the best in the business. I'm guessing that his strategy, as it was in previous years, was about saving money in the early rounds so he can ball out with high-risk guys in the later rounds who have already committed to college.