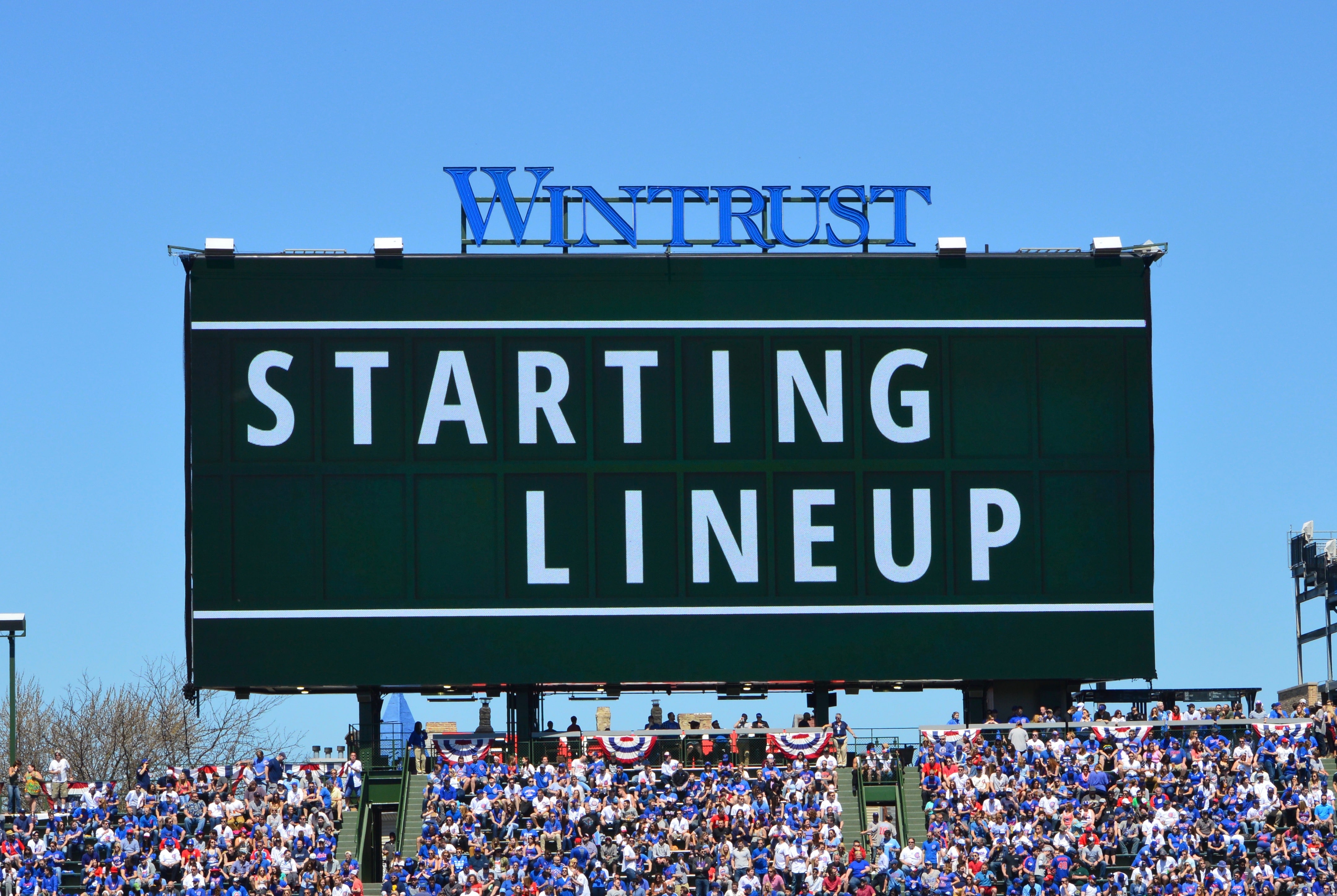 Chicago Cubs Lineup: Al Mago Together at Top, Hendricks Pitching for Sweep
Albert Almora Jr. is back in the leadoff role, and with a righty on the mound, no less. He'll be followed by Javy Baez to once again form the Al Mago pair that has sparked the offense so frequently this season.
Kris Bryant is hitting third, Anthony Rizzo is interfering, er…cleaning up, and Willson Contreras is fifth. Kyle Schwarber, fresh off his monster foul-pole dong, is back in his familiar six spot. Addison Russell is playing short and batting seventh while Jason Heyward hits eighth.
Heyward was really hammering the ball last night, as were most of the Cubs hitters. And now that Rizzo appears to be waking from his extended slumber, there's a sense that things could start to even out for the offense.
Kyle Hendricks will be playing the role of closer as the Cubs attempt to sweep the Pirates in the last of their three-game set. He's been his typical steady self throughout the season, going at least five innings in each of his 10 previous starts. If Hendricks can build off of his win against the Giants in which he struck out seven and allowed a single run on two hits, the Cubs' offense should provide him more than enough support.
The one real concern with Hendricks is that he's giving up more hard contact than ever before, a trend that has increased over the course of the season and his career in general. Because the Pirates will likely come out swinging in this one, it'll be important for the Professor to keep his lecture as boring as possible and lull them to sleep with stuff that stays down in the zone.
On the mound for the Pirates will be hulking righty Joe Musgrove, a guy who sort of seems like he's much older than birthday says he is. And I don't mean in an Albert Pujols sense, but that Musgrove has had a lot of professional experience. Drafted by the Blue Jays with the 46th overall pick in 2011, he debuted as a pro at the age of 18.
Since then, he's bounced around between levels and organizations, landing in Pittsburgh as part of the return in the Gerrit Cole trade. He actually made 25 starts (49 total appearances) for Houston over the last two seasons, putting up decent numbers along the way.
This will only be Musgrove's second start with the Bucs, but the first one was a gem. He struck out nine over seven innings, issuing no walks and scattering five hits against the Cardinals last week. Musgrove features a mid-90's fastball and sinker, offsetting them with a cutter that comes in a few ticks slower. Then he brings in the slider and change for good measure.
Maybe he was just jacked up for his first start, but the 6-5, 260-pound hurler was pumping everything in there a couple mph harder than his previous career results indicate. Even if he's a little slower this time out, Musgrove is exactly the kind of power pitcher against whom the Cubs have struggled.
It's hard to take too much away from that lone start, but Musgrove was pumping strikes and keeping the ball down in the zone to keep batted balls on the ground. Can the Cubs, a team that does well against low strikes, take advantage of that? We'll find out soon enough.
First pitch from PNC Park is set for 6:05pm CT and will be carried by NBC Sports Chicago and 670 The Score.
Here is tonight's #Cubs starting lineup. #EverybodyIn

Stream on @YouTubeTV: https://t.co/t4Xvcd6DkC pic.twitter.com/D3h9QBnU20

— Chicago Cubs (@Cubs) May 30, 2018