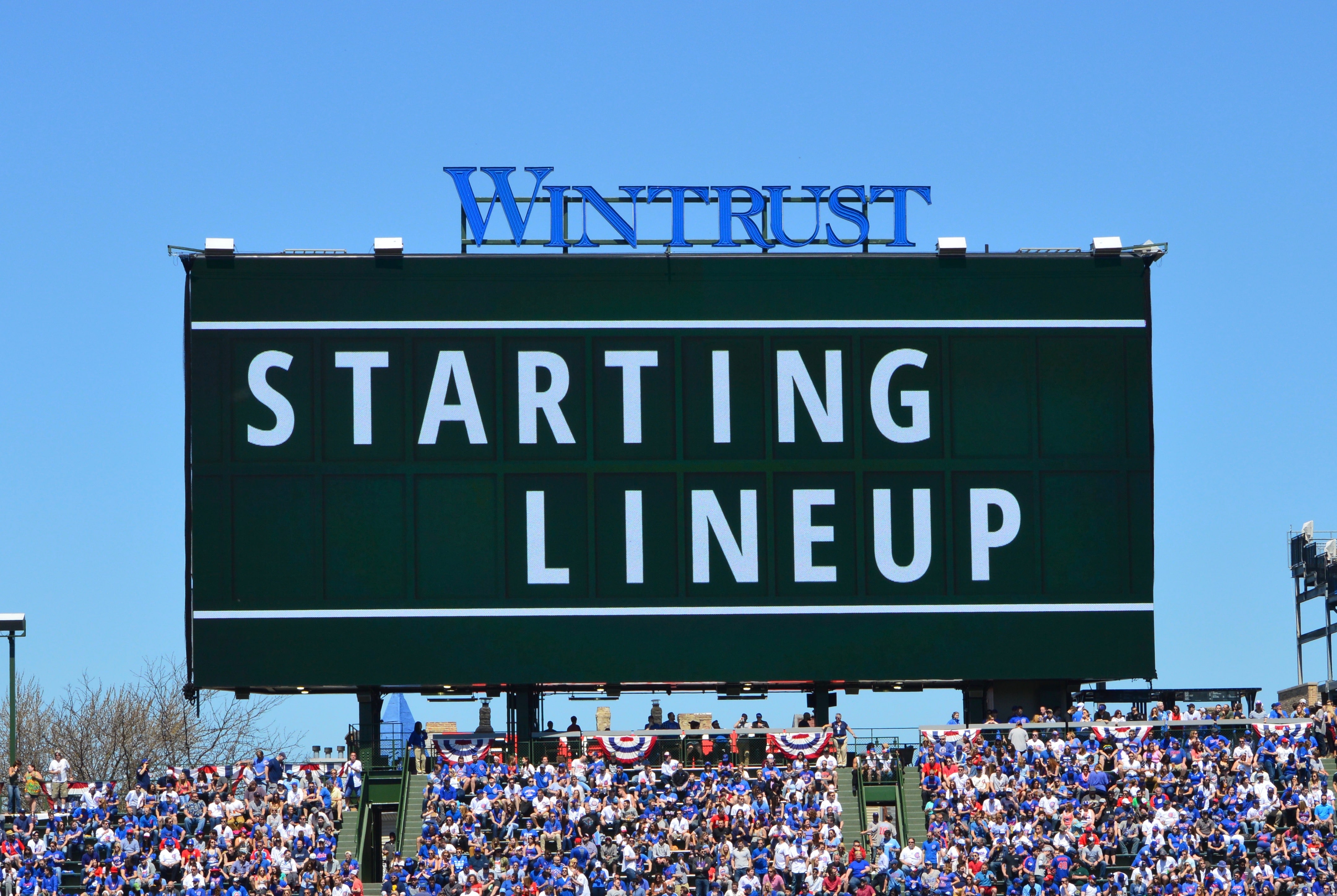 Chicago Cubs Lineup: Zobrist Leads Off, Almora Second, Chatwood Pitching
Ben Zobrist and Albert Almora Jr. taking the top two spots in the order is something I like seeing, even with a righty on the mound. Almora has performed very well against righties since the second half of last season and having two hitters in front of Kris Bryant is a good thing.
KB is indeed hitting third in this one, followed by Anthony Rizzo and Willson Contreras. Kyle Schwarber is hitting in the sixth spot, where he's done a done of damage this season, and Javy Baez is hitting seventh. Addison Russell hits eighth and looks to further capitalize on his improved contact rate, which would make this lower half of the order just insane.
Tyler Chatwood has been much better of late and is showing signs that the Cubs' faith in him this past winter was well placed. His start in Cleveland last month was his best to that point and earned him his first win after starting the season 0-3. I know, I know, pitcher wins are an antiquated measure of value, but it's an easy 30,000 foot overview of performance.
Chatwood is 3-0 with a 2.30 ERA over his last five starts, all but one of which have come against either winning or first-place teams (the Indians lead the AL Central but are under .500). He's still thrown nearly as many walks (20) as strikeouts (22), which is a necessary evil, but one that you'd like to see be slightly less nefarious.
There's also the matter of allowing over 91 percent medium and hard contact, though over half of that has come on the ground. If Chatwood can just remain calm on the mound and spread the wildness around a little, he'll give the offense a chance to do what it does. Well, what it sometimes does.
On the mound for Cleveland will be baseball's resident physicist, Trevor Bauer, who's taking a brief leave from his studies on the effect of pine tar on spin rate to make tonight's start. Bauer gets a bad rap for being openly pompous and abrasive, but he's actually a really good dude. And some of his good deeds are so low-key that no one really notices them.
For instance, he felt bad when he heard some of his Indians teammates making fun of the Cubs catcher's first name back in 2016. So what'd Bauer do? Why, he went out there and put up two L's during the World Series. C'mon, you can't hate on a guy like that.
Bauer wasn't quite as kind when he faced the Cubs earlier this season, holding them to a single run four hits and three walks. He struck out eight in that contest and has sat down at least that many on strikes in four of his last five starts. Outside of a stinker in KC 11 days ago, Bauer has been as lights-out as his Twitter handle (@BauerOutage).
The eccentric righty has been using the fastball and cutter with increasing frequency over the last handful of games, though the breaking stuff continues to be dangerous. His velocity numbers are going up pretty much across the board as well, with the fastball sitting over 95 in his last three starts. That's something the Cubs could have trouble with, as power pitchers have bedeviled them this season.
Bauer has walked either two or three batters in all but his most recent start (no walks), so the Cubs may need to be patient and pick their spots. This one could well come down to grinding out a few at-bats and taking advantage of a mistake here and there. While Bauer could certainly fall apart out there, that's probably not the most likely scenario.
Ol' dude's absolutely stifled opposing hitters on the road, holding them to a .654 OPS and .246 wOBA. Righties have fared slightly better against him overall and when they're hitting at home, but we're talking about a few points here and there. Again, the Cubs need to stay within themselves in this one and not get jumpy early against a guy who's been one of the best in the game to this point in the season.
First pitch is at 6:05pm CT and can be seen on WGN (check for local affiliates) or ESPN (out of market only, sorry for those of you who'll encounter a blackout, especially if you don't have one of those local affiliates).
Here is tonight's #Cubs starting lineup.

Game preview: https://t.co/lbLAVunsGh #EverybodyIn pic.twitter.com/BwDYkUKHpn

— Chicago Cubs (@Cubs) May 22, 2018