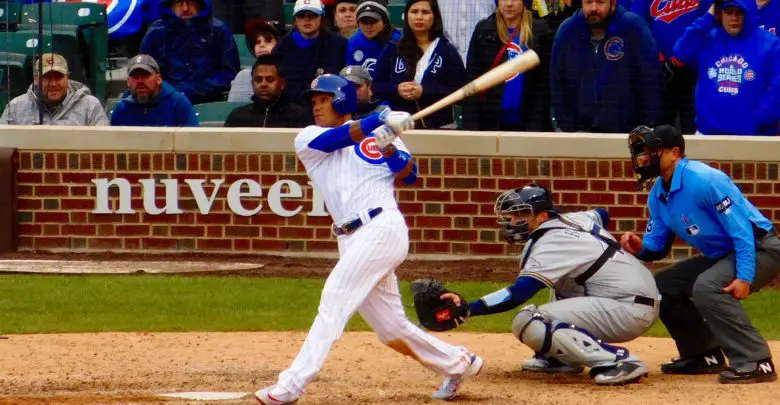 Converting Higher Contact Rates to Better Production Would Make Addison Russell Untradeable
There are three truths to the Manny Machado and Addison Russell conversation. First,  Machado has already proven that he is a generational talent. Second,  Russell has yet to reach the "next Barry Larkin" potential A's president Billy Beane bestowed upon the young shortstop at the time he was traded to the Cubs. The third — and somewhat less obvious — is that Russell's 2018 plate approach suggests a breakout could be brewing, one that might make his biggest critics forget their woeful ways.
Russell has been more sensitive to bad pitches in 2018, which stands in contrast to previous years. In the early going this season, he's swinging at about 15 percent fewer pitches outside the strike zone. If you were to tell me that Russell would start this with such an improvement in pitch recognition, I would've been shedding tears of joy because of fulfilled promise.
What's more, Russell is combining a keen eye with an improved ability to make contact against strikes. Whereas Russell previously displayed below league-average contact against pitches inside the zone, this season he's making over 5 percent more contact on strikes. Again, I would've thought, "What did I do to deserve such a quality shortstop wearing Cubs pinstripes?"
But I'm not overcome with joy, not yet at least. That's because, despite the increased contact, Russell hasn't translated these advances to hard-hit baseballs. He has barreled up only one — yes, one — pitch this year, which isn't providing much evidence for anyone arguing that he's primed for big things. Russell's weak contact is truly a dilemma.
But take a step back here for a second and let me indulge you with an eye-popping phenomenon so we can better consider the complete picture. Consider that nearly every single hitter* on the squad, with the notable exception of Ian Happ, has drastically improved their contact rate. There is a clear, obvious effort for Cubs batters to put more pitches in play and work better at-bats. #EverybodyIn means everybody, Russell included, is buying into Chili Davis's philosophy.
However, everyone adapts at their own pace. I mean, I became better much faster than my Cubs Related podcast partner Corey Freedman at doing shows. Right, Corey? Not everyone can be like me and the rest of the Cubs hitters, though. Kyle Schwarber, Javy Baez, Willson Contreras, and Kris Bryant appear super-human by adjusting quickly, and that's sort of magnified Russell's lag.
The Cubs shortstop is sort of just spraying balls all around the diamond and embracing his inner Mark Grudzielanek. For instance, Russell is pulling 30 percent fewer pitches this season compared to last year. But you're fooling yourself if you think Russell really is a reincarnation of Grudzielanek.
We know Russell has plenty power with that bat speed. I've seen it and you've seen it. The Cleveland Indians saw it in Game 6 of the World Series, which would eventually lead to a Chicago Cubs world championship. Russell's ISO was .180 in his previous 1000 plate appearances before 2018 started. That's pretty high for a middle infielder, folks.
We might just need to be a bit more patient. We're seeing subtle signs of improvement of late, such as Russell's current .317 wOBA (99 wRC+) and four-hit game last series against the Reds.
I'm encouraged that Russell is showing visible signs of improved plate discipline and I think that might yield better overall contact as the season rolls along. If that happens, Russell instantly becomes one of the most valuable shortstops in MLB and it'll be impossible for the Cubs to trade him for two months of Machado.
Schwarber: ~3 percent improvement; Bryant: ~3 percent: Rizzo: ~5 percent: Contreras: ~6 percent rise; and Baez: ~4 percent.